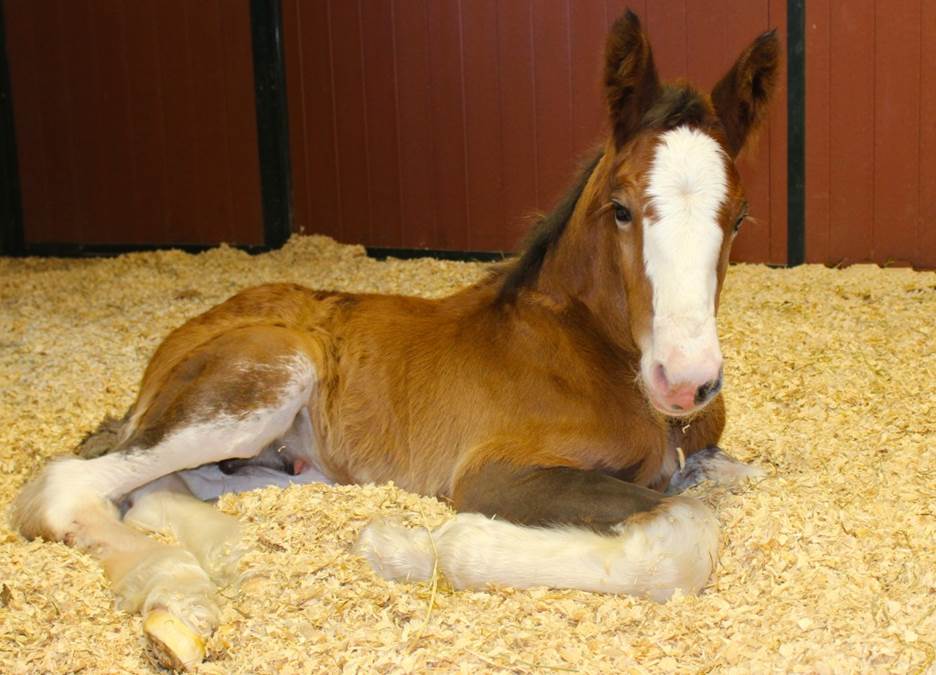 I love following the happenings at Warm Springs Ranch, the 300-acre breeding farm in central Missouri where baby Budweiser Clydesdales are foaled. This year, the farm has had more than 20 foals born. They have two foaling cycles – spring and fall – to avoid the summer heat.
Moose was born on Saturday, September 12, to his dam, a beauty of a Clydesdale named Monica. He's a strapping, healthy colt on the big side – weighing about 170 pounds, which is 20 pounds bigger than average. His name marks the day he was born, which was the same day that Kansas City Royals third baseman Mike Moustakas had a franchise-record nine RBIs against the Baltimore Orioles.
For the first few days of his life, Moose and his mom stayed in the barn, getting thing straight like untangling legs and learning how to walk and nurse. But early last week, Moose made his first move outside to enjoy the September sunshine. By the end of the month, Moose will start spending his evenings outside in a pasture with other mares and their babies. You can follow his progress here.
There's another cute Budweiser baby born recently – Barley, the newest and spottiest Dalmatian to join the company's East Coast hitch. Barley is two months old and is full of energy these days as he learns the ropes.
Back to Over the Fence