(This is the first in a series of occasional product reviews.)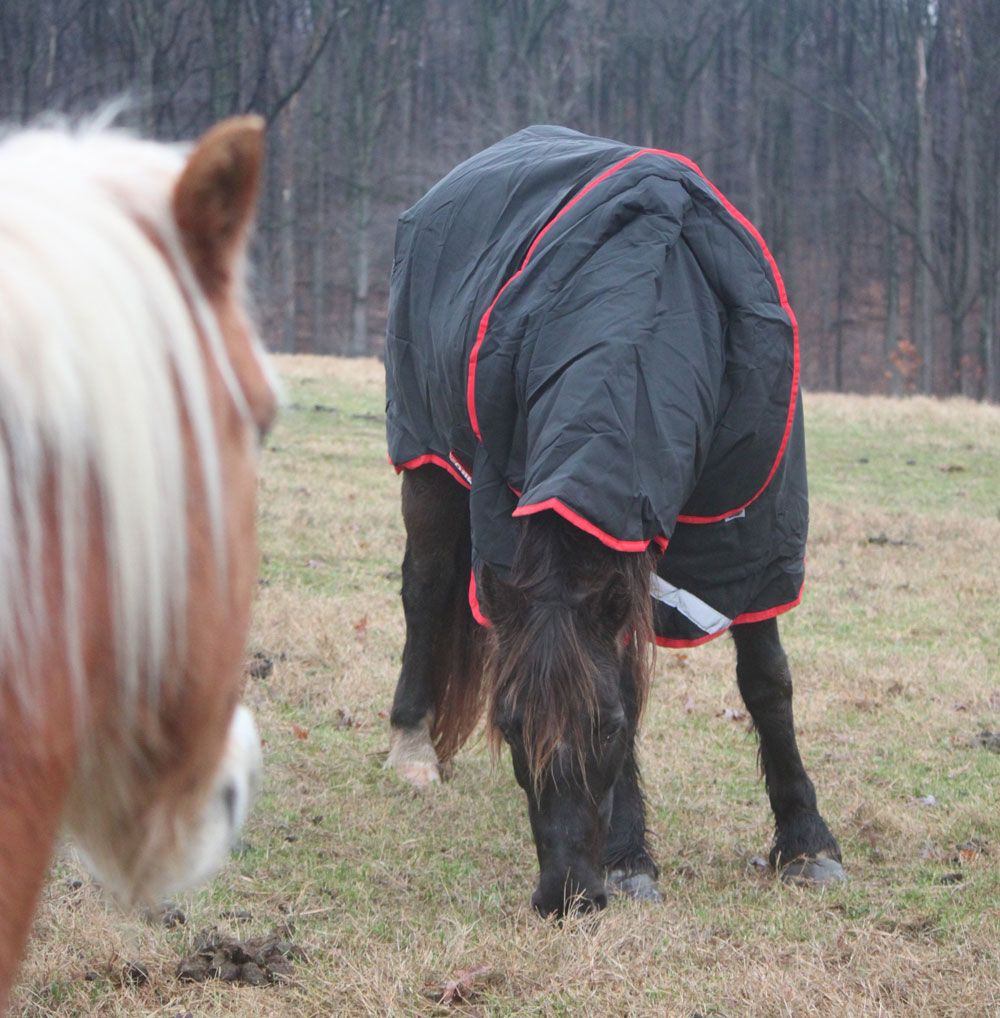 I love a cold rainy day. The pressure is off. The barn feels snug. The world seems quiet. Hot chocolate seems like a good idea. Horses munching hay. You get the picture.
My pasture-boarded horses don't seem to mind a rainy day either. They've never been fans of a run-in shed. They prefer the wind-break provided by a thick line of pine trees and the warmth of their little band of pasture-mates. A Rambo rug on a raw December day doesn't hurt, either.
Facing each other in the cross-ties recently on a cold, rainy day, Taff (my section D Welsh Cob gelding) and Chico (the Haflinger pony who belongs to my aunt, Bridget Buck) were more than happy to try out some new Horseware products. Chico tried the Rambo Wug with Vari Layer. Taff tried to the hooded Rambo Supreme with Vari Layer. The blankets fit great. The boys each rested a hoof and appeared to doze while I fussed with adjustments, buckles and snapping tail straps.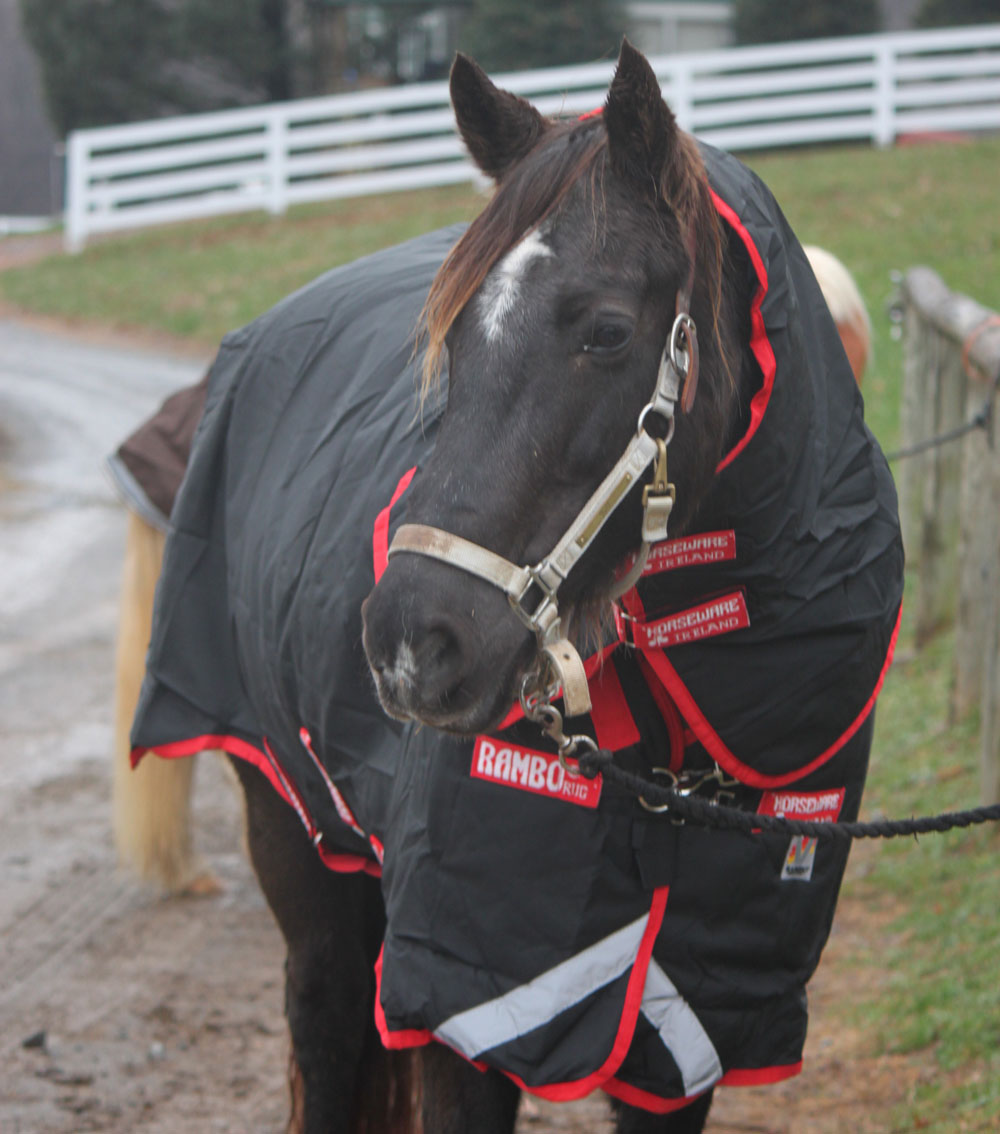 One thing I loved about both of these new blankets was the improved Velcro system at the chest. In the old days, the little t-shaped clasp at the chest of a Rambo rug sometimes had a hard time keeping the blanket shut in the front. Years ago, Horseware improved this design with a heavy duty, covered double velcro system. With these newest blankets, Horseware has improved this design even further by adding little pull tabs that make it easier to open the tough Velcro. They've also added a separate Velcro strap with a metal surcingle to further secure the blanket's chest opening.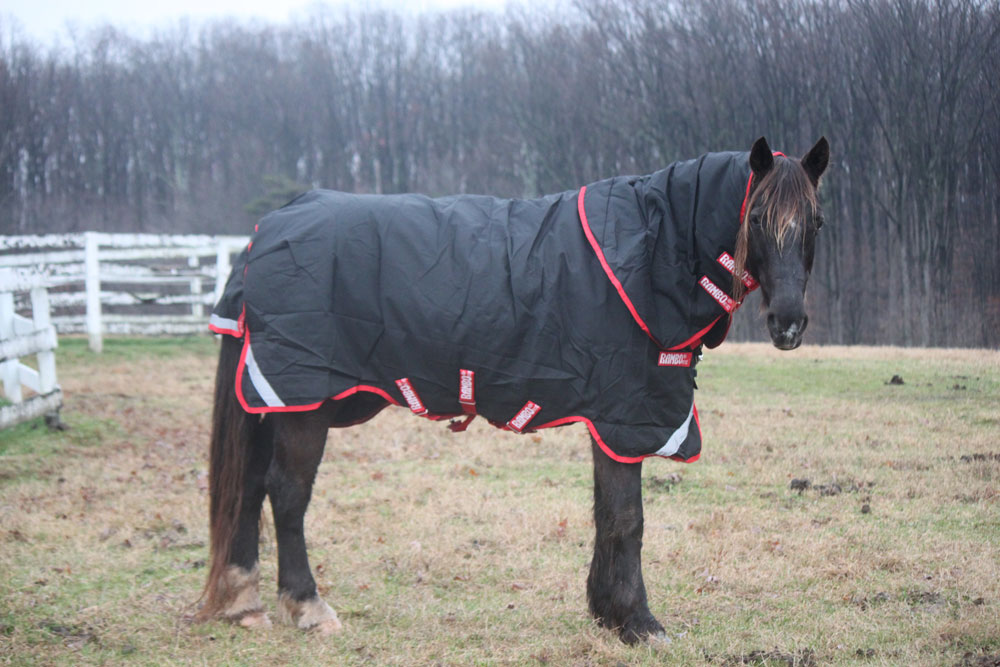 Some other things I loved about these blankets:
The fit was perfect. I was especially delighted to find a medium weight wug in pony size. In the past, I have had a hard time finding a 66" blanket that wasn't dragging the ground for 13 hands high Chico.
Less static! Apparently the design on these blankets accounts for the electricity created when you pull a blanket off a horse. The lining is anti-static. This is something both Taff and Chico will appreciate. I hate it went I zapping these guys when I pull a blanket off.
The term "Vari Layer" was a bit of a mystery to me at first, but it apparently it is a system of high-tech "thermobonded" fibers across the back and hip that means more warmth with less weight. Both blankets are medium weight, which is the blanket weight I reach for most here in the Mid-Atlantic US.
Wipeable tail cord. Easier to clean. I did find the big plastic clips on either end a bit stiff, but perhaps they'll loosen up with a few uses.
Same old waterproof, breathable and difficult to rip fabric. I have full confidence in the Rambo product that these blankets will not tear, slip or soak through.
Neck coverage– the wug design gives Chico a bit more coverage, scarving his neck in warmth and protection from wind and wet. The Supreme, on the other hand, means Taff is up to his ears in Rambo coverage with a detachable hood. This will be nice for the winter, as we're forecasted to have a lot of precipitation and cold.
Scorecard
Quality: Top notch. I have always been a fan of Horseware products and the Rambo products in particular. But a few improvements have made these products real stars. Made in Ireland.
Style: I love the new colors. I will miss Rambo's traditional hunter green with red trim and the old navy and silver medium weight, but the new colors – the chocolate/chocolate/cream wug that makes Chico look like Nutella on toast are adorable. I especially like the elegant black on Taff.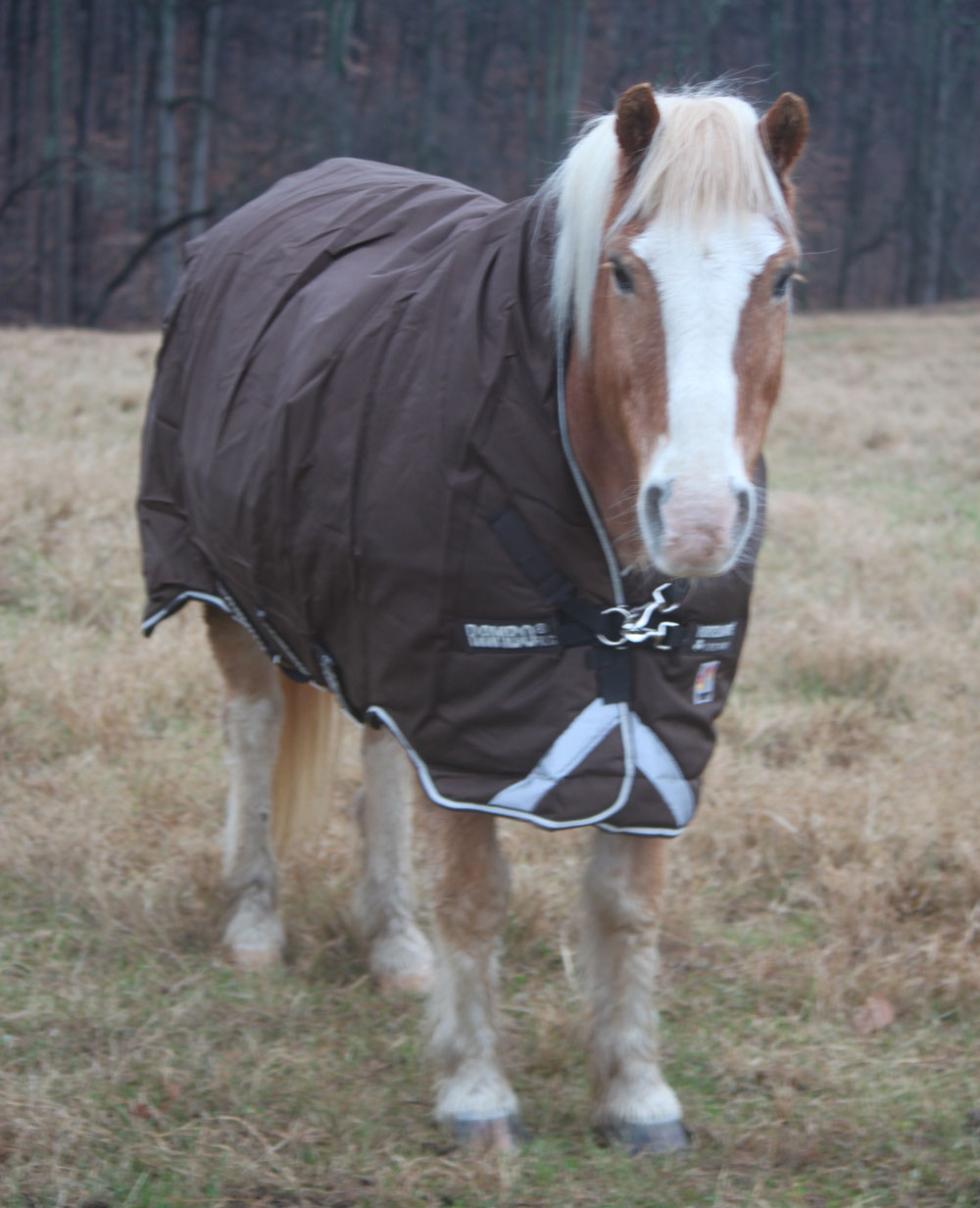 Function: These products do what they promise and I'm sure they will keep Taff and Chico warm, dry and safe this winter.
Value: Rambo Wug with Vari Layer — $349 – $369; Rambo Supreme with Vari Layer — $389 – $435. Worth every penny. My recommendation: Don't waste your money on less expensive horse blankets that might not last the season and aren't worth the money it will cost to repair them.
Rambo makes a line of rugs for our canine friends, too. Cold, rainy weather was a yawn this morning for Rex (the big one in size XXL) and Tabby (little one in size L) in their breathable waterproof Horseware® Rambo® Dog Blankets. We definitely repelled some water and dirt this morning on our walk. My city-slicker husband was thrilled when I returned with dogs much less wet and dirty than our pre-Rambo dog blanket life.
Back to Over the Fence