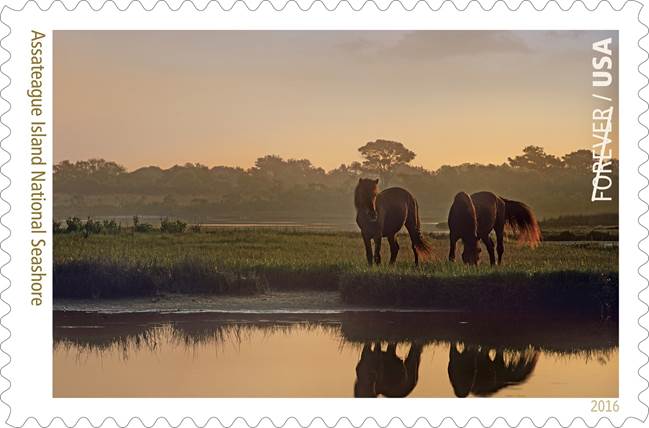 Wildlife photographer Tim Fitzharris is the artistic mind behind a beautiful new stamp released this month by the National Postal Service. Tim's photo of wild horses at the Assateague Island National Seashore (a beautiful sandy, beachy barrier island park that straddles Maryland and Virginia) will be commemorated on a Forever stamp as part of a pane of 16 stamps celebrating the National Park Service's Centennial this year.
Tim' latest pictorial book, Wild California, was published in 2013. He is also the author and photographer of 27 additional books on wilderness and wildlife photography. He is one of the most published nature calendar photographers in the world. His photographs are published worldwide, appearing on the covers of Life, Audubon, Nature's Best, Terre Sauvage, Outdoor Photographer and many other publications. He lives in Fayetteville, Arkansas.
Tim took the photo on Assateague Island on a warm, sunny day in May, 1993. He was on the Maryland side and he caught the ponies grazing at dawn. This week I chatted with Tim via email. He said he loved how the wild ponies, "are personable animals with each other. Their movements are graceful and varied. They are curious."
He hasn't photographed the Assateague ponies again since the day he snapped this beautiful photo. "They are always high on my list to photograph," he said. "However, wild ones, which are the ones I am interested in, are elusive, intelligent and wary. Not easy to shoot."
Check out a couple other stamps from the national parks series, like Acadia National Park and Arches National Park.
Back to Over the Fence
---
Follow Kitson Jazynka on Twitter at @KitsonJ and on Facebook.