Last month, my friend Eliza McGraw's new book about the unforgettable World War 1 era racehorse, Exterminator, came out. I wrote here about Eliza's journey to write the book, but I wanted to dig a little deeper about the horse who was such an irresistible subject: Exterminator, the phenomenal racehorse who won the 1918 Kentucky Derby at 30-1 odds, and then went on to become one of the most beloved animals of his time.
Exterminator's story starts in World War I-era Kentucky, and goes through the 1920s. This time period was the golden age of horse racing, when racing, boxing, and baseball were the sports most Americans followed. The big names in racing—Exterminator, Man o' War, Sir Barton, and another horse named Roamer—were enormous celebrities.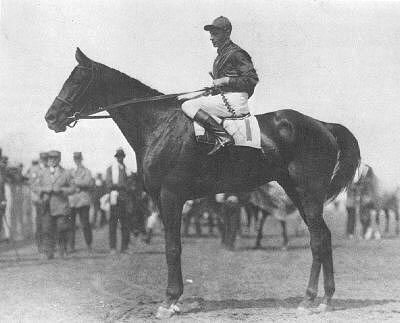 Exterminator. Public Domain image/
Wikipedia
Kitson: What do you love most about Exterminator?

Eliza: I love his personality the most, I think. I ate up stories about how much his fans adored him. That's where the title came from, actually. People shouted, "Here comes Exterminator" when he moved up to win a race. He had this very particular way of moving up on a front-runner, and winning by just a head or a nose, as if he didn't want to humiliate the other horse, but did want to win.
K: What are the most amazing aspects of his story?

E: The most amazing aspect of Exterminator's story to me is how one horse could touch so many people. I have been horse-crazy my whole life, so I know how it feels to bond very closely with a special horse, and I felt that way, in particular, about my gelding Romeo, who died in 2008. But what astonished me is how many people—racegoers, everyday Americans—felt that way about Exterminator. People loved him.
K: What were some of the most thrilling points in your research?

E: Probably the most thrilling part of my research was meeting people with connections to Exterminator. For example, his veterinarian's granddaughter, who lives in Louisville, has Exterminator's tack trunk, painted in his stable colors. She has an incredible collection of Exterminator books, magazines, and photos, and was so generous with them and her time. His trainer's great-nephew and his wife have taken incredible care of their family materials—clippings and photos and even a pair of binoculars–and kindly gave me access to those.
K: Tell me about how your being a horse person influenced or created the inspiration for the book?

E: I couldn't have written this book without being a horse person. I felt really lucky to spend time reading and writing about horses as a job. Also, while not everyone who adored Exterminator was a horse person, I think horse people liked him especially. They called him "honest"—and we all know what a compliment that is for a horse—and praised his courage.
Back to Over the Fence
---
Follow Kitson Jazynka on Twitter at @KitsonJ and on Facebook.