Horse lovers everywhere can agree on one thing: that horses have a lot to teach us, whether it's patience, responsibility, or in the case of the irresistible bay thoroughbred race horse named Zippy Chippy, that one should never give up. And always go out laughing.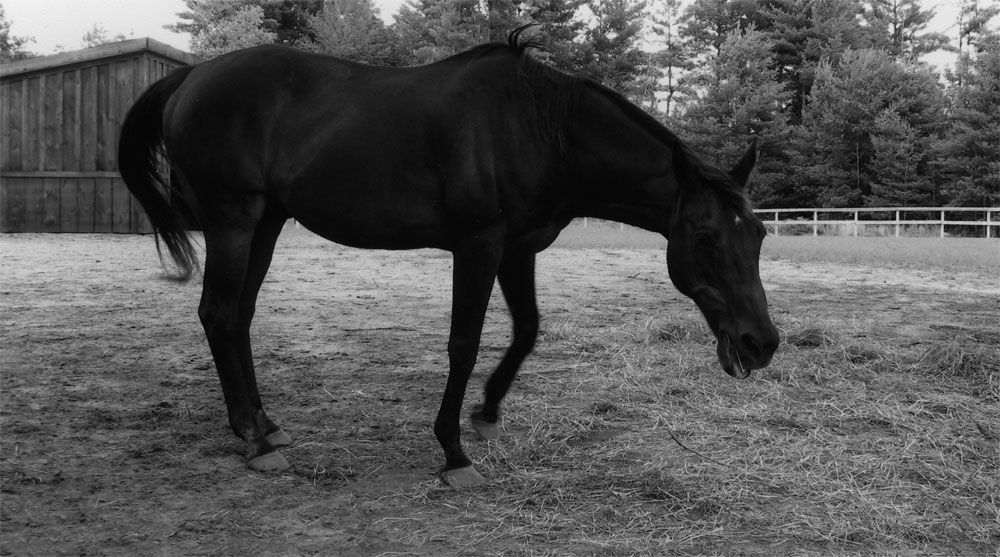 Zippy Chippy at home. Photo courtesy of Emily Schoeneman
Born in 1991 in upstate New York, Zippy came into the world with horse racing royalty in his blood. His future success seemed inevitable, but he was more of a peaceful Ferdinand the Bull than a fiery Norther Dancer. The unaffected horse with a sweet little spoonful of a star on his head went on to hold a record not for winning races, but for losing 100 of them in a row.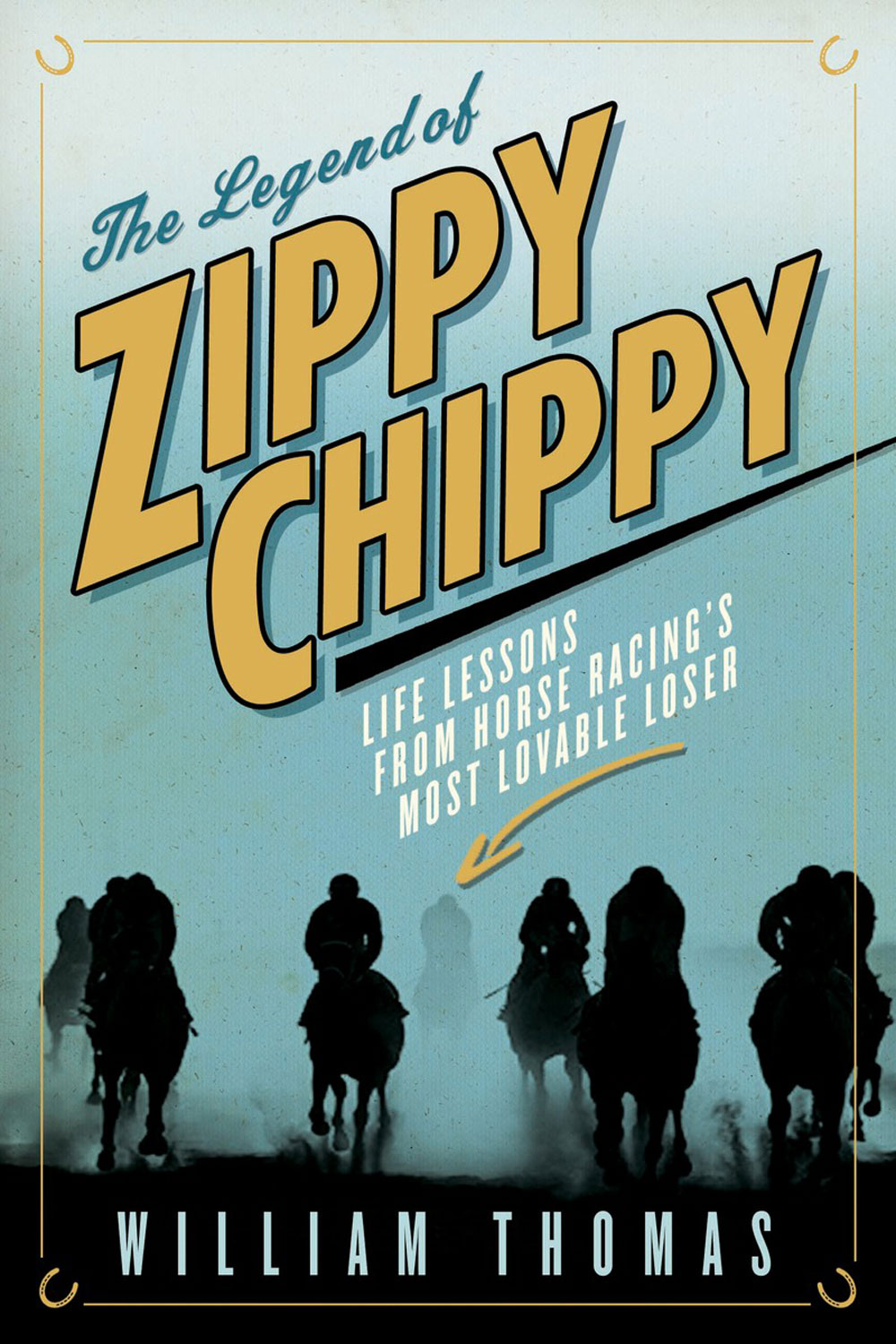 When Canadian humorist William Thomas heard the story, he knew he had a winner. He wrote a book: The Legend of Zippy Chippy: Life Lessons from Horse Racing's Most Lovable Loser, which just came out last month. I chatted with William not long ago and, in addition to having a few good laughs ourselves, I asked him about writing the book and what he learned from Zippy's story. Here's a bit of what he had to say:
Kitson: How did you first hear about Zippy's story?
William: After hiking in the Finger Lakes in New York, at a bar not far from the Finger Lakes Racetrack, we were talking about horse racing and this guy started telling me stories about Zippy Chippy. I quickly realized this was a great story. The only way to tell it was with great, great dollops of humor.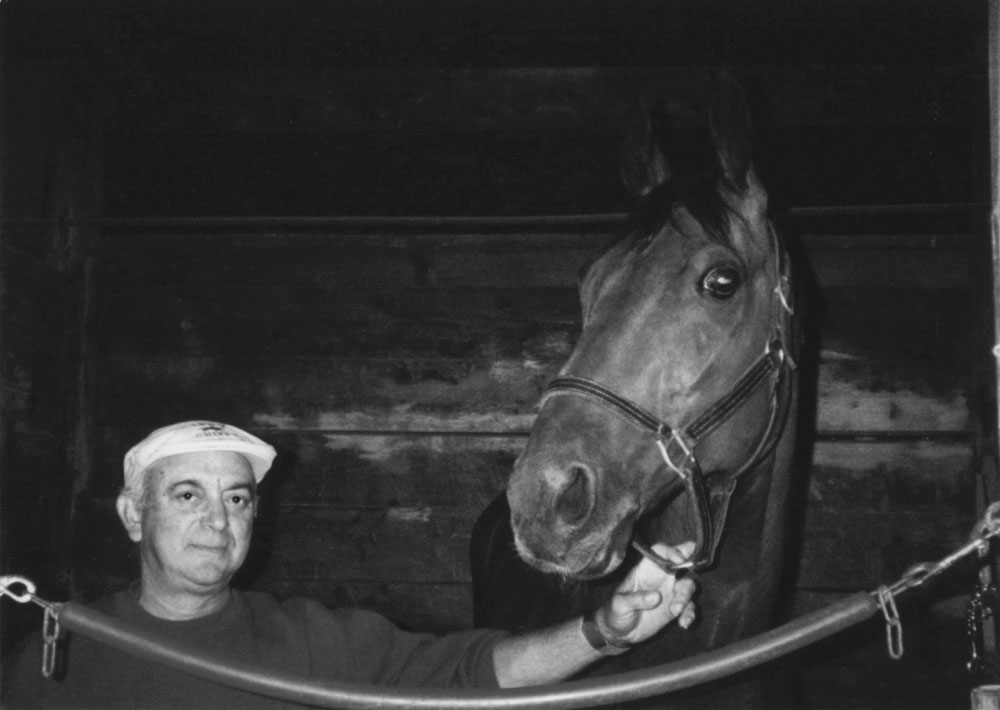 Zippy Chippy with owner/trainer Felix Monserrate. Photo courtesy of Emily Schoeneman
K: How did the book develop?
W: Once I got going, I realized this was not a horse racing story, it was a love story between a hapless trainer and horse that had the attitude of the century. They didn't win, but they never quit. Once when Zippy came in second two times in a row, for Felix [Felix Monserrate, Zippy's late trainer] it was like winning the Kentucky Derby. He got up in front of the press after the second time Zippy came in second with a big smile, and he said, "My horse, he's been losing real close lately." It was like a joke but when you think about how we all fight the battle every day to do what we need to do … sometimes "losing real close" is good enough. Regular people related to Zippy and Felix. And a lot of horse people bet on Zippy at the races not because they thought he'd win, but they wanted the ticket with his name on it to keep in their wallet.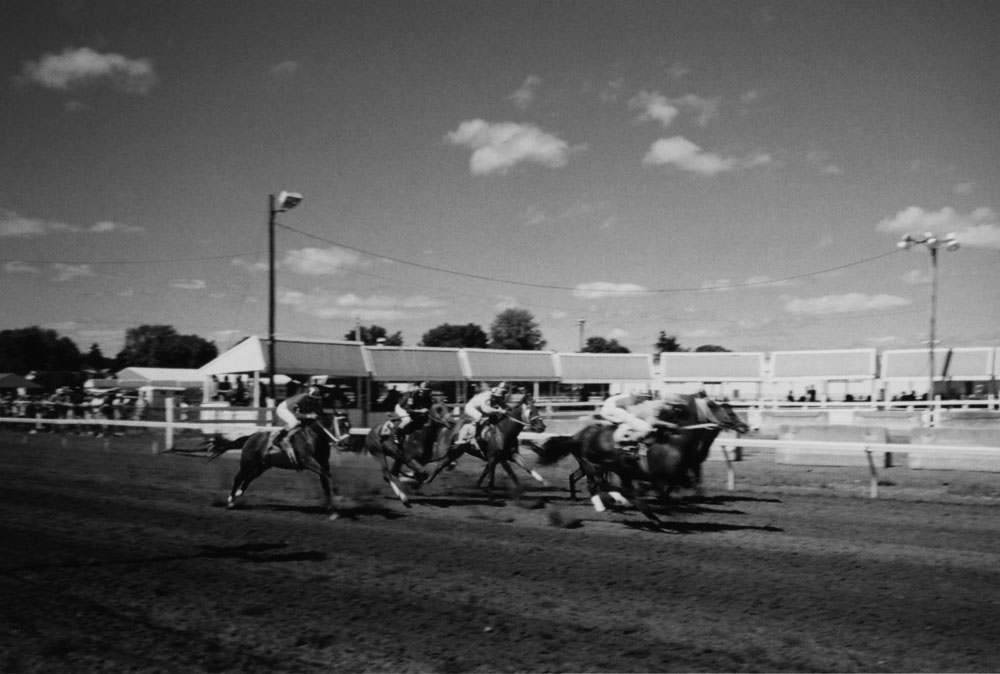 Racing at the Three County Fairgrounds in Northampton, Massachusetts. Photo courtesy of Emily Schoeneman
K: What do you love most about Zippy?
Z: The more I got to know Zippy, the more I realized his life is like vaudeville. It's wonderful stuff. I knew nothing about horses before this book, but have come to love them. They are so intuitive — they know you, they size you up, they want to connect with you and they get in your heart.
These days, Zippy Chippy lives the good life at Old Friends at Cabin Creek outside of Saratoga, New York. Here's a review of William's book in The New York Post. You can get more information about the book here.
Back to Over the Fence
---
Follow Kitson Jazynka on Twitter at @KitsonJ and on Facebook.