Photos by Gutierrez Photography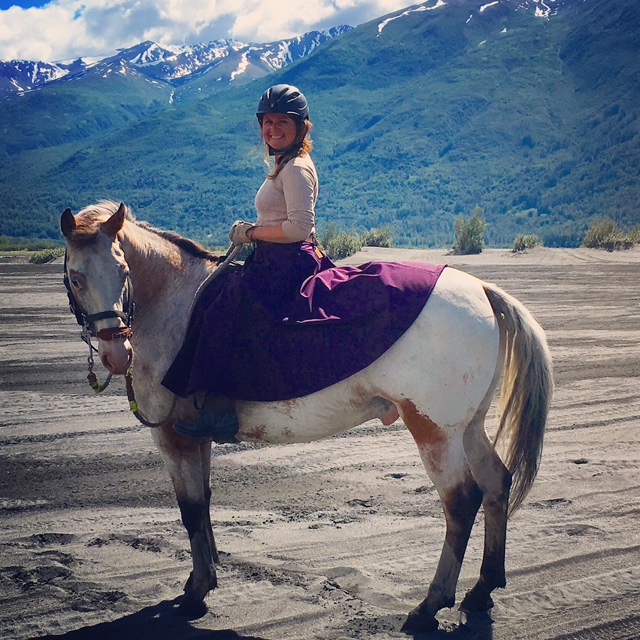 Jen Dushane grew up around horses – riding, teaching and guiding others on the trail. She's also a wildlife biologist. She started out in Vermont and now lives and works in Alaska. Whether she's trail riding in the back country around the big, cold rivers, mountains or glaciers near her farm or studying endangered beluga whales on the chilly waters of Cook Inlet off Anchorage, she's outside a lot in cold and often wet conditions.
One blue-sky day in May 2015, Jen rode out with her teenage stepdaughter with no clouds in sight. Out of nowhere, heavy snow moved in. They had a long, wet, dangerously cold ride home. Their hearty horses were ok, but her stepdaughter was nearly in a hypothermic state by the time they got home, even though she was wearing a waterproof jacket. "I have helmets and all kinds of safety equipment," Jen says. "But that day I worried something bad was going to happen because we didn't have the right gear with us."
The experience got her thinking about what would have helped keep them warm and dry. "We have great riding gear for the upper body," Jen says, "But for the lower body I never can seem to find the right stuff." She's tried insulated breeches and chaps, but never found anything that met the demands of a truly outdoor lifestyle.
Skirts, she believes, are the perfect answer. Over the past year, Jen has researched, tested fabrics, experimented and designed riding skirts for every season and purpose – rain skirts, insulated "polar" skirts, back country trail skirts made from waxed canvas to protect from brush and brambles, and classic beautiful wool skirts that double purpose as a quarter sheet on your horse. The skirts (which have snaps for mounting and breakaway straps so the skirt doesn't blow in the wind) go right over your riding pants and boots.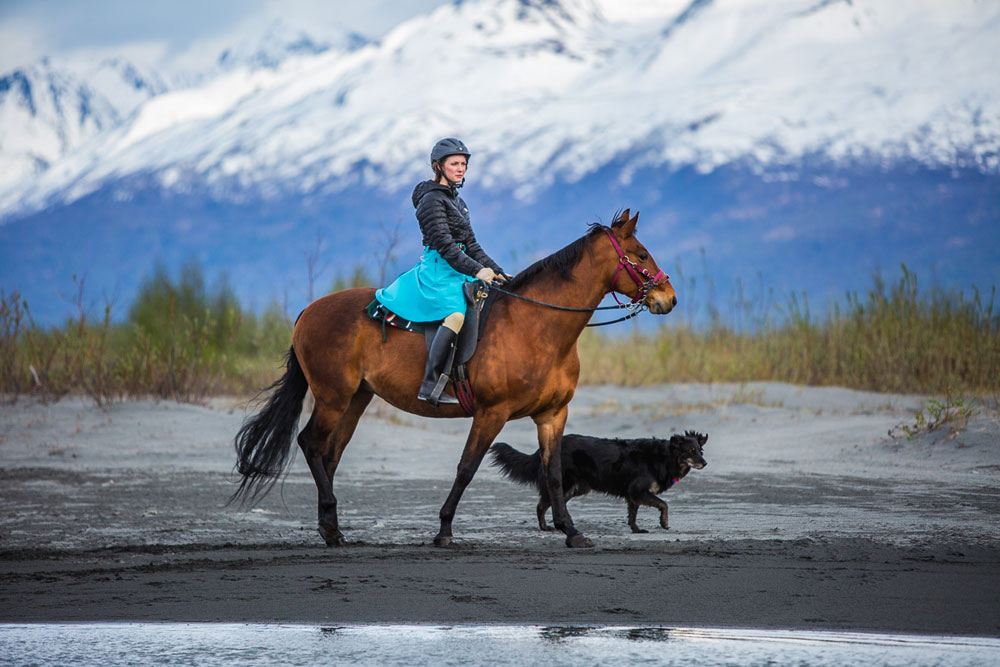 "I knew that whatever we made would have to do its job and also look really gorgeous," Jen says. Three weeks ago, she launched her site www.arctichorsegear.com and has developed a partnership program with non-profit organizations. She's had a great response so far, even from non-riders, like a young musher who has run the Iditarod with a dog sled team in frigid temperatures (and trains on a four-wheeler), who loves the flexibility of the skirts. Check out the catalog here and enjoy some of what looks to be truly beautiful, creative and useful horse gear. I can't wait to try one out myself.
Back to Over the Fence
---
Follow Kitson Jazynka on Twitter at @KitsonJ and on Facebook.