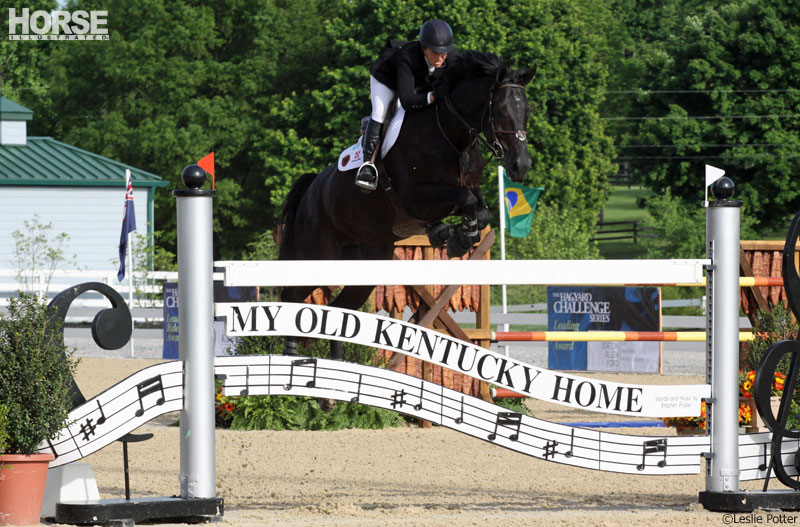 Beezie Madden and Cortes 'C' competing at the Kentucky Horse Park in 2012.

To get to the Olympics with a horse is a staggering accomplishment: Having the right horse. Making it through the Olympic trials catastrophe-free. Peaking in fitness at the right time. The strain of constant travel. And the astronomical amount of money that it takes an individual to organize – fundraising, sponsorships, perhaps selling one's first child.
Over the years, I've interviewed many Olympians and the grit required to make it to the Olympic Games is something that has always amazed me. I guess that's why it hit me hard this morning when I heard the news that Cortes C – show jumping legend Beezie Madden's adorable and massive black ride – was withdrawn as the U.S. showjumping team heads into the team final in a four-way tie for first place today.
In a statement, Beezie and her husband John Madden said: "We are heartbroken to announce that Cortes 'C' sustained a tendon injury in yesterday's competition and will be unable to compete for Team USA today. We are confident that he will make a full recovery. While we had hoped to do everything we could to help the USA towards a medal today, Tiny's best interests must come first. We are so thankful to our teammates, sponsors, and most importantly, his owner, Abigail Wexner, for understanding that in this sport, sometimes winning means doing right by your best friend. We will be there today on the sidelines doing everything we can to support Kent, Lucy, and McLain."
In 2014, after the Washington International Horse Show here in DC, I interviewed Beezie for a story in Young Rider magazine that appeared in 2015. Beezie had ended 2014 on a high note when the United States Equestrian Federation again named her Equestrian of the Year. With that award, Beezie made history as the first athlete to win the prestigious title four times. At WIHS, Beezie and Cortes C had won third place in the show's World Cup qualifier, which helped put them on their way to the Rio Olympics. During the interview, we chatted about the thrills (and challenges) of the indoor show circuit, her advice for young riders, and of course, all about the fantastic and massive Cortes C, the massive gelding they call "Tiny." Here's a bit of what she had to say that day about her incredible horse.
What is Cortes C like behind the scenes?
He's very sweet. He loves people and loves attention. He will let you know if he doesn't like something though. Like, if he's fresh and something spooks him, and you're trying to lead him to a paddock. If he doesn't want to go somewhere, it's hard to get him to go. But that doesn't happen too much. He's usually very willing.
How do you explain his unusual crossed-leg jumping style?
I don't know. It's just what he's comfortable with. Honestly, he feels like he has an excellent front end when I ride him. It doesn't bother me and it doesn't seem to bother him.
What's your favorite time of the day with the horses?
I love riding. Other than that, I wish there was more time to spend with the horses in the stable. I'm there in the morning and the afternoon for a bit more. I love how, after the Royal in Toronto, we're home for the holidays and I get to mess around with the horses at home. Anytime I get to spend with the horses is good.
Get well soon, Tiny. All your hard work and goodness has not gone unnoticed.
Meet Cortes 'C'
Breed: Belgian Warmblood

Color: Black

Born in: 2002

Sire: Randel Z

Dam: Orchidee Van de Tombeele

Owner: Abigail Wexner

Height: 17.1+

Nickname: Tiny

Claims to Fame: 2014 USEF International Horse of the Year; Won 4th place at the 2014 Alltech FEI World Equestrian Games in Normandy, France in 2014; Short-listed for the 2012 U.S. Olympic Team as an alternate.
Back to Over the Fence
---
Follow Kitson Jazynka on Twitter at @KitsonJ and on Facebook.