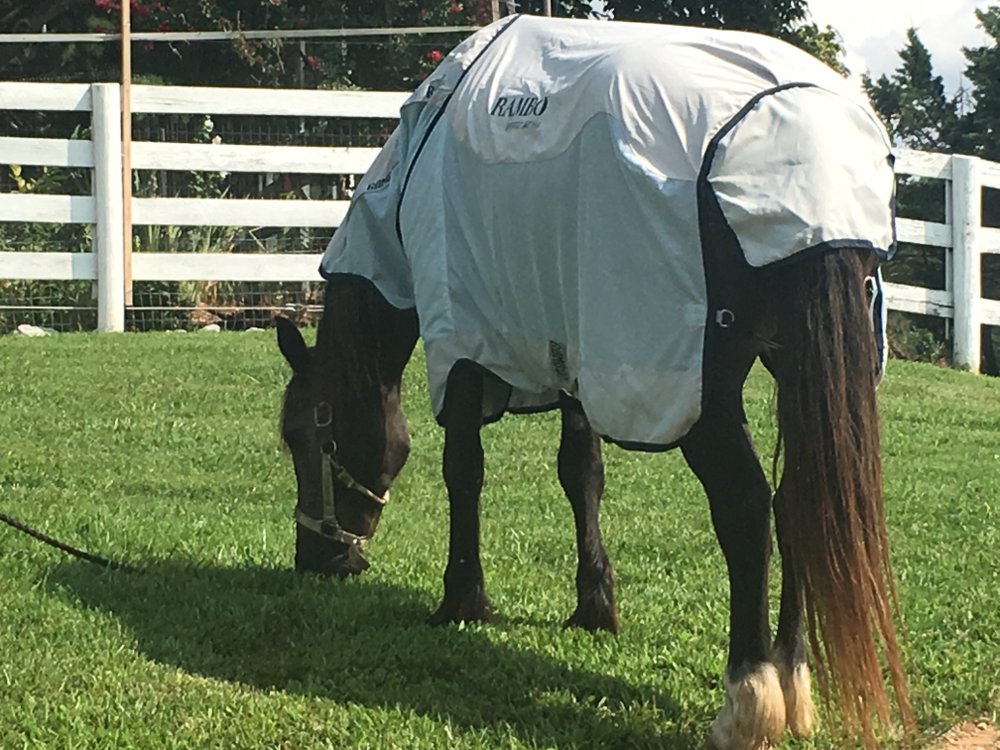 I love a Rambo sheet. Stylish, functional and I feel like I'm outfitting them in some of the best gear available. But my field-boarded horse needs something versatile that can go from the Midatlantic's cool rain to sunny and humid and back again, even if I'm not there to change out a sheet.
Last summer, I tried the Rambo Summer Series turnout (light) sheet and it fits the bill. Taff (my section D Welsh Cob gelding) is always happy to model his Horseware products. I loved how the Summer Series sheet keeps his back dry as we have been experiencing unpredictable and heavy rain storms as summer moves into fall.
One thing I loved about both of these new blankets was the improved Velcro system at the chest with pull tabs that all the Rambo sheets now have. I also love the double clasp closure at the chest to back up the Velcro. It's highly breathable on the sides that cover the shoulder and flank.
Some other things I loved about these sheets:
The fit was perfect. It didn't pinch or pull and of course the adjustable straps help keep it in place.
Wipeable tail cord. Easier to clean than the nylon cords.

Same old waterproof, breathable and difficult to rip fabric. I have full confidence in the Rambo product that these blankets will not tear, slip or soak through. One note – HorseWare describes the soft shell material used on the sheet as "a technical fabric and is not suited for horses that are hard on their rugs. IE horses who pull/ bite consistently on each other's rugs." Taff tends to be very easy on his wardrobe.

Neck coverage. The sheet comes with a hood that gives Taff a bit more coverage when it's wet out.
Flexiblity. The Summer Series sheet comes with a 100 gram removable liner that follows the shape of the soft shell to provide extra warmth over Taff's back and is pretty easy to take in and out.
Scorecard
Quality: Top notch. I have always been a fan of Horseware products and the Rambo products in particular. The versatility of this product makes it even better. Made in Ireland.
Style: I love the light blue and white, after one season's use it still looks pretty good after a wash. Reflective panels are nice if you're looking for your horse in the field after dark or before sunrise.
Function: These products do what they promise and I'm sure they will keep Taff dry when it's wet and cool when it's hot. Also helps keep bugs off and prevents your horse's coat from bleaching in the sun. Useful for spring through fall, depending on your climate.
Value: Rambo Summer Series sheet — $199. Worth it for a technical sheet with dual purpose.
Back to Over the Fence
---
Follow Kitson Jazynka on Twitter at @KitsonJ and on Facebook.