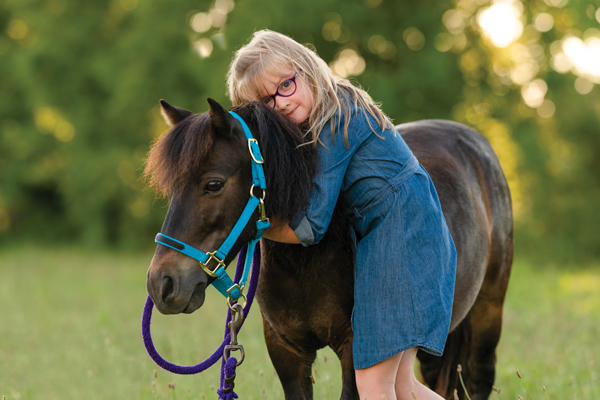 When my daughter was 2 years old, she was playing at a friend's farm that was home to a pony ride business. I'd started the search for her own pony, because I wanted something she could lead around the farm, brush and hang out with on her own without me worrying she'd be pushed around. We eventually met a Miniature Horse named Gru and fell in love with his personality, and a few days later, we would begin our journey of owning a Miniature Horse when he was led onto our farm and into our lives. Who knew such a little guy would create some big questions?
The Mini List
We learned some valuable lessons adjusting to the downsized life of owning a Miniature Horse, including some things I never would have imagined until I experienced it myself.
Stall Size: Our barn's setup includes five 12-foot by 24-foot stalls. Three of them can be divided in half, with doors going to the outside and to the inside aisle. They're perfect for cold Indiana winter days and nights when we need to keep the horses in and they need room to move around. But the stall we had available for Gru was one that is not able to be cut in half, thus giving him his own kingdom of a 12×24 stall.
Bucket Height: Within the first week, we had to adjust the height of the water bucket, and we knew immediately Gru wouldn't be able to use the corner feeder, thus the need for a rubber feed tub on the ground.
Bucket Size: Which brings us to the size of the water bucket and feed tub. We use standard 5-gallon water buckets, and I've learned that Gru doesn't drink the whole bucket, even on the hottest of days, yet we want to keep the water fresh. His rubber feed tub is rather big for the amount of grain he gets (that revelation later), but it also serves as the perfect spot for his mineral block.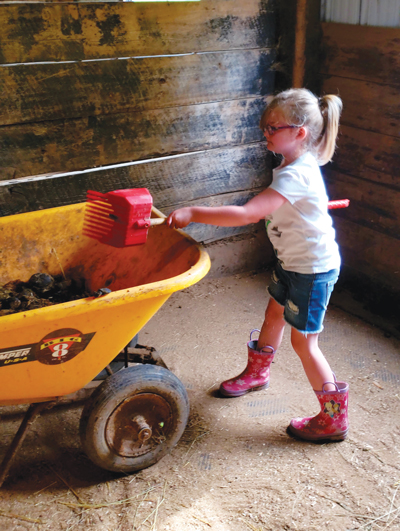 Stall Fork Tines: You don't think about how having a Miniature Horse changes the way you clean stalls … until you clean his stall with a standard fork. The size of the droppings from a Mini can make cleaning more difficult if you have a standard fork, due to the tines being too far apart. When we changed to a different type of stall fork with tines closer together, it made a huge difference in less droppings! (It also helps that my daughter has a smaller stall fork perfect for her size, and perfect for Gru's turds.)
Horse Clothing: Miniature Horse/small pony-wear is tough to come by in our area, so a lot of times I'm ordering Gru's fly mask online and hope that I don't have to go through the return process. Finding the right-sized halter generally requires some rigging to shrink up around the crown and the jaw. And don't get me started on finding a saddle that fits across his non-existent withers and wide barrel … hence why Aubrey has ridden him more bareback than in a saddle.
Dinner Portions: When it comes to feeding Gru, it's crazy to me that he eats less grain at night than my dogs eat in kibble. We feed Gru half a cup of pellets when he comes in for the night, plus half a flake of hay. He gets the same type of hay our donkeys do (the high-quality alfalfa mix is saved for the "big girls"), and he splits a flake with one donkey.
Also, we've instituted use of a grazing muzzle for the first time in our family's history of owning horses for fear of him gorging himself. However, we never know how well it works, because it's a constant battle to figure out how to keep the muzzle on him throughout the day. Who knew a Mini could be such a Houdini?
Health Care: It's important to note that not all farriers and veterinarians will work on Miniature Horses. We had to find a separate farrier that was willing to work with Gru and our three donkeys, and our veterinarian has to be quite limber to squat down while floating his teeth. Luckily, Gru has been pretty healthy and doesn't need his feet trimmed as often as our full-sized horses, but it was still a difficult issue when we first owned him.
Big Hearts in Small Packages
The list can go on and on about how much we've had to change our mindset for downsizing, but one thing is for sure about Gru: While his stature is small, his heart is huge. He's the happiest when he hears my daughter's voice, gives hugs back when she wraps her arms around his (rather round) belly or neck, and is happy to just march around the barnyard with her on the other end of the lead shank.
While Aubrey has probably already outgrown his 34-inch body, he has a forever home and a place in Aubrey's heart for a lifetime.
This article about owning a Miniature Horse appeared in the September 2020 issue of Horse Illustrated magazine. Click here to subscribe!