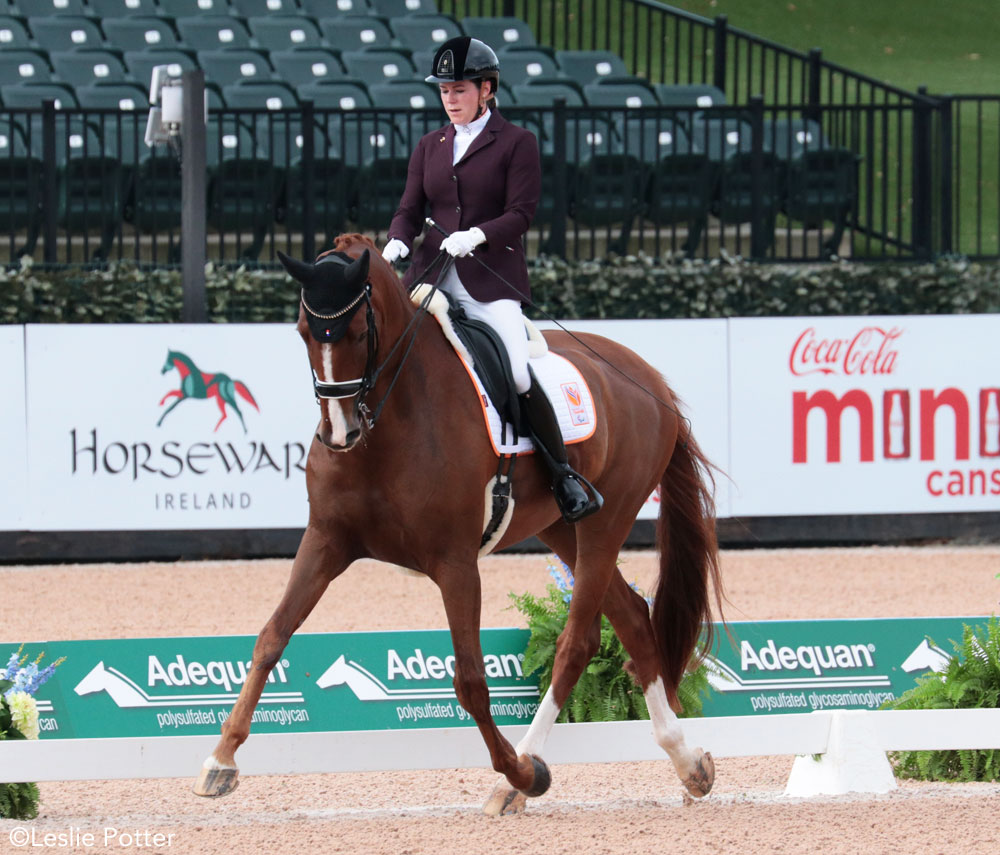 Two new disciplines started today at the FEI World Equestrian Games Tryon 2018. Para-dressage took over the Tryon Arena while vaulting moved in to the indoor arena where reining took place last week at 2018 WEG. Read on for Para-Dressage and Vaulting starting in the second week of the 2018 World Equestrian Games in Tryon, North Carolina.
Holding on to Gold
Para-dressage is divided into grades 1 through 5 and riders are classified into grades based on type of physical impairment. Grade 1 tests are walk-only. Grades 2 and 3 are walk and trot. Grade 4 includes walk, trot, and canter with lateral movements at the walk and trot. Grade 5 is at walk, trot, and canter with lateral movements at all gaits at 2018 WEG.
Today, grades 2, 4, and 5 completed their individual tests. Grade 4 was first to go, with a field that included two of the U.S. team's riders, Angie Peavy and Kate Shoemaker. It also included the 2016 Paralympic gold medalist, Sanne Voets of the Netherlands with her Paralympic mount, Demantur N.O.P., a Dutch Warmblood gelding. Voets rode a clean test to earn a score of 73.927% and the WEG gold medal. Rodolpho Riskalla of Brazil won silver with Don Henrico, and Danish rider Susan Jensby Sunesen won bronze with CSK's Que Faire at 2018 WEG.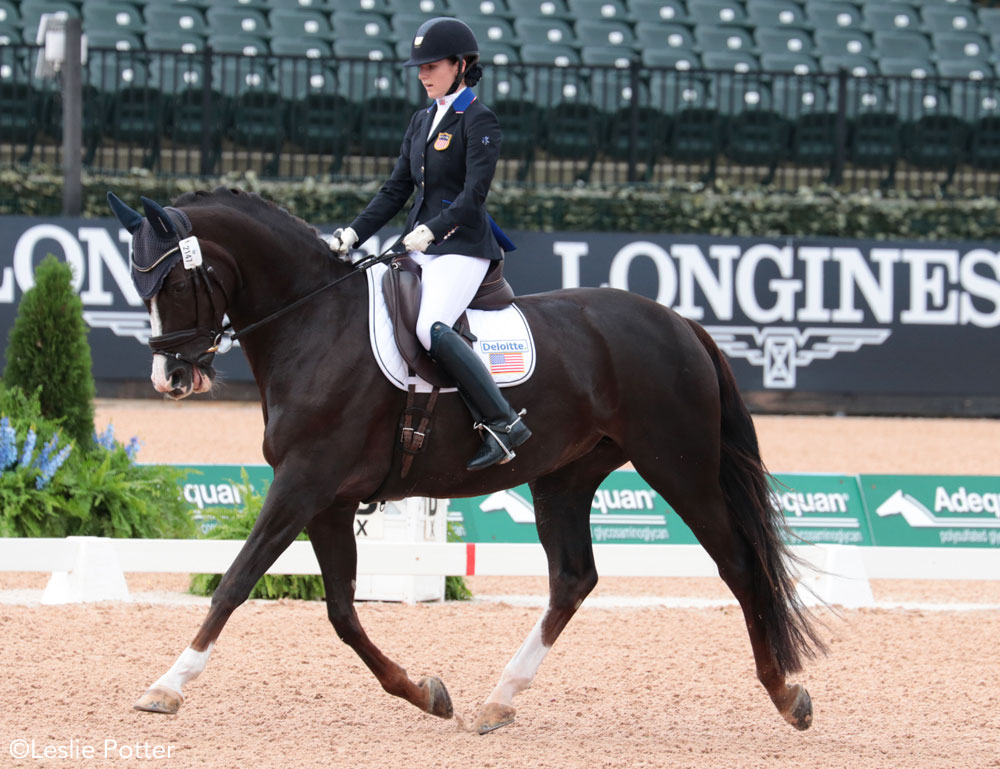 Peavy and her chestnut Oldenburg mare, Royal Dark Chocolate, finished in sixth place with a 68.707. Shoemaker was less than a tenth of a point behind to finish in seventh place with her Hanoverian stallion, Solitaer at 2018 WEG.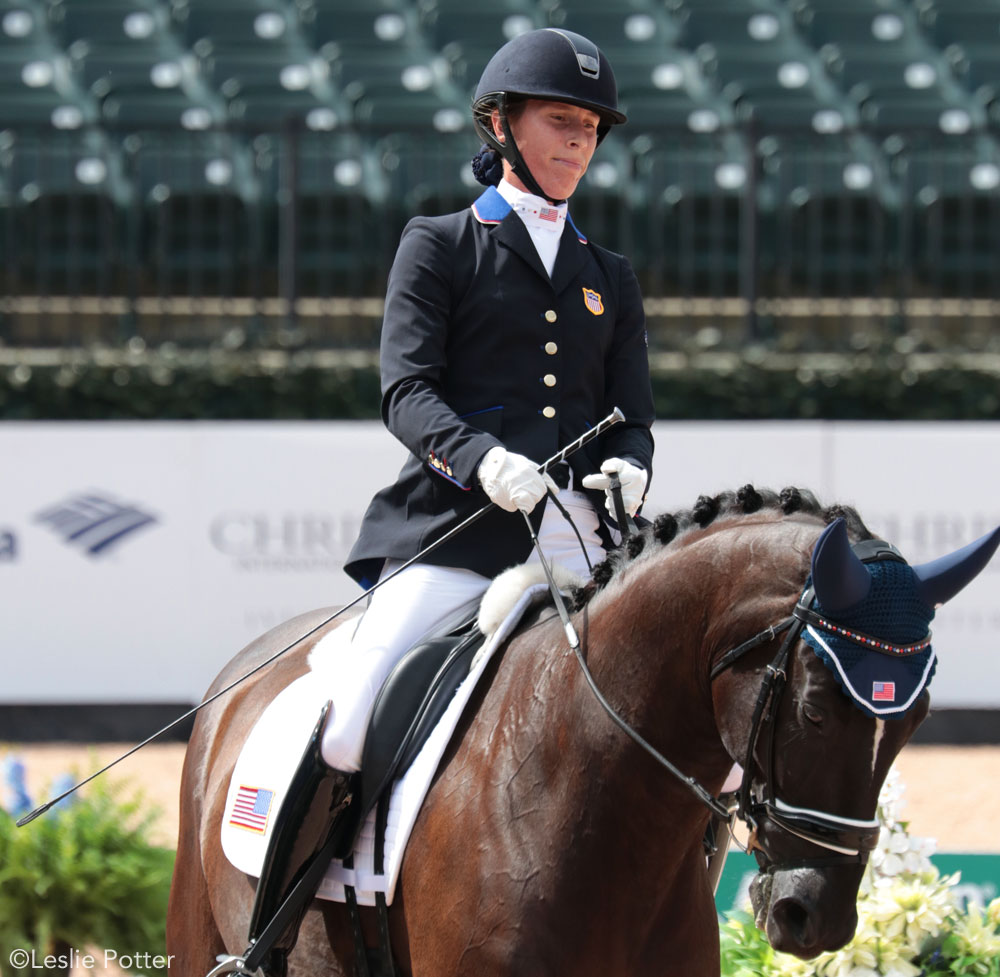 In grade 2, 2016 Paralympic bronze medalist Stinna Tange Kaastrup took the gold with Horsebo Smarties. Former eventer Pepo Puch of Austria, who won gold at the 2016 Paralympics, took silver with his Hanoverian gelding, Sailor Blue. Dutch rider Nicole den Dulk won the bronze with her Dutch Warmblood, Wallace N.O.P at 2018 WEG.
Great Britain's Sophie Wells, Paralympic gold medalist from 2016, took gold again here, winning the grade 5 individual test with C. Fatal Attraction, an 11-year-old Dutch Warmblood gelding. Frank Hosmar of the Netherlands won silver with his Dutch gelding, Alphaville N.O.P. German rider Regine Mispelkamp won the bronze with her Rheinlander gelding, Look At Me Now
Para-Dressage will continue on Wednesday with grade 3 tests at 9:30 a.m. and Grade 1 at 1:30 p.m. EDT at 2018 WEG.
On the Circle
The first day of vaulting brought the compulsory rounds for the squad, individual female, and individual male divisions. In the compulsories, each athlete demonstrates seven standard exercises. The scores earned in the compulsory rounds will be combined with the freestyle rounds to determine medals at 2018 WEG.
There was a close battle for the top of the leaderboard in the squad competition today, with the Swiss squad narrowly moving ahead of the Germans. The Austrian team currently sits in third, but only 0.006 points separate them from the fourth-placed American team at 2018 WEG.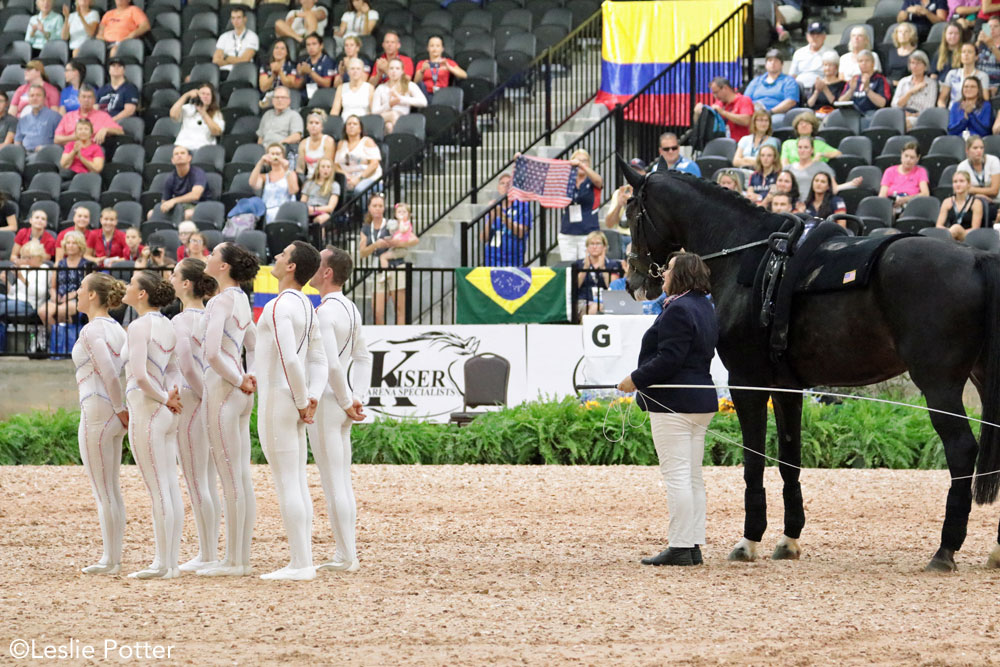 For the individual female division, Austria's Katharina Luschin and Daniela Fritz have the first and third spots, respectively, with Germany's Kristina Boe in second. Tessa Divita is the top-placed American woman, currently in 14th place. Elizabeth Osborn and Mary McCormick of the U.S. are in 19th and 20th place, respectively at 2018 WEG.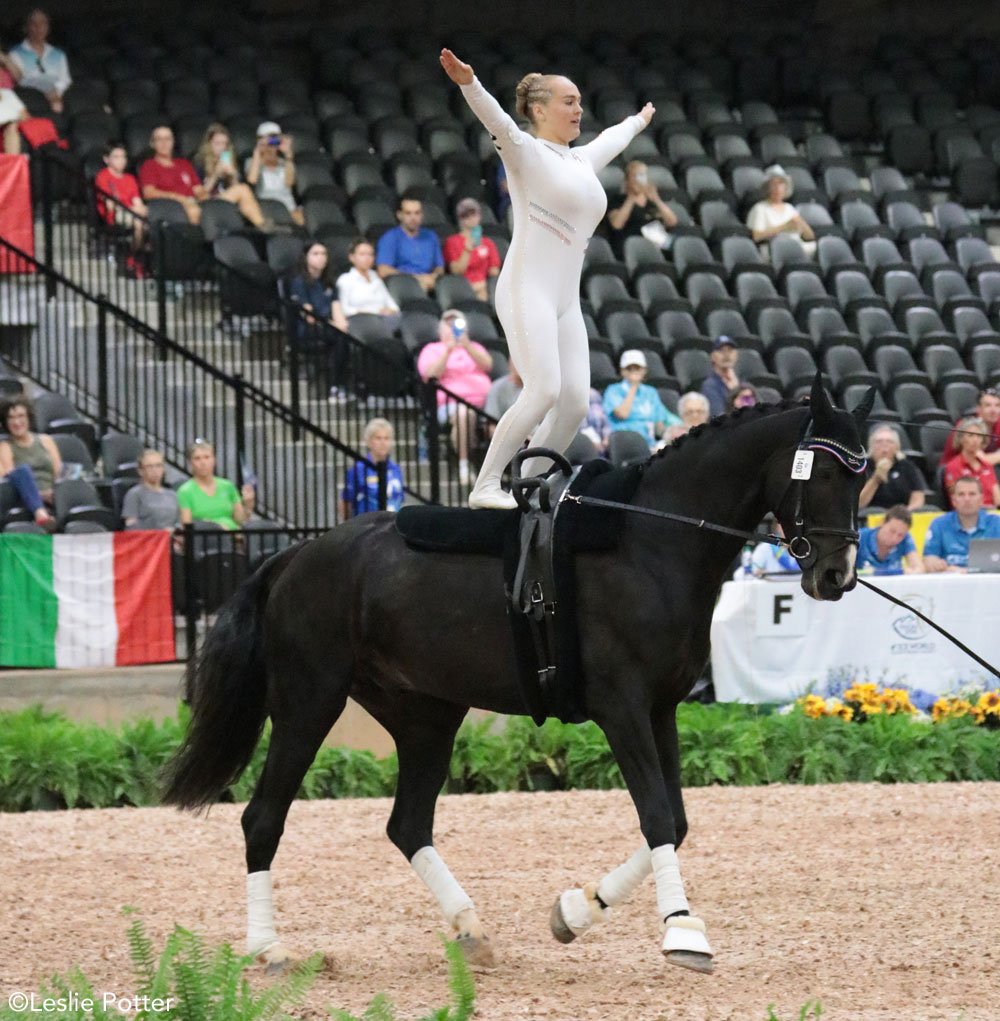 Germany currently dominates the individual male leaderboard, with Thomas Brüsewitz and Jannik Heiland holding down the first and second spots. France's Lambert Leclezio is in third. The Americans, Colton Palmer, Kristian Roberts, and Daniel Janes are clustered farther down the leaderboard, in 14th, 15th, and 16th place at 2018 WEG.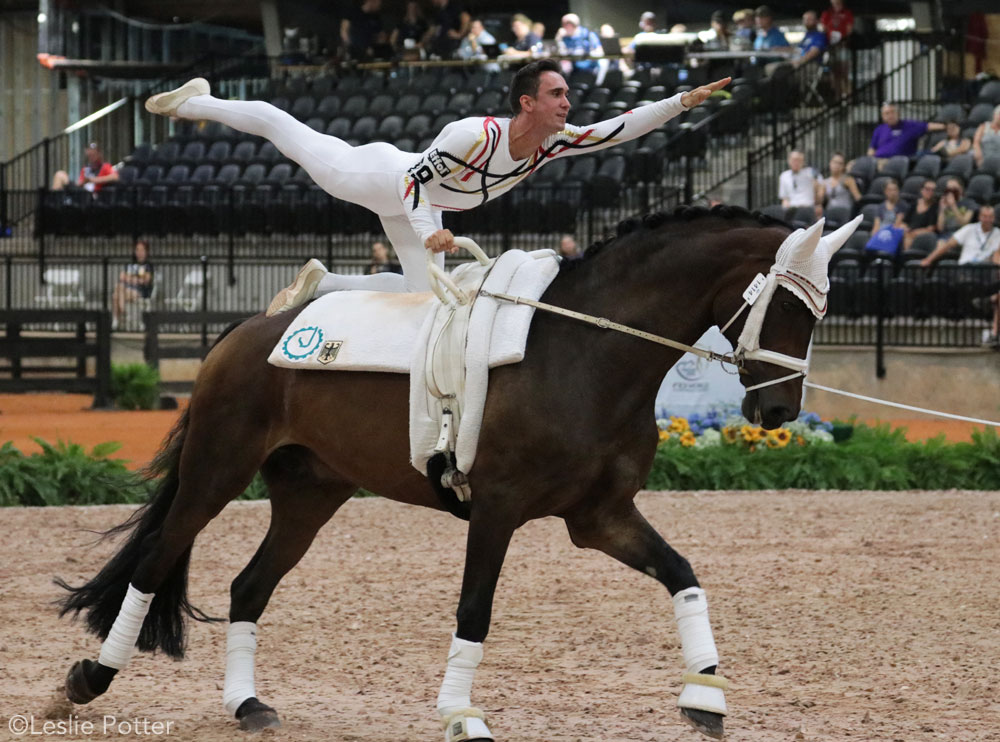 Vaulting continues tomorrow with the team, individual male, and pas de deux freestyles. The Nations Teams Freestyle: Individual and Squad, is scheduled for live broadcast on NBC Sports Network at 6 p.m. EDT on Wednesday, September 19.
Coming Up for 201 WEG
Show jumping gets underway tomorrow with the first rounds of individual and team competition. Parts of the competition are scheduled to be broadcast live on Olympic Channel at 9 a.m. and 1:30 p.m. EDT on Wednesday, September 19.
See the full broadcast schedule here.
Watch on tv.fei.org (requires a paid subscription.)
Tryon 2018 WEG Moment of the Day
Your WEG Moment of the Day for Tuesday, September 18: Lunger Monika Winkler-Bischofberger offers some quiet encouragement to vaulting horse Acardi van de Kapel before Swiss vaulter Lukas Heppler's compulsory round in the individual male competition.