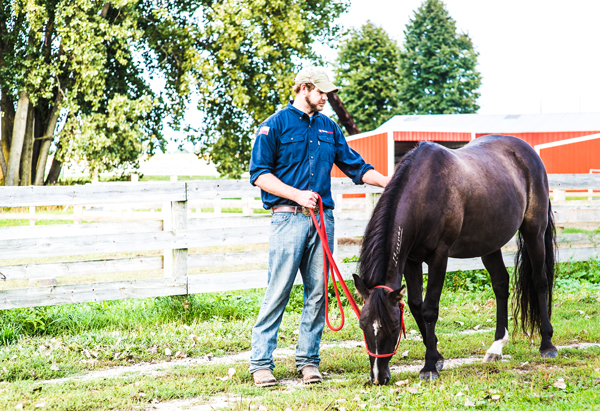 This June, The Professional Association of Therapeutic Horsemanship International (PATH Intl.) launches its online training of the research-based curriculum, EAP-PTSD for Veterans. PATH Intl. was awarded funding by the Bob Woodruff Foundation (BWF) to support the development of an online training to utilize the research-based curriculum developed through the Man O'War (MOW) Project at Columbia University. This curriculum is for mental health providers and equine specialist teams to work with veterans with post-traumatic stress symptoms (EAP-PTSD).
The EAP-PTSD program was developed by Drs. Prudence Fisher and Yuval Neria, co-directors of the Man O' War Project at Columbia University Irving Medical Center. The Man O' War team, prepared a well-specified manual, the first of its kind in the field of mental health services incorporating equines, which they then tested in an open trial of veterans with PTSD, demonstrating a measurable reduction of PTSD and depressive symptoms.
MOW and PATH Intl. partnered on this project, each bringing their expertise to make this curriculum and training effective and ultimately available to equine assisted psychotherapy (EAP) providers all over the country. This in turn will provide access to this proven treatment to hundreds of veterans with PTSD and other trauma and stressor-related symptoms. The PATH Intl.–MOW partnership is a perfect match of verified curriculum, subject matter experts, training experience and a network of experienced EAP providers. Together, they used their vision and experience to successfully create, implement, evaluate and disseminate a training program to deliver EAP-PTSD.
Thanks to the generosity of the Bob Woodruff Foundation and their strong desire to make this training available to PATH Intl. members, a limited number of grant-supported scholarships will be offered for the PATH Intl. EAP-PTSD Curriculum Online Training (underwriting all but $100/team). Training must be taken by a team of one licensed mental health professional and one trained equine specialist, and one member of the team must be a PATH Intl. member to apply for the scholarship. These scholarships will be awarded on a first-come, first-serve basis to qualifying applicants.
Visit conta.cc/3e6SOiZ for information on this training provided to help veterans with PTSD, or email Danielle Seybert, dseybert@pathintl.org.
About PATH International
The Professional Association of Therapeutic Horsemanship International (PATH Intl.) was formed in 1969. The organization leads the advancement of professional equine-assisted services (EAS) by supporting its members and stakeholders through rigorously developed standards, credentialing and education. At 881 member centers, more than 66,000 children and adults, including 6,200 veterans, may find improved health, wellness and a sense of pride, independence and fun through involvement with horses. EAS at member centers may include therapeutic or adaptive riding, interactive vaulting, driving, adaptive equestrian sport, equine-assisted learning and therapy services.
Further Reading