Horseback riding is a physical sport, and our bodies battle everything from nagging soreness and mild discomfort to full-blown pain and life-changing injuries. If you ride while unfit, sore, imbalanced or with improper posture, it can cause uneven weight distribution with a higher risk of falling off, and even cause your horse physical pain and stiffness.
Some pain issues may need to be addressed by a doctor or chiropractor, or even better, a physical therapist who understands the specific injuries of equestrians.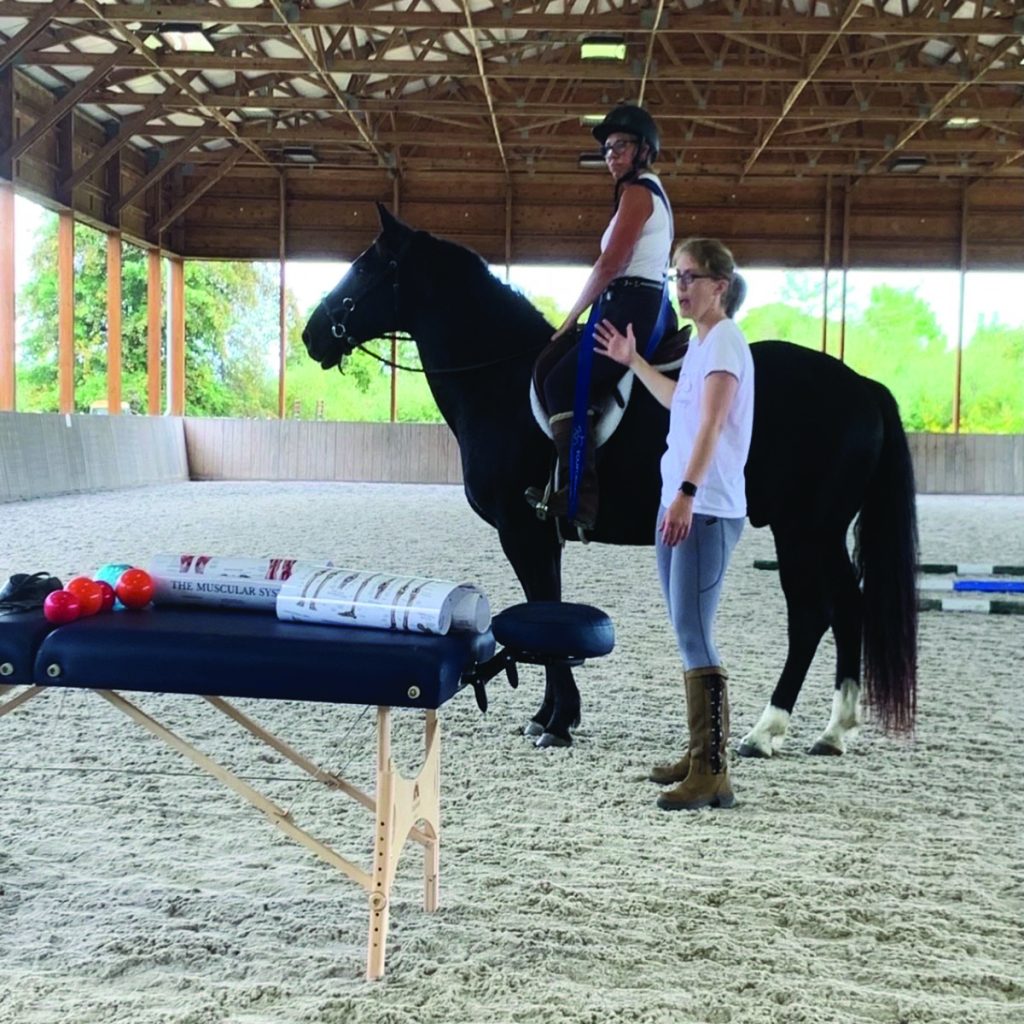 Physical Therapy That Caters to Equestrians
Lindsay Whipple, PT, DPT, and founder of EquiPT, based in Queen Creek, Ariz., offers a local mobile physical therapy service for equestrians that also travels to equine facilities, clinics and shows. Her treatment methods and corrective exercise programs are designed to cater to the unique demands of any level of equestrian.
Whipple starts her assessment in the arena and watches her client ride, concentrating on the problems the rider is feeling while also looking for any minor subtle movements and body carriage that the rider may not even be aware of but that can contribute to discomfort and pain.
"My riders are either in active pain that is making their daily activities rough and harming performance for themselves or their horse, or [they] want to develop an independent seat," says Whipple. "I love being able to connect all the movements and help riders modify their equitation and body mechanics to support a healthier and safer way of riding."
Her sessions end with riders on the portable treatment table, where she will evaluate their complaints and injuries.
"I want to find the target areas, trigger points and any surprise discomforts in the exam, which feel like tight denseness in the soft tissue," Whipple says. "This may be a little uncomfortable for my client, but it helps me identify the extent of the damage and arrange a treatment plan, exercises and stretches that will support healing."
Body Awareness for Equestrians
Awareness of your own body is just as important as awareness of your horse.
"Taking a longeline lesson will help isolate which body parts are hurting without having to be 100 percent in charge of your horse," says Whipple. "Make a mental list of what exactly is uncomfortable, and if it's a new strain or lingering chronic pain. Remember not to leave anything unaddressed, as it usually will build into a worsening problem."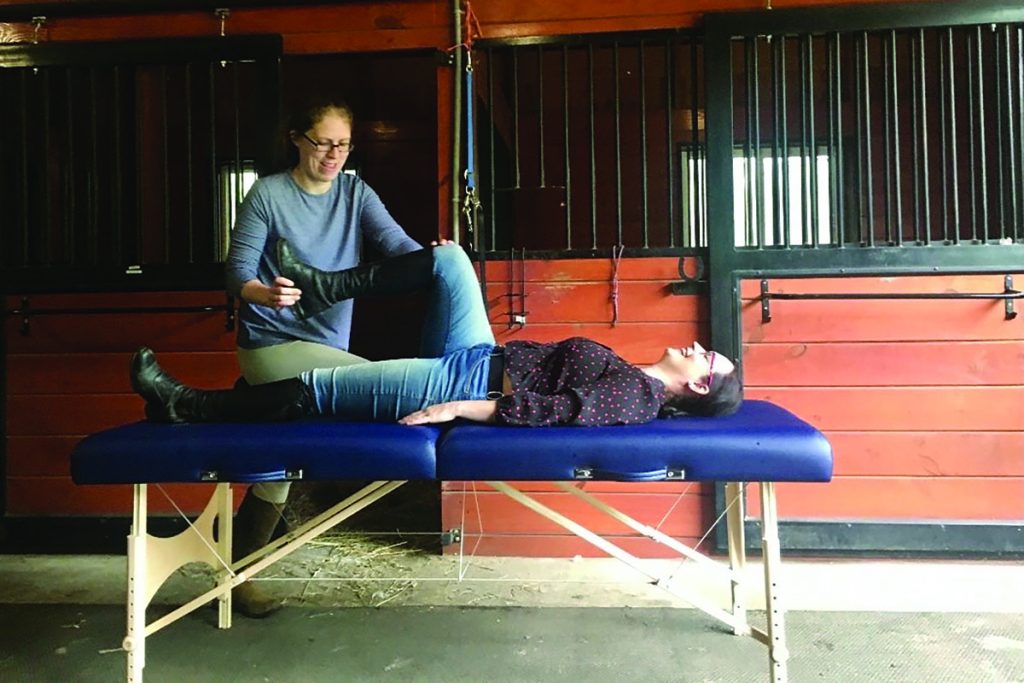 Everybody responds to pain and injury differently, and each individual tolerates these and compensates in various ways by changing their body mechanics.
"Sometimes riders don't notice this happening, and this type of overuse can delay recovery, which keeps you out of the saddle," says Whipple. "Limiting your riding time as your body heals will actually prolong saddle time down the road. This needs to be a motivating process, as staying off your horse can be quite heartbreaking."
Common Rider Complaints
Lucy Brochynski, PT, DPT, CERP, is owner of Horse and Rider Physical Therapy, a mobile concierge physical therapy service for equestrians based in Northern California. Brochynski's horse passion started at a young age with showing on the Quarter Horse circuit.
"Two common areas where riders develop pain in are the lower back and hips," says Brochynski. "We are often bending over, lifting heavy objects and sustaining the impact that riding causes on the lower back. To prevent these injuries, riders need to focus on good body mechanics on and off the horse to improve core strength."
Riding position can also lead to inflammation and pain in the hips from the way the pelvis is positioned.
"Often I see riders with one tight hip muscle while the opposite side hip muscles are weak," says Brochynski. "This causes riders to lean to one side or sit more on one seat bone than the other, throwing the rider and horse off balance. The best way to strengthen hip and pelvis muscles is to do correct glute exercises as explained by a doctor or physical therapist."
Tips for Equestrians Needing Physical Therapy
Danielle Shugard, DPT, owns DCS Physical Therapy in Chesterfield, N.J., where she travels to homes, barns and events helping riders alleviate pain and improve their overall biomechanics.
"Being mindful of how you treat your body is key to maximize time spent in the saddle," says Shugard. Warming up before you ride increases blood flow to your muscles, raises your heart rate, and mentally prepares you for what's to come.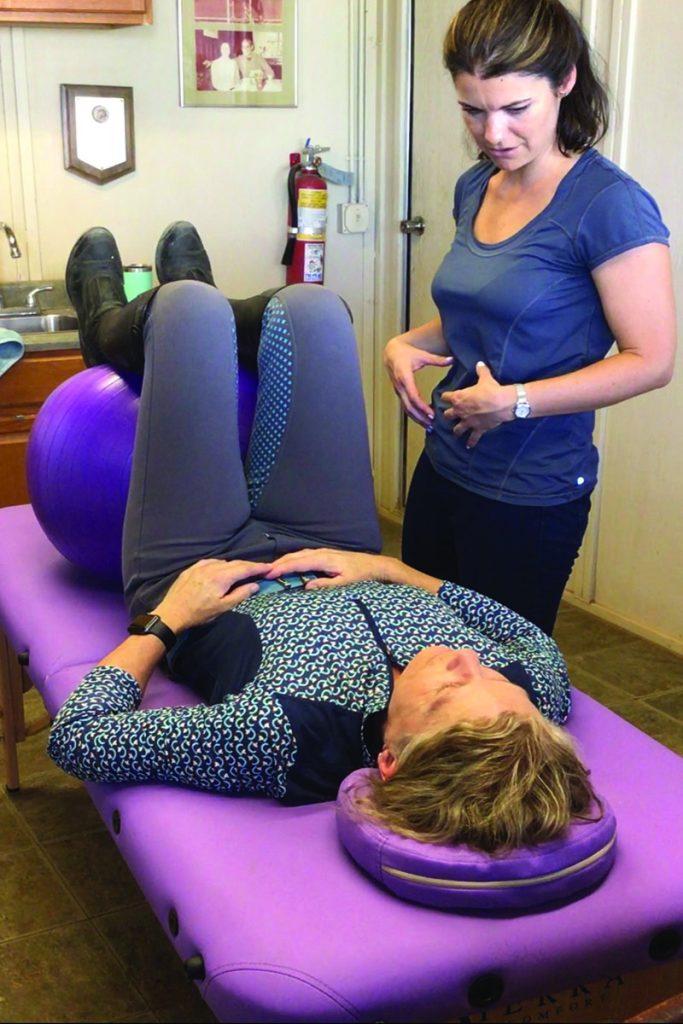 "I suggest jumping jacks, marching in place, gentle lunges to the front and side, and little squats," Shugard continues. "Mentally preparing for how you want your body to work can have a dramatic effect when you're in the saddle. This is a great time to take a few deep breaths and let go of any stress you don't want in the saddle with you. It doesn't have to take a long time, but both warm-up ideas can improve your entire ride."
Stretching & Strengthening as an Equestrian
These are meant to be general guidelines, but make sure you speak with a medical professional prior to starting any new activities, or if you are having any pain.
The following exercises from Shugard address multiple muscle groups and work in functional patterns.
◆ Squats: Start with a chair behind you at first in case you lose balance and have to sit down. Place your feet hip-width apart and slowly push your hips back into a sitting position while bending your knees to increase activation of your glutes. Continue to lower yourself until your thighs are parallel to the floor. To add difficulty and use more muscle groups, add a loop resistance band just above your knees.
◆ Hamstring stretch: While seated on the floor, place your leg out straight, then lean forward over it, feeling the stretch in the back of your leg, then switch legs.
◆ Single leg circles: Lying on your back, raise one leg up toward the ceiling and make controlled circles. Make as big of a circle as you comfortably can.
◆ External rotator stretches: Lying on your back with your legs bent, cross one leg over the other, then bring them both up toward your chest, feeling the stretch in the glute muscle of the top leg.
◆ Chest opener stretches: Roll up a towel or blanket and lay it on the floor or a bed along the length of your back. Lie face up on the roll—it should feel like a gentle stretch across the front of your chest.
◆ Coordination stretches: Raise one arm out in front of you and the opposite leg. Then raise the same side leg and arm, and switch. Is there one side that's easier to do than the other?
Don't let poor posture, weak or overworked muscles, inflamed joints, or the agony of an injury steal riding time unnecessarily. Finding a physical therapist who works with equestrians can make all the difference.
This article about physical therapy for equestrians appeared in the June 2021 issue of Horse Illustrated magazine. Click here to subscribe!