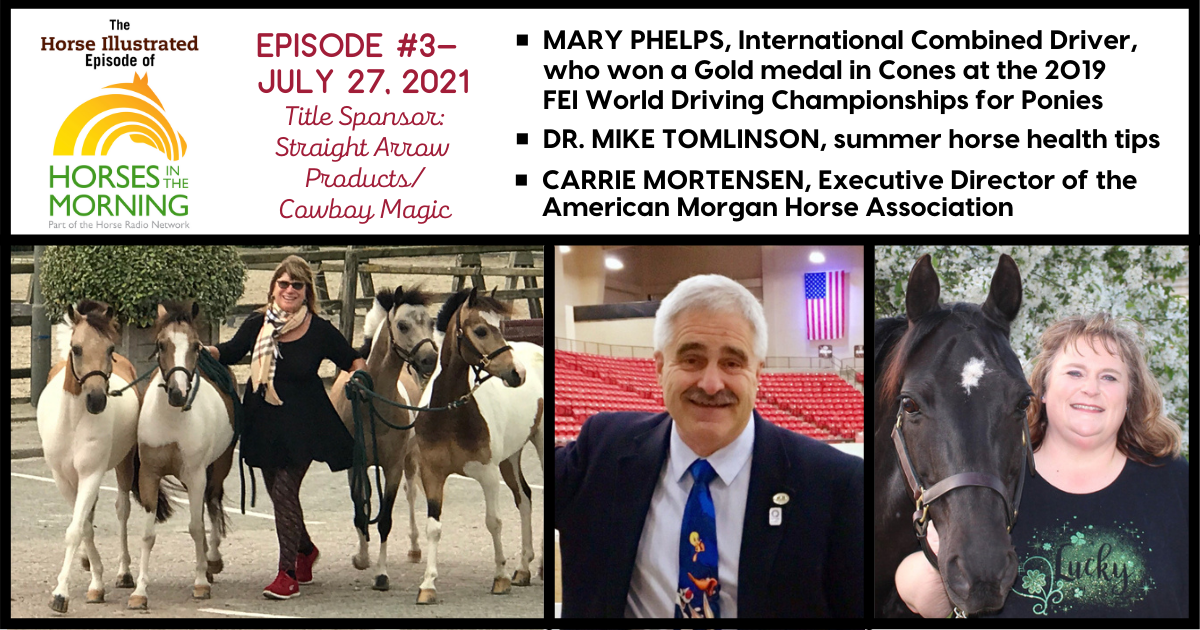 In this third podcast episode of The Horse Illustrated Episode of Horses in the Morning, sponsored by Title Sponsor Straight Arrow Products, hosts Glenn the Geek and Sarah Evers Conrad talk to Mary Phelps, an international combined driver, who won a Gold medal in Cones at the 2019 FEI World Driving Championships for Ponies. We also learn summer horse health care tips from international veterinarian, Dr. Mike Tomlinson. And Carrie Mortensen, executive director of the American Morgan Horse Association, shares the magic of the Morgan breed with podcast listeners.
Hosts:
Sarah Conrad, Digital Content Editor of 
Horse Illustrated
 & 
Young Rider
and Glenn the Geek, host of Horses in the Morning
Title Sponsor: Straight Arrow Cowboy Magic
There's an App for that!  Check out the new Horse Radio Network app for iPhone and Android. Follow Horse Radio Network on Twitter or follow Horses In The Morning on Facebook.
Guests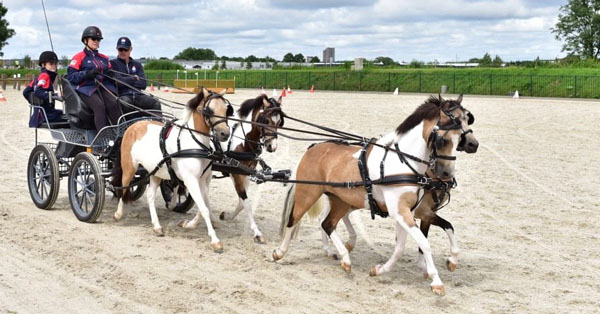 Mary Phelps is an equine insurance agent, photographer, and journalist. Mary created HorsesDaily.com in 1997, and it's the oldest and longest-running website in equestrian sport. A lifelong equestrian, she is an FEI 3* athlete in combined driving. Together with her husband, Wayne Humphreys, Mary manages and trains her world-class driving ponies, competing at the highest level of the sport of combined driving. In 2019, Mary and her now world-famous driving ponies "The Gangsters" Al Capony, Bugsy Malony, Tony Da Pony, and Kimba competed for the U.S. in the FEI World Driving Championships for Ponies in Hungary, where they won an individual Gold medal in the cones phase and finished 12th overall. Bugsy Maloney and Tony Da Pony became part of the 2020 releases of Breyer model horses.
Links: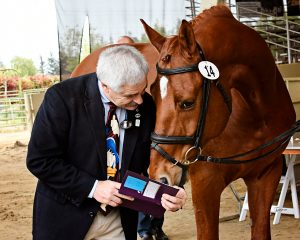 Dr. C. Mike Tomlinson, DVM, MBA, offers summer horse health care tips. He has been a veterinarian, judge, course designer, steward, or technical delegate at around 30 FEI events each year, on nearly every continent around the globe since 1984. In 2018, he was the president of the Veterinary Commission 1 for the World Equestrian Games (WEG), Dr. Mike has represented the USA as Team Veterinarian at several Games and World Championships. In addition to FEI events and veterinary practice, Dr. Mike has been a 'C' level executive in many startups, both in and out of the horse world, including companies such as SmartPak, Game Ready, and Snap Seals. His technical time is spent working in chemical engineering, software coding, and medical device innovation. Dr. Mike is known for his constant energy, immunity to jet lag, and penchant for cartoon ties.
Links: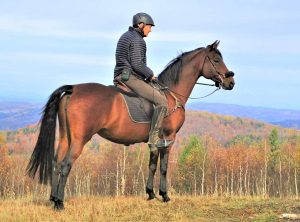 Carrie Mortensen is the executive director of the American Morgan Horse Association (AMHA), which was founded in 1909 as the Morgan Horse Club and reorganized in 1971 to AMHA. She graduated with an Equestrian Science degree at William Woods University before obtaining her MBA at Xavier University. A longtime resident of Lexington, Mortensen feels fortunate to have gained a plethora of equestrian business skills from her past employment with organizations such the United States Equestrian Federation, The Jockey Club, and other breed associations. As a representative of AMHA, she now helps the organization in its mission to preserve, promote, and perpetuate the Morgan Horse breed.
Title Sponsor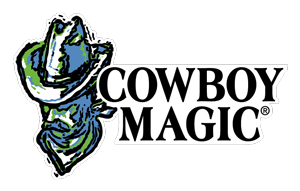 We want to thank our Title Sponsor, the Straight Arrow Family of Brands, makers of Mane 'n Tail, Cowboy Magic & Exhibitor's, with over 100 years of grooming excellence. For more information about your favorite products, please visit www.straightarrowinc.com and www.cowboymagic.com and find Straight Arrow Products at a tack shop near you!