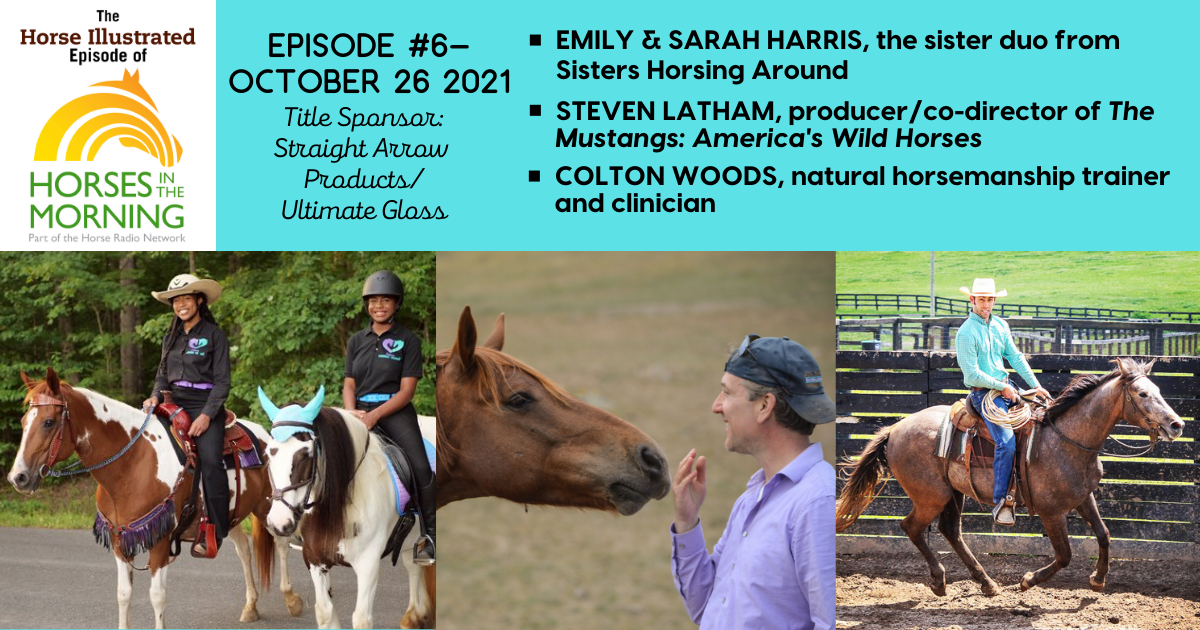 In the sixth episode of The Horse Illustrated Episode of Horses in the Morning, sponsored by Title Sponsor Straight Arrow Products, hosts Glenn the Geek and Sarah Evers Conrad talk to Emily and Sarah Harris of Sisters Horsing Around; Steven Latham, producer and co-director of The Mustangs: America's Wild Horses film; and Colton Woods about the sustainability of the horse industry and his training philosophies.
Hosts:
Sarah Conrad, Digital Content Editor of 
Horse Illustrated
 & 
Young Rider
and Glenn the Geek, host of Horses in the Morning
Title Sponsor: Straight Arrow Family of Brands
There's an App for that!  Check out the new Horse Radio Network app for iPhone and Android. Follow Horse Radio Network on Twitter or follow Horses In The Morning on Facebook.
---
Emily and Sarah Harris of Sisters Horsing Around
Emily and Sarah Harris are the sister duo of "Sisters Horsing Around," which includes their YouTube channel, website, and social media accounts (see below). Sisters Horsing Around is a fun, engaging, informative and educational resource for horse information. As multi-discipline riders, Emily and Sarah have had a variety of experiences, and they are passionate about sharing the joys of horses. They call themselves the "Equestrian Guides" and want to help non-equestrians explore the amazing world of horses. For those that are equestrians, they want to help broaden their interests in different disciplines. They do this by creating content that can be enjoyed and understood by anyone. They also endeavor to bridge the gap between those outside the horse world and those in the horse world and bring equestrian sports into the limelight in an interesting and understandable way.
Additional Links for Sisters Horsing Around:
◆ www.instagram.com/SistersHorsingAround
◆ www.facebook.com/SistersHorsingAround
◆ www.twitter.com/SistersHorsing
◆ www.pinterest.com/SistersHorsingAround
For the article about our Equitana coverage, click here. Facebook Lives from Equitana feature:
◆ Susan Friedland of Saddle Seeks Horse
◆ Heather Wallace of The Timid Rider
◆ Certified Horsemanship Association CEO Christy Landwehr
◆ The Social Responsibility of Equestrian Influencers Panel Part 1 and Part 2 (featuring Sisters Horsing Around, interviewed in the podcast)
◆ Positive reinforcement trainer Shawna Karrasch
◆ The demo from Shawna Karrasch (mentioned in the podcast)
◆ Carriage Association of America's Publication Manager Kathleen Haak
◆ A demo from Colton Woods (interviewed in the podcast).
---
Steven Latham with The Mustangs Film
Steven Latham is the producer and co-director of The Mustangs: America's Wild Horses, which takes audiences on an odyssey throughout America to places few people have seen or even know about. There are more than 80,000 wild horses on our public lands and more than 50,000 in government corrals. This feature documentary is executive produced by Robert Redford, Patti Scialfa Springsteen and Jessica Springsteen. The film features songs by Bruce Springsteen, Emmylou Harris and Willie Nelson and an original song written by Diane Warren and performed by Blanco Brown.
Steven also created and produces the award-winning series, Shelter Me, which tells stories that celebrate the human-animal bond. The episodes have been hosted by John Legend, Jane Goodall, Kristen Bell, Jon Hamm, Hilary Swank, Allison Janney, Edie Falco, Jane Lynch, Wendie Malick, Daymond John and Katherine Heigl.
Steven began his production company with a film series he created with Barbra Streisand called, The Living Century, which focused on people who were at least 100 years old. He also produced and directed for the science series, NOVA, and made the only film about the TED Conference. Prior to launching his company, he worked at Ketchum, Grey, Paramount Pictures, PolyGram Television, and Universal Worldwide Television.
Additional Links about The Mustangs Film
◆ The Official Trailer
◆ The Mustangs Film website
◆ www.facebook.com/TheMustangsFilm
---
Colton Woods of Colton Woods Horsemanship
Colton Woods is a husband, horseman and entrepreneur dedicated to helping others develop themselves, their horses and businesses to be the best they can be. Horsemanship to him is not just a way to train a horse—it is everything we do with our horses and in our own lives. He grew up in a family of international business, and even lived in China for two years, and brings a whole new perspective and way of building horse training businesses to the horse world. Through his Professional Horseman's School, his Business Mentorship for Horse Trainers, podcast The Heart of Horsemanship, teaching clinics and at expos as well as training select horses for clients, Colton is truly changing lives in the horse industry. He knows it is time we have the tough conversations, we challenge industry traditions and he lives it out. One of his favorite quotes is, "To avoid criticism, say nothing, do nothing, be nothing" by Elbert Hubbard.
Additional Links about Colton Woods
◆ Colton Woods Horsemanship website
◆ FREE BOOK: "Be A Leader Worth Following by Colton Woods" with a SPECIAL OFFER for Horses in the Morning Listeners
◆ The Professional Horseman's School
◆ www.facebook.com/coltonwoodshorsemanship
◆ www.instagram.com/coltonwoodshorsemanship
◆ www.youtube.com/coltonwoodshorsemanship
◆ TikTok.com/@coltonwoodshorsemanship
---
Title Sponsor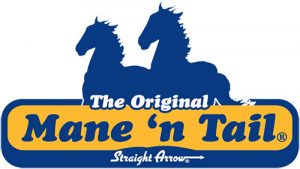 We want to thank our Title Sponsor, the Straight Arrow Family of Brands, makers of Mane 'n Tail, Cowboy Magic & Exhibitor's, with over 100 years of grooming excellence. For more information about your favorite products, please visit www.straightarrowinc.com and find Straight Arrow Products at a tack shop near you!
The "Magic" in Cowboy Magic comes from the bond between you and your horse. Cowboy Magic celebrates every moment with you, from quiet chats in the pasture to the adrenaline rush of competition. We want to invite you to embrace your "Magic Moment" with your horse by sharing your favorite photos with Cowboy Magic on social media using #CowboyMagicMoment.