HorseIllustrated.com readers cast their vote in the weekly poll on "What is your favorite holiday to celebrate with your horse?" Catch the poll results on this page, along with more resources on the topic of spending a holiday with your horse.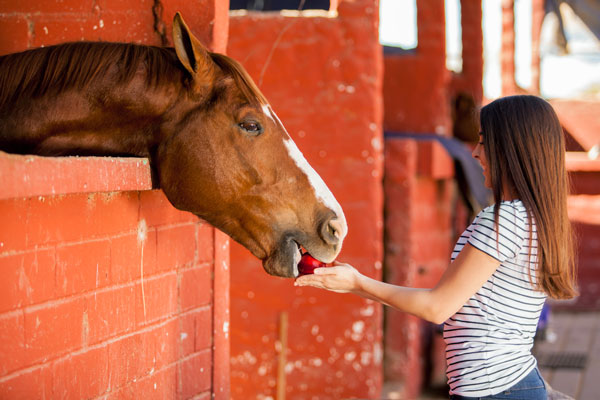 During the holiday season, humans enjoy plenty of special treats, so why shouldn't favorite equine enjoy healthy horse treats?
There are a number of healthy treats that your horse can enjoy. These treats can provide pleasure and add beneficial nutrients to your horse's diet. However, they can also precipitate into behavioral problems.
"Some fruits and vegetables make healthy horse treats," notes Dr. Glennon Mays, clinical associate professor at the Texas A&M College of Veterinary Medicine & Biomedical Sciences. "However, feeding your horse foods other than their usual grain and forage can result in some unwanted results."
"Many horses enjoy apples and an apple cut into pieces makes a wonderful treat," states Mays. "Apples should be cut into pieces since a whole apple may cause your horse to choke. Whole apples are the perfect size to become lodged in the horse's esophagus."
"Nutritionally, apples provide your horse with potassium which is important for proper muscle contraction and nerve function. Also, potassium is an electrolyte which is important for cellular metabolism," explains Mays.
Read more from "Your Horse Can Enjoy Healthy Horse Treats for the Holidays, in Moderation"
Further Reading on Topics Related to Holidays with Your Horse
◆ It's a Horsey Valentine's Day
◆ Top 10 2020 Horse Halloween Costumes (Editor's Picks)
◆ Is Halloween candy safe for horses?
◆ A Thanksgiving Treat
◆ Happy Horsey Holidays: Throw a Horsey Holiday Party
◆ A Rider's Holiday Wish List
◆ A Horse Owner's Holiday Season Struggles