HorseIllustrated.com readers cast their vote in the weekly poll on "Which problem do you hate the most during winter horsekeeping?" Catch the poll results on this page, along with more resources on the topic of winter horsekeeping problems.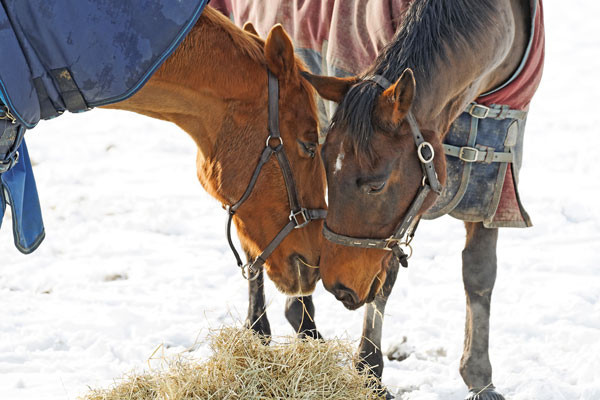 Winter horse keeping can be a real pain in the neck, no matter where you live and what challenges come with your climate. Whether your winter weather is cold, snowy, rainy, icy, or even balmy, here are tips and hacks from fellow horse people to make your horse care and riding more enjoyable and get your horse through winter.
Snow Belt
Jenny Alsberg is a hunter/jumper trainer who also runs a boutique boarding operation geared mainly toward retired show horses. Her 40-acre facility, Gold Crest Sport Horses in Kiowa, Colo., is in an area known for big snow storms and long, cold winter.
Lower-Maintenance Blanketing
When healthy horses are allowed to grow a good winter coat, they're often comfortable, even in freezing temperatures.
"As a hunter/jumper trainer, I was an avid blanketer and used to run around changing horse clothes all day long," she says. "One winter when I was pregnant, I didn't blanket and was shocked at how well the horses did when allowed to regulate their own body temperatures."
Read more from "Winter Survival Guide: How to Get Your Horse Through Winter"
Further Reading on Topics Related to Winter Horsekeeping and Problems
◆ Winter Wellness for Horses
◆ 10 Winter Health Care Mistakes to Avoid
◆ Winter Horse Care Fact Check
◆ Horse Health in Winter: Water
◆ Horse Health in Winter: Grooming and Hoofcare
◆ Winter Shoeing Solutions for Horses
◆ Horse Health in Winter: Shelter