Some riders believe that their horse doesn't need purposeful groundwork, others swear by it. Read on to learn more about groundwork for your horse.
Some riders hop on and never think of working from the ground before proceeding with mounted work. Other riders swear by their routines—long lists of groundwork patterns that must be done before getting in the saddle.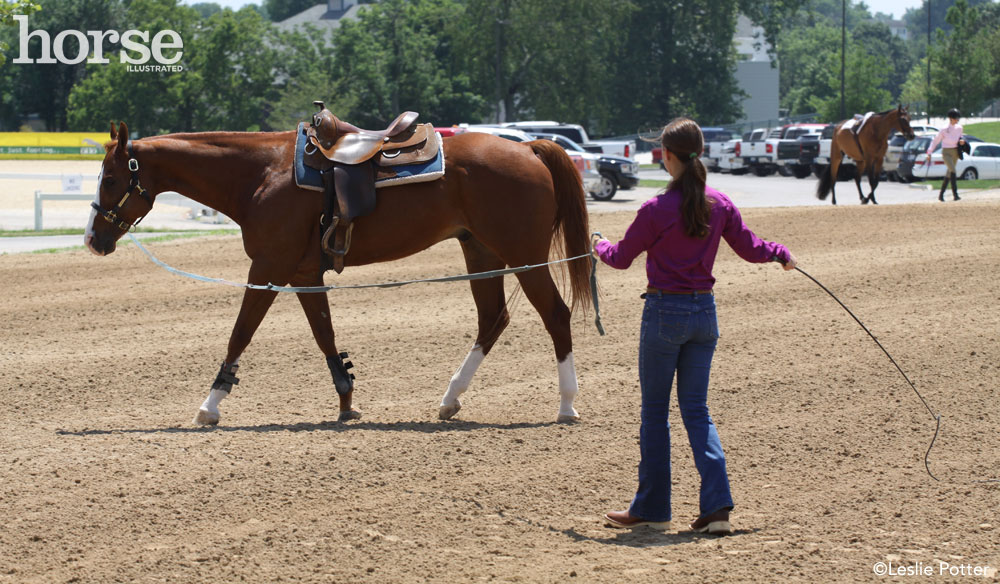 Which plan is right? The answer is to do what your individual horse needs. For some horses, that may mean working from the ground for some time before mounting up. For other horses, a quick check-in is all that's needed before you get on and ride.
Here, I'll help you check in with your trained horse and learn what he needs before a ride. I'll outline the steps I take before getting on a young-but-well-started horse, and also go over what I do with my tried-and-true horses before our rides.
The Purpose of Groundwork
Working with your horse from the ground before your ride allows you to set the tone for your ride. You'll establish a dialogue as you use your body language to ask your horse to move in precise ways. You'll have a chance to see how fast your horse responds and if he's paying attention to you. This is a time to communicate your expectations and make sure your horse is listening. Groundwork allows you to check in with your horse to determine his responsiveness and obedience.
Groundwork isn't meant to tire a horse before riding. It's not meant to "get the bucks out." A well-trained horse should be obedient to your cues from the saddle, no matter how fresh he is or how much pent-up energy he has. If your horse needs exercise, he'll get it while you're riding.
Approaching your pre-ride groundwork with the intent to tire your horse doesn't help you gain the horse's attention and respect. Instead, make sure that the groundwork you do before a ride helps to get the horse focused and obedient. You also want to establish communication and leadership. Finally, the purpose of groundwork is to make sure that your horse is relaxed and in the frame of mind to work well.
You may be able to confirm that your horse is attentive, obedient, respectful, relaxed and ready to work while you're walking from the pasture to the barn. If so, that's all the groundwork you need. If any one quality from the list is missing, take the time you need to connect with your horse before your ride.
Too Much
Some riders only feel confident after they have done a lengthy groundwork routine to make sure that their horses are paying attention. I see this most often when riders fear something bad will happen. They go through every kind of groundwork imaginable to build up the courage to get on.
Instead of performing a long to-do list of groundwork exercises, do your best to be aware of your horse and how he is on this day, in this moment. Judge him according to today, not something that happened a long time ago.
Your horse may resent groundwork if you do too much. I've seen adversarial relationships develop when the riders overdo it. Once your horse learns and understands what you're asking, you must give smaller cues.
Often people fail to tone down their cues as the horse learns. The horse begins to feel that he's being yelled at. Even if he performs the requested move, he gets the same large and loud cue.
Horses that become resentful get tense, toss their heads, pin their ears and even kick out. They may also become adversarial when groundwork is repetitious. If your horse has already given you the best he has and you don't notice and give him a break, he may become agitated and act out. Horses want you to acknowledge their efforts.
Just What's Needed
Keep in mind that from the moment you're with a horse that you're teaching him how to interact with you and what you expect. As soon as you catch a horse in a pen or from the field and lead him to the grooming area, you're doing groundwork.
Your horse should keep his nose in front of his chest as you're leading him. He should not look around for his friends. If he does, correct his nose position by bumping the lead rope until his nose comes back toward the center, aligned with his chest.
If he crowds you as you walk, defend your space. Swing the tail of the lead toward his shoulder to define your space. Stop and start and make sure that he moves his feet when you do. If he doesn't, correct him with a tug on the lead line.
If at any time a horse looks like he would benefit from some groundwork, do it. But if he's showing respect and paying attention, he probably doesn't need it.
Groundwork for Greenies
If your horse is young or green, you may incorporate groundwork daily until he's fluent in all the skills. Ask him to walk beside you at the speed you determine. If he lags behind, bump on the rope halter and lead. If he gets in front of you, correct him by snapping the rope until his eye is beside your elbow.
You may also introduce circling work, done with a halter and long lead line and while holding a flag or stick. Point to the direction you want the horse to go, cluck to ask the horse to trot, then reinforce the cue with the stick or flag if your horse doesn't move out.
The idea isn't to get your horse to run in circles. Instead, work methodically and ask your horse to change directions often. Take one step toward his head, say "whoa," then stop. Switch which hand holds the stick and point to the new direction you want to go, and ask your horse to move again. Changing directions will help you gain authority over your horse and tune him in to your increasingly subtle cues.
These steps should not be a permanent part of your training regimen but will teach respect and develop a line of communication. Once your horse has advanced in his training, leave the groundwork behind.
Horses are fast-learning animals; when they're not learning, there's a problem on the other end of the lead rope. If your groundwork is effective, change should happen rapidly.
If your horse isn't advancing in his training, consider asking for help from a knowledgeable friend or a professional. If your horse is challenging you every day, you may need to reassess your suitability to that horse. Not all horses are challenging; not all riders are suited to every horse.
---
This article originally appeared in the September 2018 issue of Horse Illustrated magazine. Click here to subscribe!