For over 50 years, the "green" movement has been gaining ground, encouraging everyone to be conscious of the critical need to take care of the earth's limited resources. One significant way to contribute is to recycle at the barn by better managing the products used and the waste materials generated by day-to-day operations. A few simple changes can make a difference locally and globally—as well as saving you some money.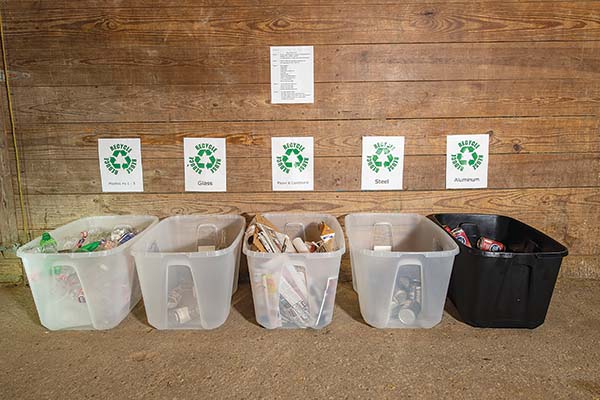 Why It Matters
While some dedicated equestrians are working to be more eco-friendly, there is still a lot more that can be done, both at shows and in the home stable, according to Stephanie Riggio Bulger, a lifelong horsewoman in Long Island, N.Y., and founder of Green Is the New Blue, an equestrian environmental organization launched in 2019.
She was grazing her horse at a show when she saw overflowing trash bins but didn't see any recycling bins on the grounds. She says that the U.S. horse industry produces hundreds of thousands of tons of trash every year and is a heavy consumer of single-use plastics, such as baling twine, shavings bags, spray bottles, supplement containers, food and beverage packaging, and more. Single-use plastics make up 50 percent of the trash that finds its way to the world's oceans, according to a report from the European Union's Joint Research Centre.
The not-for-profit organization offers resources, a newsletter, a link to sign on as a "green partner," and a place to share ideas. They also plan to spotlight eco-friendly products.
"Our goal with Green Is the New Blue is to effect change in the horse show industry," explains Bulger. "We are looking to lead the way and demonstrate best practices and environmental stewardship to horse shows, equestrian facilities, and individual farms and assist them in adopting practices that can have a real impact on protecting our world."
Creating a green stable means finding ways to be kinder to the planet with the potential added benefit of reducing costs. In addition to riding, equestrians are encouraged to practice three more R's: reduce, reuse and recycle.
Reduce
"Reduce" comes first, and for good reason—it cuts down on the amount that must be recycled or thrown away. An easy place to start is by carrying a reusable water bottle or travel mug with you to the barn to help reduce the number of single-use beverage containers going in the trash. You can also install a water cooler in the tack room for refills, or drink tap water from a bottle with a filter, rather than buying multi-packs of single-use plastic water bottles.
Another way to reduce at the stable is to buy products in bulk; this can save money and reduce the amount of packaging that goes into the trash or recycle bin. Order loose shavings by the truckload rather than individually wrapped bags, or buy the gallon-sized fly spray or shampoo and refill a smaller bottle that you already have.
Reuse
You may not need every horse item you own, so reusing or repurposing might involve horsey friends. If you have old tack that no longer fits your horse, consider trading tack with another horse owner. Or better yet, organize a barn or riding club rummage sale, which will generate cash and allow others to reuse your items that were previously in storage.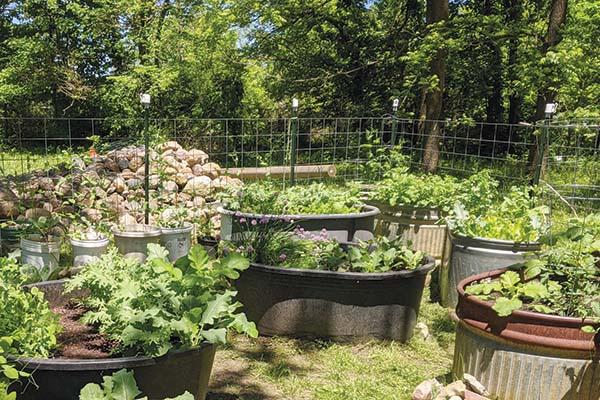 Any gently used tack and supplies you no longer need can also be donated to equine rescue organizations, youth clubs and therapeutic riding centers.
If you merely have changed color preferences, consider dying your saddle pads, halter fuzzies or polo wraps to fit that scheme. For boot, tack and blanket fixes, find a shop that will repair them instead of just tossing them in the dumpster.
There are many other things around the stable that can be cleaned and reused or repurposed. Here are just a few ideas:
◆ Clean plastic containers with lids can be used to store anything you can imagine, including pet treats, veterinary supplies, hardware for repairs, or messy hoof-oil cans.
◆ Wash dewormer and supplement tubes and use them for administering other oral medications.
◆ Paint brushes and culinary basting brushes make good hoof dressing applicators.
◆ Toothbrushes are great for cleaning tack and clippers.
◆ Empty feed sacks make great trash bags; simply tie them closed with baling twine. Twine has many other uses on the farm, too.
◆ Food-grade gallon plastic jugs make great stall toys. Rinse them out and tie them up in stalls to amuse playful horses.
◆ A retired chest-type deep freezer makes a great rodent-proof feed bin. Get any lingering food smells out by washing with a dilute bleach solution.
◆ Cracked water tanks, feed tubs and buckets make great planters for vegetables and flowers.
Recycle
Rules for recycling vary widely across North America. You may be lucky enough to have curbside pickup, but many farms in rural areas must bring everything to a recycling center. Google "recycling" and the name of your town to find your local solid waste or refuse management department.
Create a recycling station at the barn with containers for plastics, glass, paper and aluminum. Find out which plastic numbers are recyclable where you are and then look for a triangle with the number on the bottom of items.
Locate your recycling station next to a trash can and post a chart explaining what goes in each bin. In some locations, recyclables must be separated by type, but in other areas, they should be mixed for "single stream" recycling.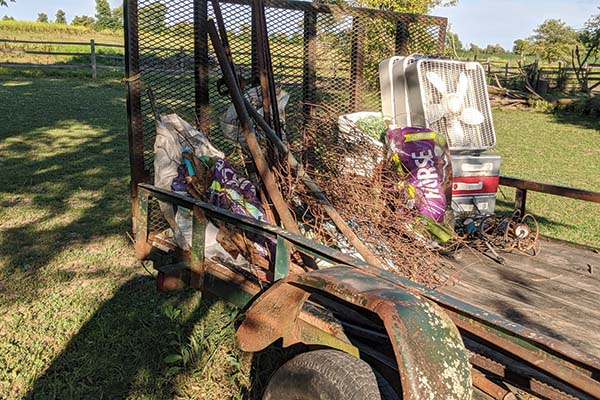 In parts of the U.S. where disposable plastic shopping bags are still used, those should be gathered and dropped in collection barrels at the entrances of grocery stores. These can't go in with other plastic recyclables because they clog the sorting machines.
Batteries, CFLs and fluorescent bulbs containing mercury should be recycled to avoid releasing hazardous materials into landfills; just drop them in designated bins at hardware stores.
Most counties and cities also have hazardous waste and electronic drop-off sites where you can safely dispose of paint, herbicides and pesticides, fuels and oils, televisions, computer monitors and more.
Some materials can also be sold to scrap yards to generate income. Metals, such as aluminum, steel, iron and copper, fall into this category. Some reclamation buyers even pay cash for broken electronics, such as fans and kitchen appliances. Also keep an eye out for charitable groups that are collecting plastic bottle caps and aluminum can tabs as fundraisers.
The ultimate recyclable material in a stable is, of course, manure. Properly composted manure and bedding can even provide a revenue source. Click here to learn more.
Finally, as you shop for horse supplies, look for retailers who have made the effort to be environmentally friendly. Watch for products that are biodegradable and packaged in recyclable containers or that are made, at least in part, from recycled materials. And remember to bring your reusable shopping bags with you!
This article about recycling at the barn appeared in the September 2020 issue of Horse Illustrated magazine. Click here to subscribe!