I will remember the sight of those trailer lights being swallowed up by the snowy December night for the rest of my life. I will remember the weight of that useless halter in my hand as I fell to my knees in the barn driveway and sobbed, feeling more empty than I ever had in my entire life. At that moment, I never imagined being reunited with my horse was even a possibility.
I had just sent my best friend off to start a new future with another person. Even though I knew it was best for him, as he left, he took my heart with him.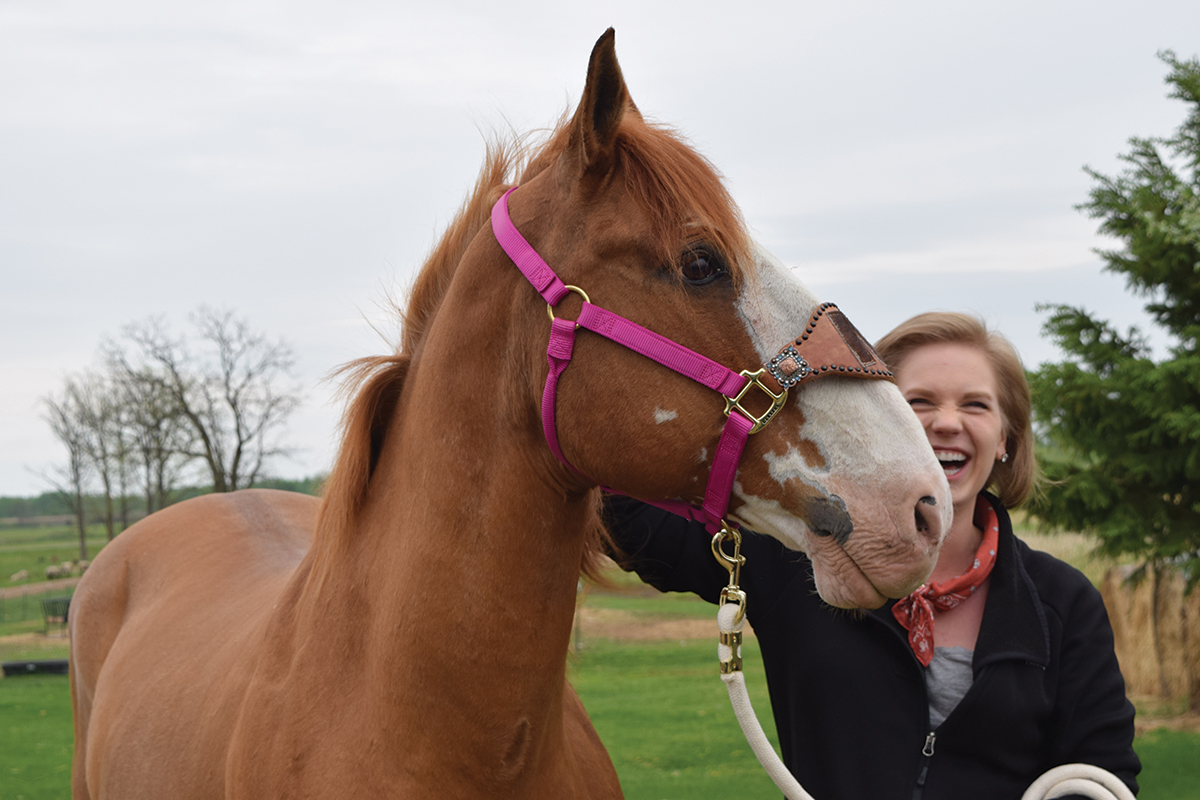 Selling my horse, Maverick, was one of the hardest choices I had ever had to make. I denied it and denied it, but in the end, I had to do what was best for him. I was working three jobs, going to college and trying to figure out my future, and that left me little time to dedicate to my sweet, beautiful gelding.
Rudderless
Maverick had carried me through every high and low of my adolescence. He helped me blossom into a patient and hard-working young adult.
We were both far from perfect, but in every sense, he was my dream come true. And finding myself without him left me without a rudder for the first time in my life.
As with all things, life carries on. I made a plan to move to Los Angeles, and I threw myself into work and school to make it happen. As my departure grew closer and closer, I found myself longing to see Maverick one more time.
I wondered how he was, where he was, and if he was loved. It consumed me. Thanks to the internet and some truly helpful people, I was able to track down Maverick and his new owners and get back in touch.
I was thrilled to find out he was with a family that adored him. It was hard, but it was such a relief to know he was safe and sound. They were very kind, and gladly obliged me a final visit. It was bittersweet, but it provided me the closure I desperately needed.
Dreams of Being Reunited with My Horse
With that visit, I affirmed that he was adored—and I tried to tell myself that was enough. So off to California I went, with dreams of being reunited with my horse shoved to the back of my mind. I pursued other dreams, found new paths and forged a life and career for myself, slowly but surely.
All the while, Maverick stayed with me. Both in my heart and because his wonderful new owner kept me updated about their showing and adventures. Through it all, he became my motivation not to fail, because I told myself if I did, then I had squandered the thing I loved most and had never deserved him in the first place.
I kept my distance from horses for a long time, and the thing I was so passionate about slipped into the periphery of my life. But the more time that passed, the more I healed and longed for horses to be back in my life.
I volunteered for some trainers and got back in the saddle when I could. As much joy as it brought me, it also brought me pangs of sadness over wishing it were Maverick I was throwing a leg over.
I fantasized of one day offering his owners an obscene amount of money to buy him back, but I knew it was outlandish at best to even hope.
Still, I dreamed of being reunited with my horse.
Falling Into Place
More years passed, and I met a wonderful man and moved to Colorado. Not long after the move, I began to consider bringing a horse into my life. Still, I didn't think the chance of being reunited with my horse was even a remote possibility.
After all, it was much more affordable and feasible where I was. But the idea of starting over was somewhat overwhelming.
It was no surprise to me when Maverick's current owner, Ashley, texted me. She was wonderful about giving me my fix and sending updates. So I didn't think much when I saw the notification go off on my phone.
But as I read the message, my body went numb. She had seen that I was in Colorado now and was offering me my boy back.
I couldn't believe it. I read and reread the message over and over. Maybe I hadn't been so foolish to hope I could be reunited with my horse?
I took a breath and responded. We talked back and forth for a few days, and it was decided.
After all the years, Maverick was coming home. It would prove to be an even better-timed piece of news than I could have imagined, because shortly after the message, I found out that I needed to have open heart surgery to remove a benign tumor. As truly terrifying as that experience was, I had the best motivation in the world to heal.
A Partnership Renewed
I underwent a successful surgery in March, navigated the recovery thanks to some truly wonderful people, and was able to make the long-awaited drive in May to finally close the seven-year gap in my heart that had separated me from my best friend.
It's still hard for me to believe I have a horse back in my life—let alone my horse. We both have seen a few more years and are a little more worn and wise. But no matter how much time has passed, that bond has remained as strong as ever.
It's not lost on me how fortunate I am that I get to have this bonus time with my sweet Maverick, who is 21 now. I don't know what lies ahead for us both, but I do know we are far from the end of our new trail.
These days we've both slowed down a little bit, spending most of our time together exploring Colorado, and hopefully in the future some small local shows. For now, he is happy, healthy and as spunky as ever. I am content giving him lots of carrots and love, and enjoying every bit of the time I never thought I'd get to have with him.