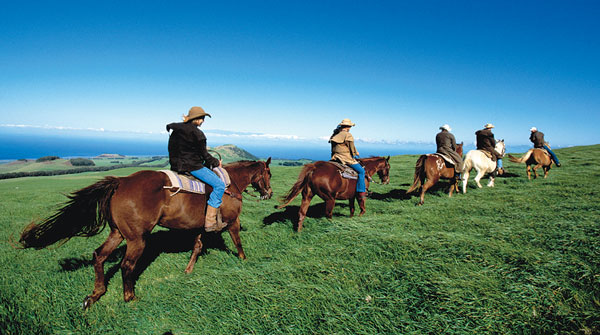 As we ride away from the stable, my eyes are fixed on the sight to my left of rolling yellow-green hills that give way to a turquoise coastline. But within moments, our guide, Darienne Hannum of Na'alapa Stables, draws my attention forward. "That's Maui," she says, pointing out another island of Hawaii. The island's Haleakal Volcano rises into the clouds across the water, framed almost perfectly by my mount's copper ears. What a riding vacation destination in Hawaii.
The phrase "cowboy country" typically conjures up images of red deserts, sage-studded plains and endless sky. But keep heading west across the Pacific Ocean and you'll find wide open landscapes and a culture of horseback livestock wrangling like no other. We get a window into that world as our group traverses the cinder cones of Kohala Mountain—one of the oldest truly extinct volcanoes (no longer has a lava supply) on earth.
There was a time when Hawaii was free of large land mammals. To sustain their communities, early Hawaiians foraged for indigenous ferns and berries, cultivated up to 300 varieties of taro, and farmed sweet potato brought from Polynesia. They also constructed elaborate fish ponds for aquaculture projects.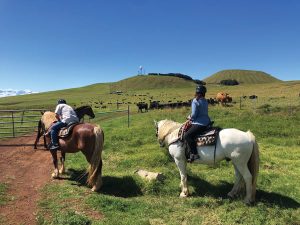 In 1793, Captain George Vancouver offered a few cattle to King Kamehameha I, landing them on the island of Hawaii (commonly known as "The Big Island") at Kawaihae Harbor, just south of where we were riding on what is now Kahua Ranch. That gift, though small, changed the ecosystem and gave root to a rich ranching culture that persists today.
The Paniolo
To protect those early cattle, King Kamehameha I enacted a kapu (ancient Hawaiian code or law) to prohibit killing them for food or sport. Though King Kamehameha III rescinded the kapu in 1830, by mid-century, 25,000 wild and 10,000 domestic cattle lived on the Island of Hawaii, and their numbers threatened the ecosystem, traditional farming practices, and in some cases, people's safety.
The king needed a plan. Thus, to help manage the animals and boost the economy, he brought Mexican cattle wranglers to the islands. The vaqueros taught the Hawaiians to ride horses and work cattle, and soon, a new culture had emerged: that of the paniolo.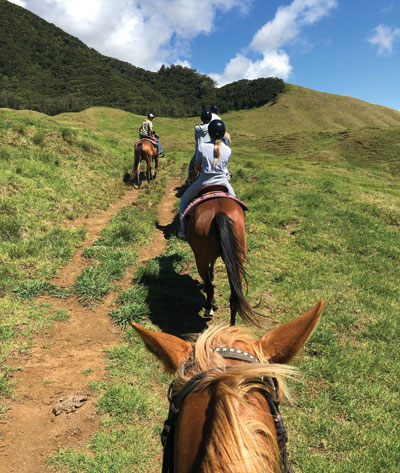 Riding the often feral horses that inhabited the island, the Hawaiian paniolos were soon moving bulls and thinning herds on their own, and showing off rodeo skills that set Rocky Mountain cowboys back on their spurs. But everything had to be adapted to island life.
For years—before hydraulics and refrigeration changed how cattle and beef were transported—the Hawaiian cowboys swam (on horseback of course) their cattle to longboats, which then transferred them to steamer ships en route to Honolulu's stockyards.
While they embraced the vaqueros' flamboyant style, they added a distinctly Hawaiian twist, braiding rawhide into ropes, weaving flowers into hat bands and carving saddle trees from fallen logs and branches.
Kahua Ranch
The paniolo ways persist throughout the Hawaiian Islands. Rodeos feature sports such as Po'o Wai U that test skills required from early ranching days when paniolos had to capture wild cattle. Many working ranches still dot the islands, including Kahua Ranch.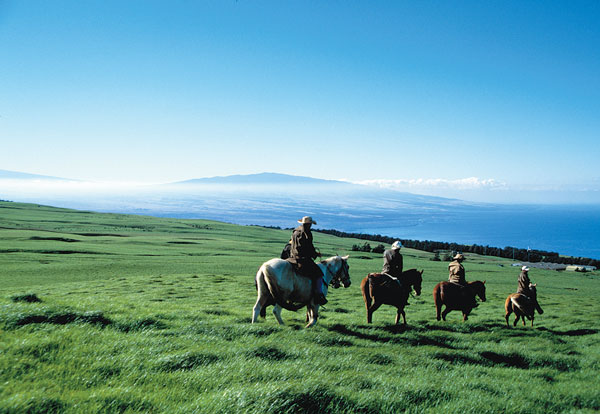 Originally parceled out during the Great Mahele (land redistribution) of 1848, today the property stretches across more than 8,000 acres of ancient, extinct volcanic hills of North Kohala on the Island of Hawaii.
Encompassing six precipitation zones between sea level and 3,500 feet elevation, the ranch spans rich pastures, wet native rainforest and dry, rocky deserts dotted with the remnants of ancient people's farming prowess.
In addition to horses, Kahua Ranch is home to cattle and about 2,000 sheep raised for wool and meat. All of the livestock are managed by four full-time paniolos who live on the property.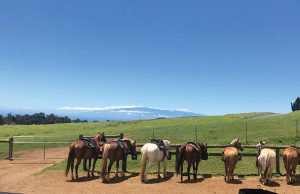 Following a holistic resource management approach that honors the Hawaiian ethos of "caring for the aina (land)," the animals are rotated regularly between small pastures. On the trail, we pass grazing livestock, cross fence lines and catch sight of the occasional paniolo in the distance.
The riding vacation destination trail rides on Hawaii's Kahua Ranch are operated by Na'alapa Stables, an operation that's been run by the women of the Hannum family since the early 1980s. Our wrangler, Darienne Hannum, is a member of the most recent generation.
As we approach the base of a hill, Hannum and her co-wrangler, Jackie, pause.
"Who wants to canter?" they ask. A few hands go up, and they split us into two groups. Once we've put enough space between us, Jackie gives a nod and we're off. At the top of the hill, we rejoin the rest of the riders and take in the views, which do indeed stretch from the mountains to the sea.
For more information, visit www. naalapastables.com.
Hawaiian Ranch Life
If a brief introduction to paniolo culture leaves you itching for more, stop by Anna Ranch Heritage Center in nearby Waimea. The historic property was famously home to Anna Lindsey Perry-Fiske, Hawaii's "First Lady of Ranching." A range of experiences, including ranch tours, self-guided interpretive walks and lei-making classes are available. For more information, visit www.annaranch.org.
This article on the riding vacation destination of Hawaii appeared in the March 2020 issue of Horse Illustrated magazine. Click here to subscribe!