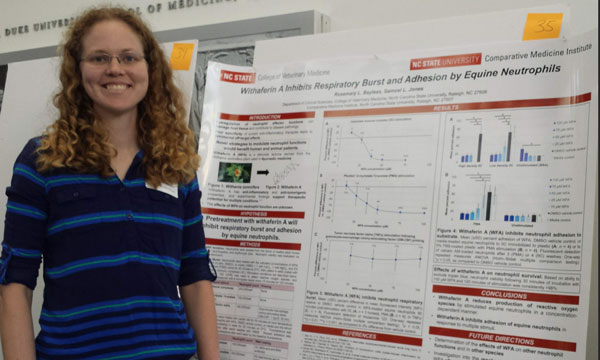 Rosemary Bayless, DVM, MS, Dipl. ACVIM (LAIM), a PhD student at North Carolina State University, was selected as the American Association of Equine Practitioners (AAEP) Past Presidents' Research Fellow for her research into innovative therapeutic strategies to reduce inflammation in horses by modulating neutrophil function.
The $5,000 grant is awarded annually to a doctoral or residency student who has made significant progress in the field of equine health care research. In addition to the financial reward, Bayless received complimentary registration for the AAEP's 66th Annual Convention held virtually.
Bayless' research findings suggest therapeutic potential of withaferin A for numerous disease processes in horses characterized by neutrophilic inflammation. In collaboration with mentors, Bayless demonstrated that withaferin A, derived from a plant used for millennia in Ayurvedic medicine, markedly inhibits respiratory burst, adhesion and chemotaxis by equine neutrophils in vitro. She and her colleagues are currently investigating the mechanism(s) for these effects and assessing other anti-inflammatory actions of withaferin A on equine neutrophils.
"Neutrophil-mediated inflammation contributes to pathophysiology of many conditions that compromise equine health and welfare, including acute lung injury, severe equine asthma, intestinal ischemia and reperfusion injury, and laminitis," said Bayless. "This scholarship will support my continued study of novel approaches to modulate neutrophilic inflammation, presentation of my research at equine veterinary conferences, and publication of my findings in high-impact veterinary journals."
Bayless graduated summa cum laude from Kansas State University College of Veterinary Medicine in 2014, followed by a hospital internship at Rood and Riddle Equine Hospital and a residency in equine internal medicine at Colorado State University.
The AAEP Foundation, the forerunner of The Foundation for the Horse, established the Past Presidents' Research Fellow in 2006. The award is made possible through the monetary contributions of AAEP past presidents.
"The veterinary profession strives to improve equine health and welfare through exceptional scientific research and education," said Rick Mitchell, Foundation Advisory Council chairman. "This award continues to be an important way to validate young veterinary graduates entering careers in research, which will ultimately benefit horse welfare."
Established in 1994, The Foundation for the Horse is a 501(c)(3) charitable organization dedicated to improving the welfare of the horse through education, research, and benevolence. Governed and stewarded by world-renowned equine veterinarians and equine stakeholders, The Foundation awards over $700,000 annually in scholarships and grants to impact equine health and well-being throughout the U.S. and developing countries.
For more information about this program and other scholarships offered through The Foundation for the Horse, visit www.foundationforthehorse.org.