With fond memories of Thanksgiving earlier this week, here's a look back at the other big event in November―the 2022 Royal Agricultural Winter Fair in Toronto, Canada. The Royal concluded just 12 days ago after celebrating its 100th anniversary November 4-13, 2022. The Royal is a unique and wonderful combination of all of the delights of a typical state agricultural fair and all of the tradition and excitement of the early days of the National Horse Show when it was held in the old Madison Square Garden in New York City.
The first Royal Winter Fair was in November 1922. Their website gives this synopsis of the beginning of the Fair: "After the First World War, a collective of notable farmers and horsemen got together to plan an exhibition of Canada's finest agricultural wares. Led by shorthorn cattleman, W.A. Dryden, the group believed strongly in Canada's ability to compete at a world-class level. Lacking no ambition, the group solicited and received full support from all three levels of government and was granted the Royal moniker by King George V of England."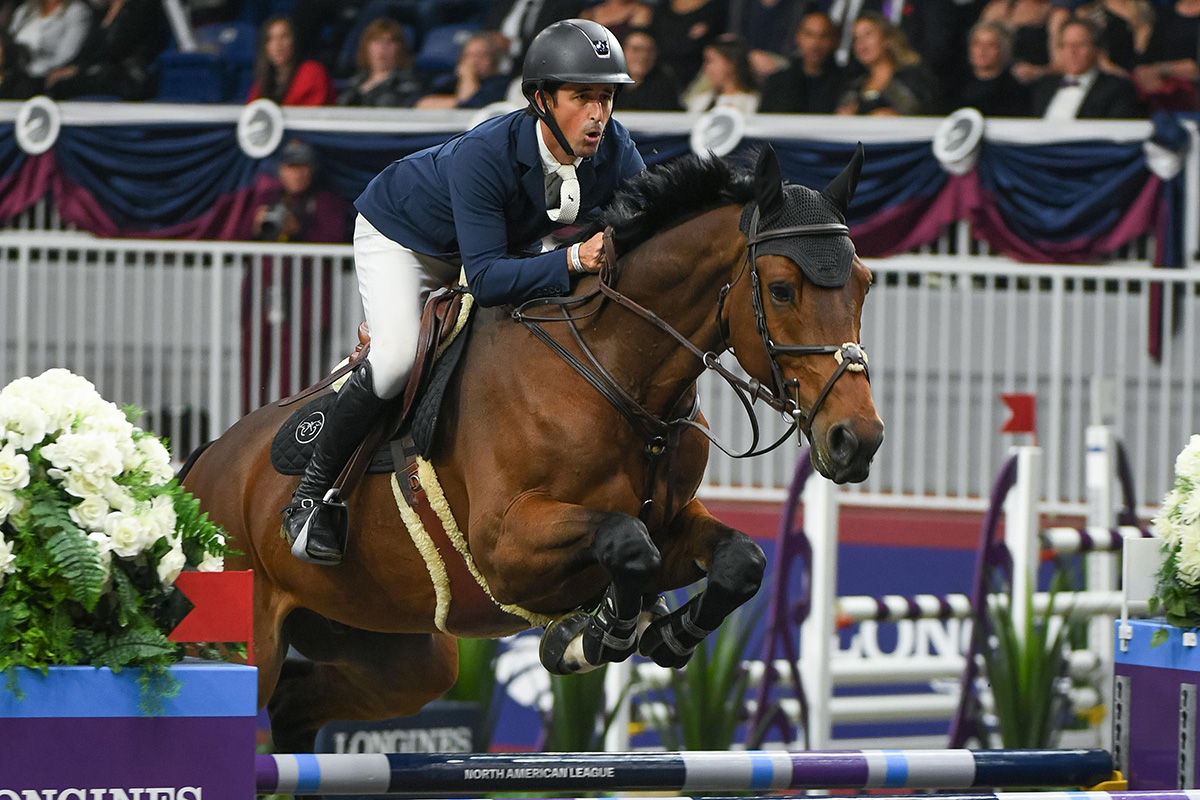 The Royal Horse Show caps the fall North American international indoor horse show circuit in style. After competing at Harrisburg, the Washington International in D.C., and the National Horse Show, which is now hosted by the Kentucky Horse Park, the top show jumping riders all flock to Toronto for the final World Cup Qualifier of the year in North America. People still "dress" for the evening show performances and it isn't uncommon to see women in evening gowns and men in tuxedos strolling through the exhibits on their way to box seats in the Royal Coliseum (construction began in 1921 and it is now branded as the Enercare Coliseum).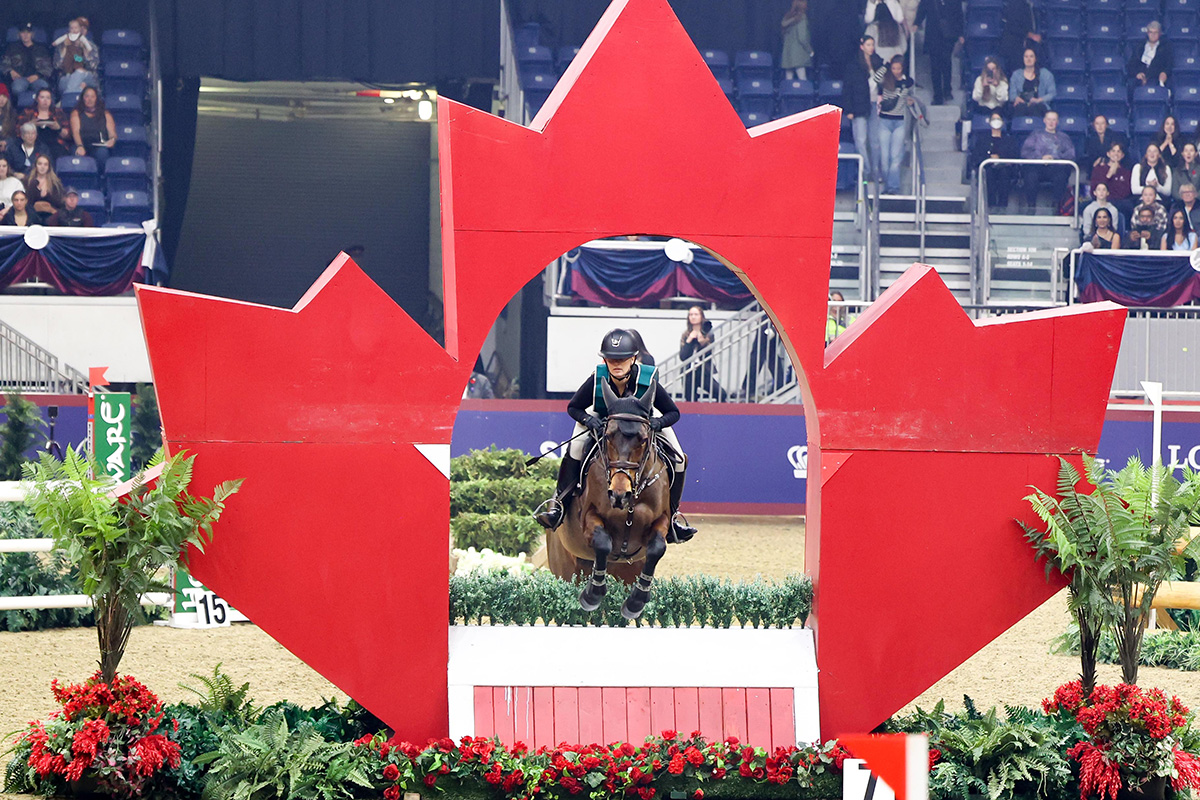 The "Royal", which is billed as the largest indoor agricultural exhibition in the world, gives exhibitors the chance participate in a wide variety of competitions and visitors the opportunity to see exhibits, educational events, entertainment and to enjoy extensive shopping and dining opportunities. Livestock entries include beef and dairy cattle, sheep, hogs, goats, rabbits, cavies (guinea pigs), poultry and horses. Agricultural products judging is also a big part of the fair with categories for garden crops, farm crops, hay, honey, maple syrup, butter tarts, jams and jellies, pickles, wine, beer, meats and cheeses. The butter sculpture and sheep-to- shawl competitions are crowd favorites.
Live musical entertainment, an animal theatre featuring Super Dogs performances and other acts, cooking classed with famous local chefs, and a children's activity area complete with petting zoo rounded out the fun. The shopping area included not only tack, feed, equestrian supplies and horse trailers, but also home and health and beauty products, art and crafts, and a Canadian-made products vendor area featuring things such as maple syrup, bison jerky, cheeses and sausages to name just a few.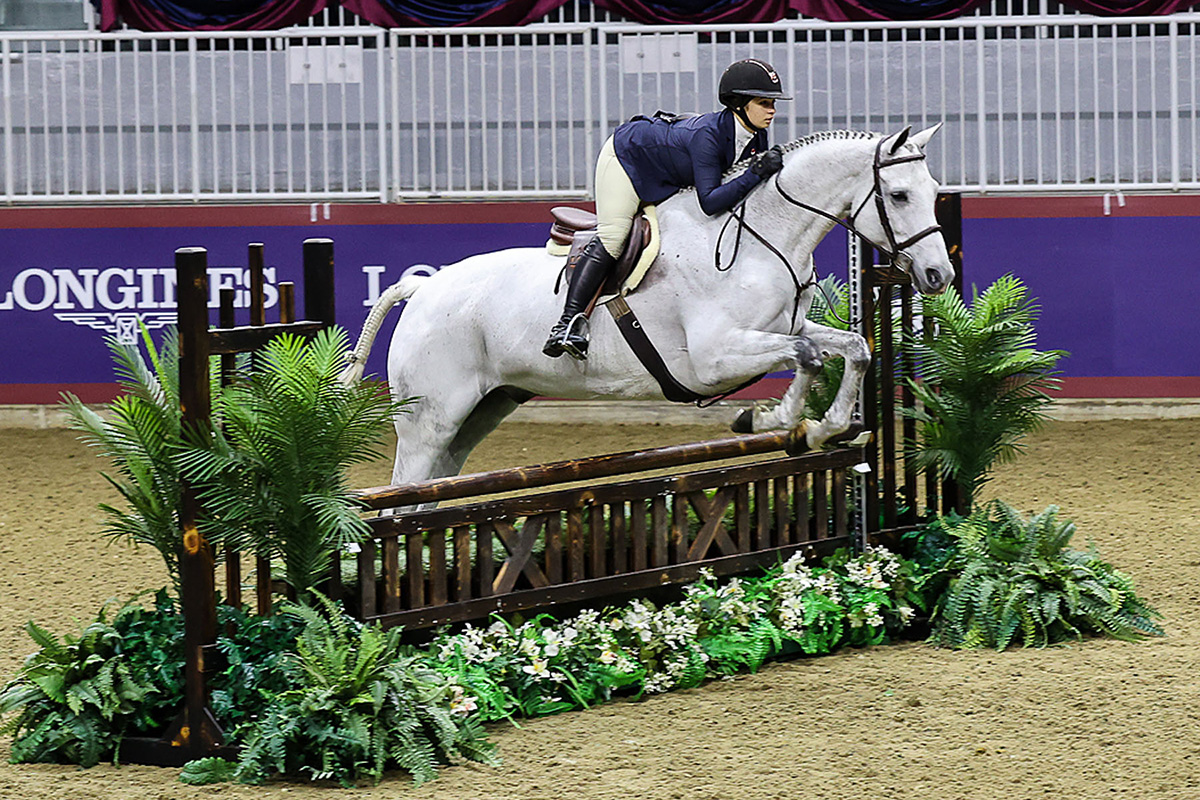 The Royal Horse Show includes a wide variety of equestrian competition and attracts competitors from not only North America, but from around the world. There are classes for hunters, Canadian and international jumper divisions, a dressage showcase, draft horse hitches and breed classes, antique coaching classes, roadster ponies, Hackneys, Welsh Ponies, and Canadian Sport Horse, sport pony and Thoroughbred breed classes. The Horse Show always includes entertainment as well and in this Centennial year the Royal Canadian Mounties performed musical drill team rides every day to the delight of the crowds. They also did "meet and greets" in the barn area and Mounties collectable cards similar to baseball cards were available for fans.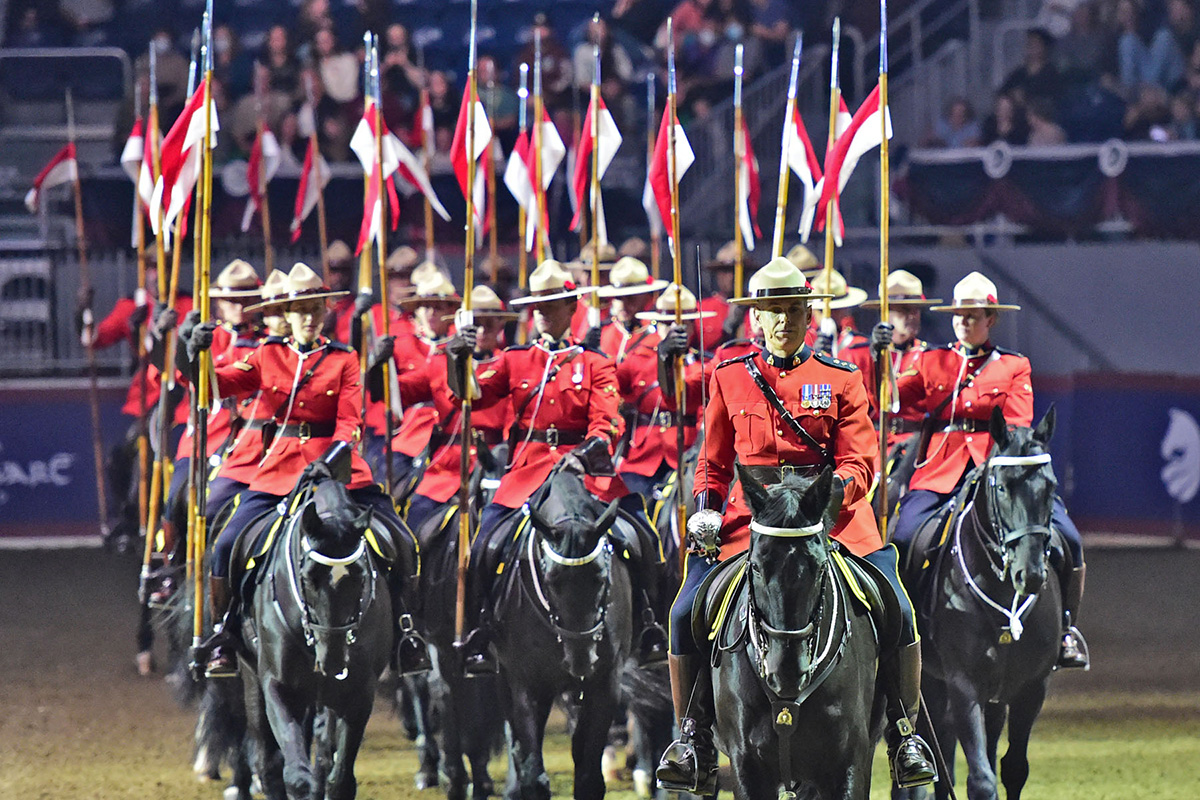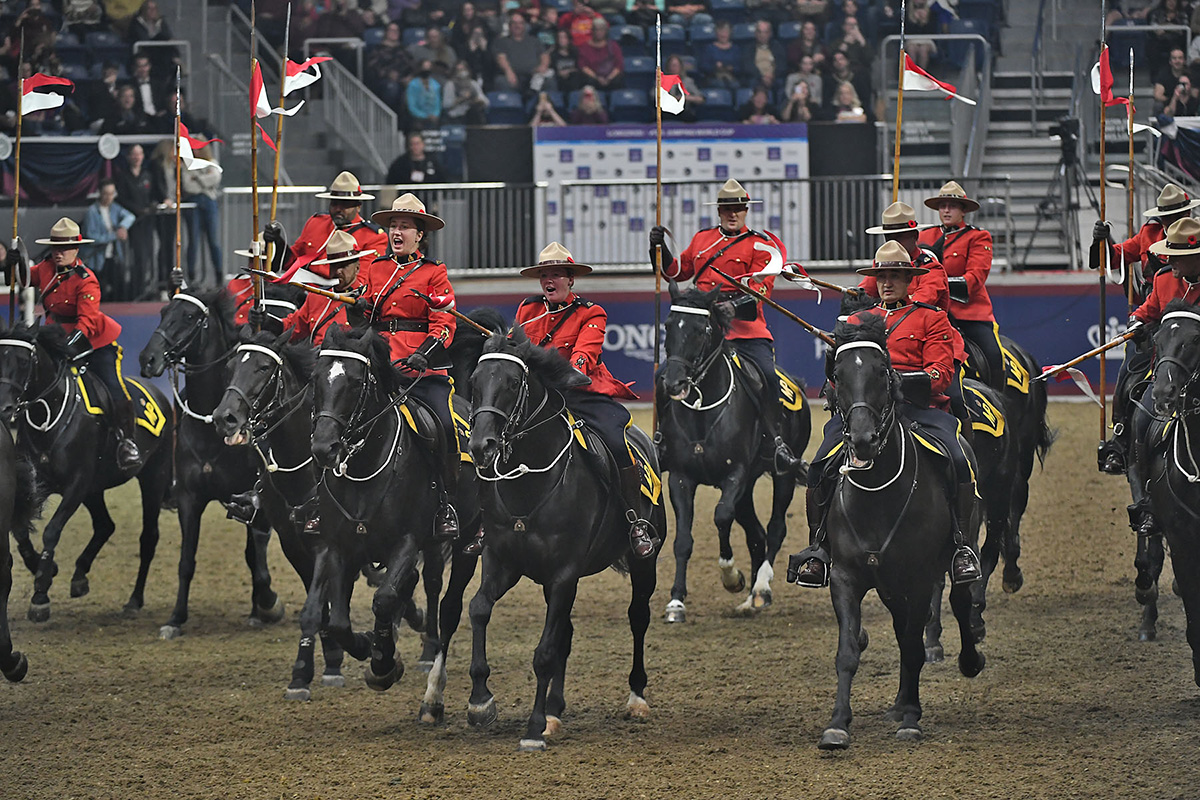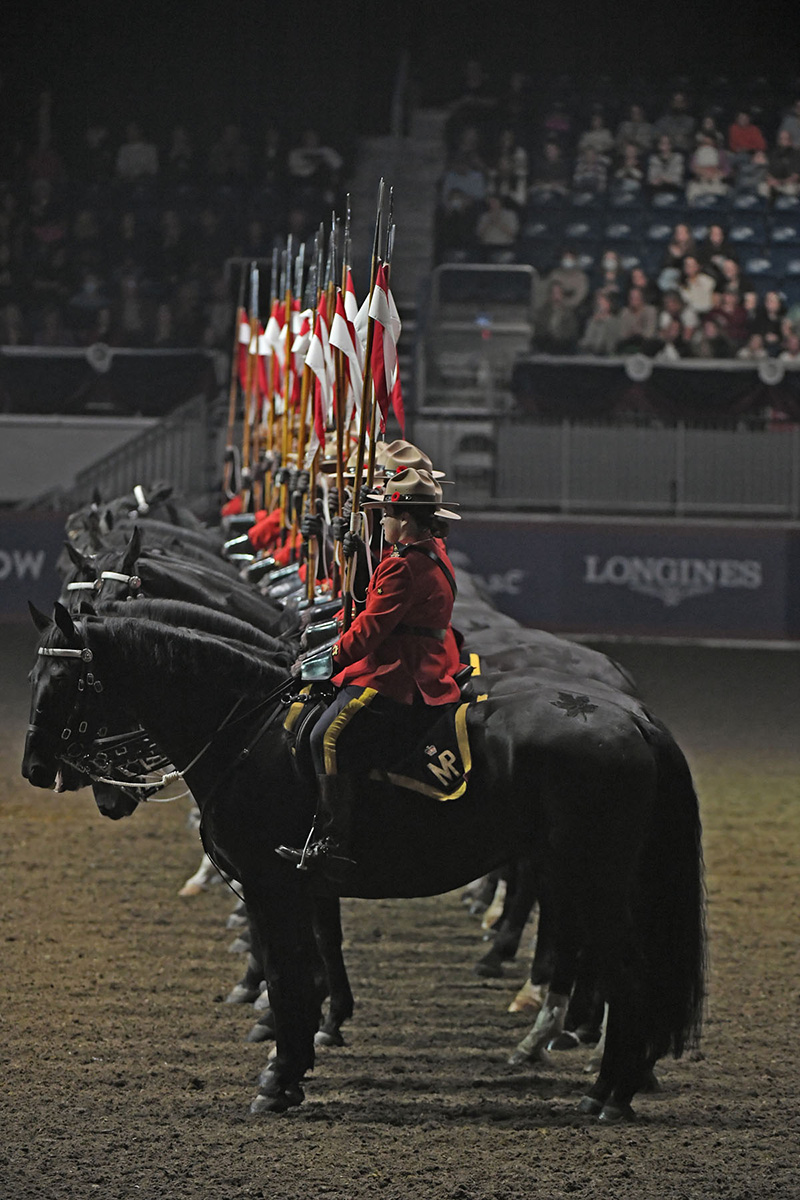 Another popular happening was the $20,000 Horseware Indoor Eventing competition on the first weekend of the Royal Horse Show. Top Canadian eventers competed alongside World and Olympic Champion Michael Jung from Germany. Holly Jacks of Hillsburgh, ON, riding Josephine captured the title after two days of evening competition.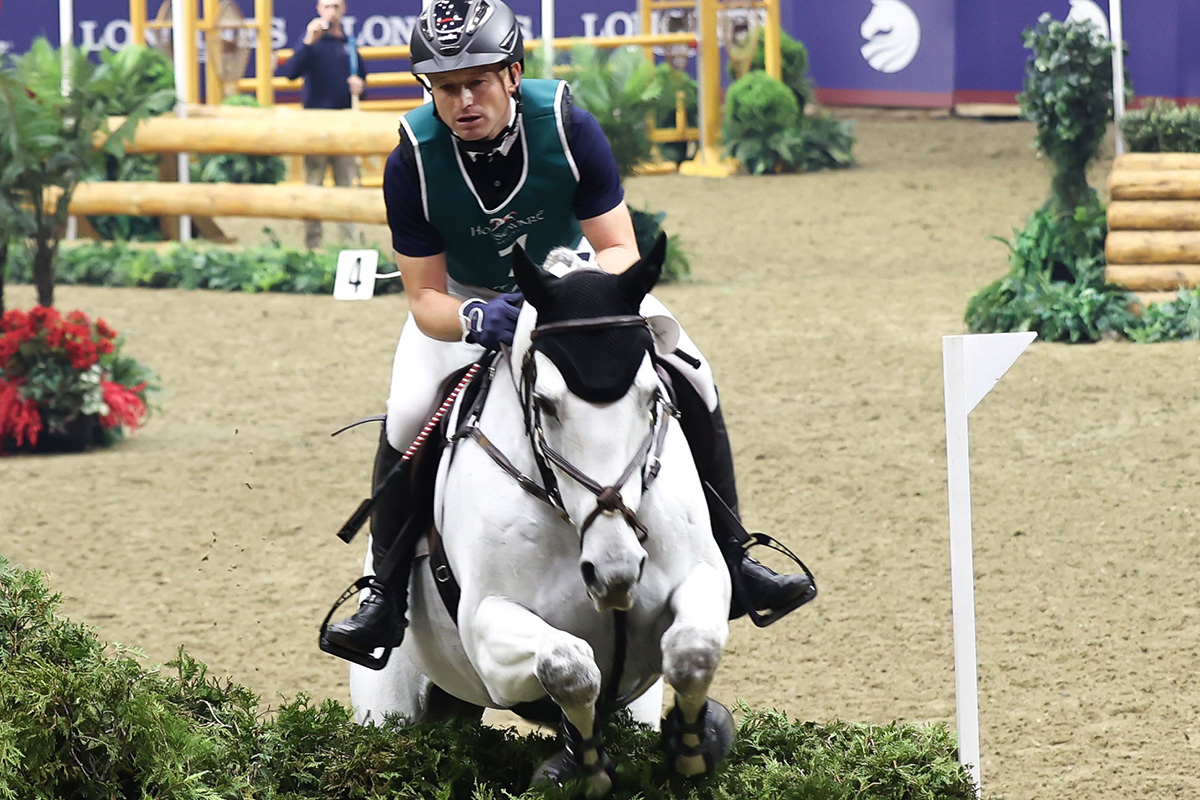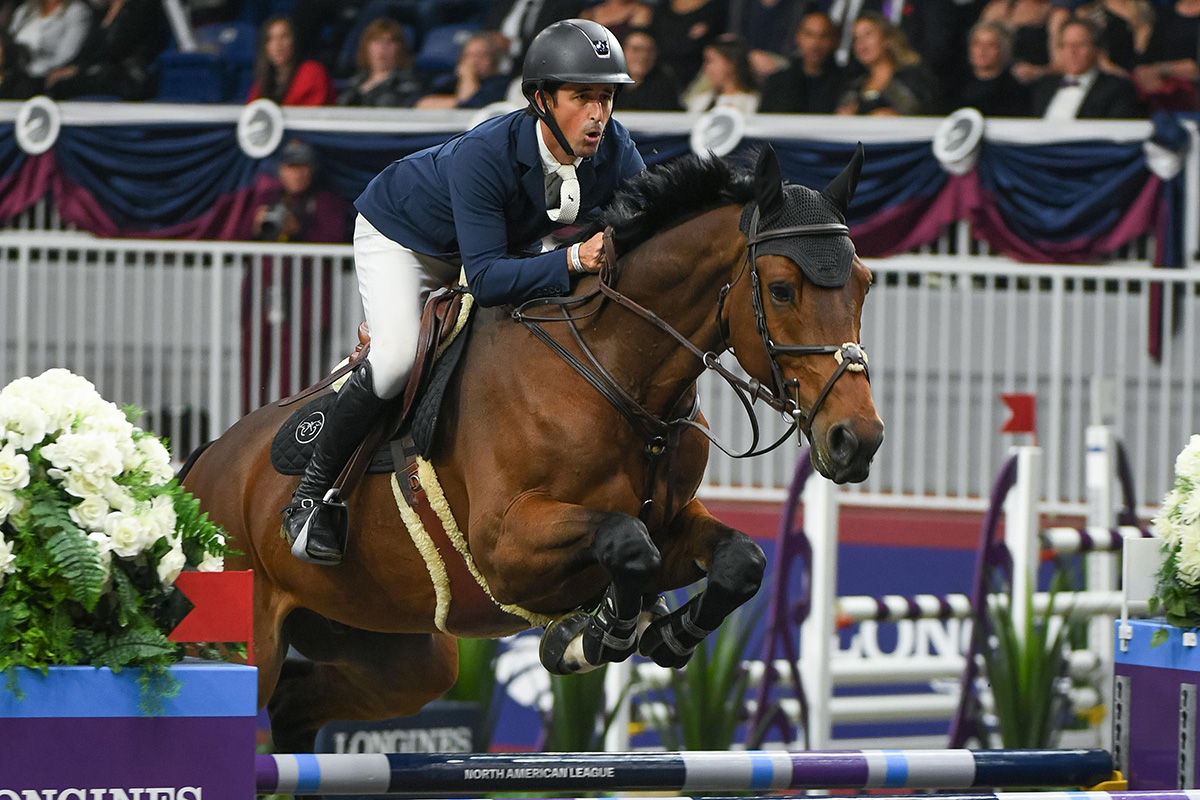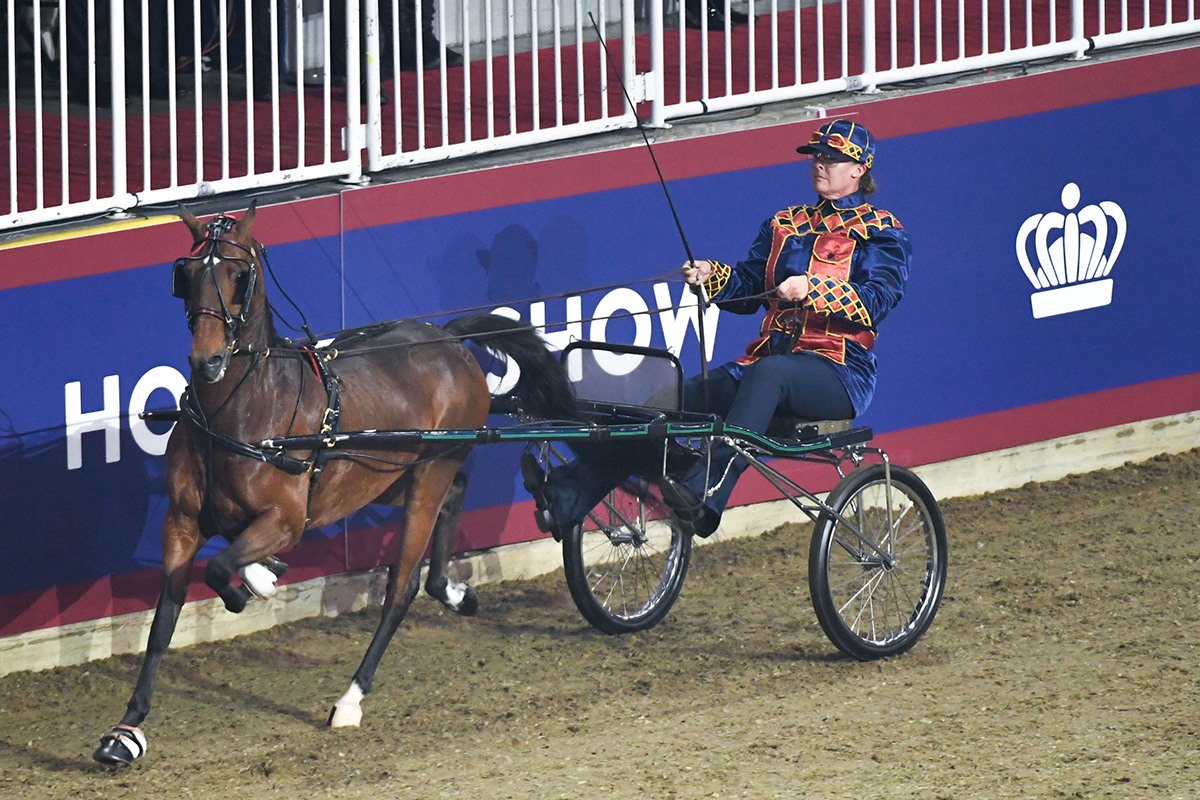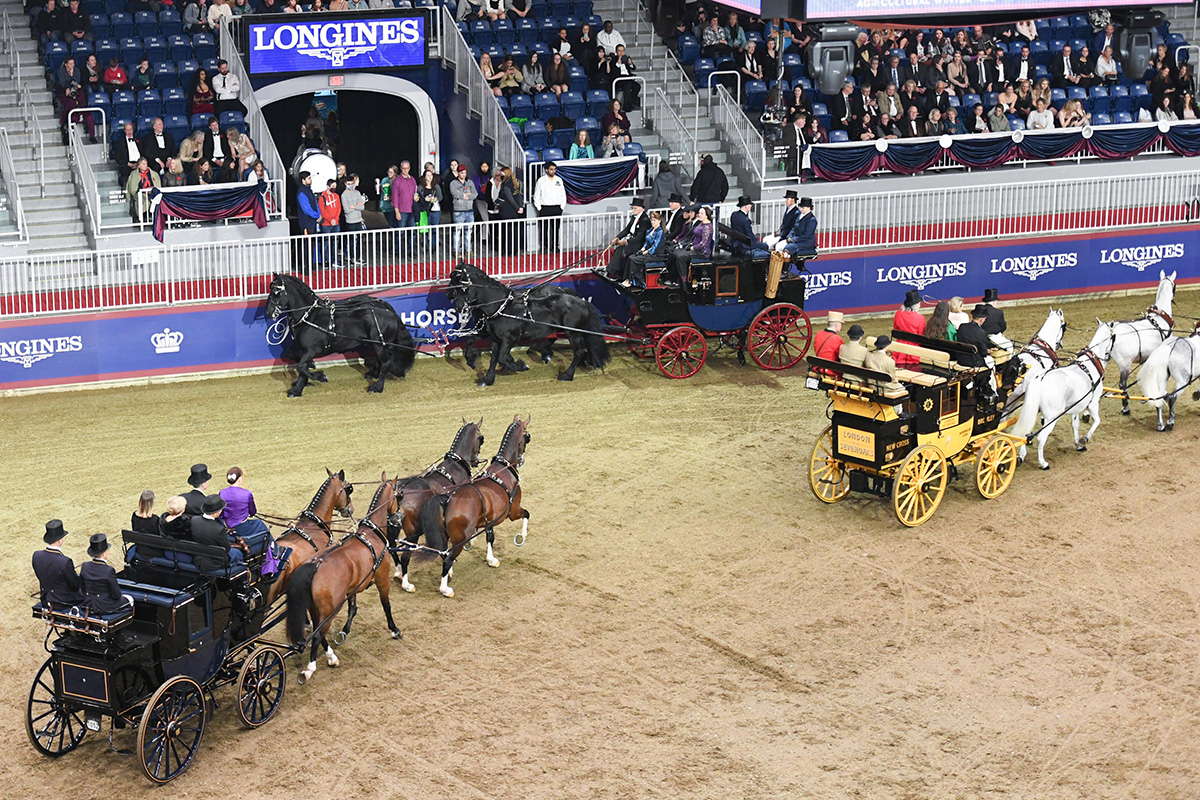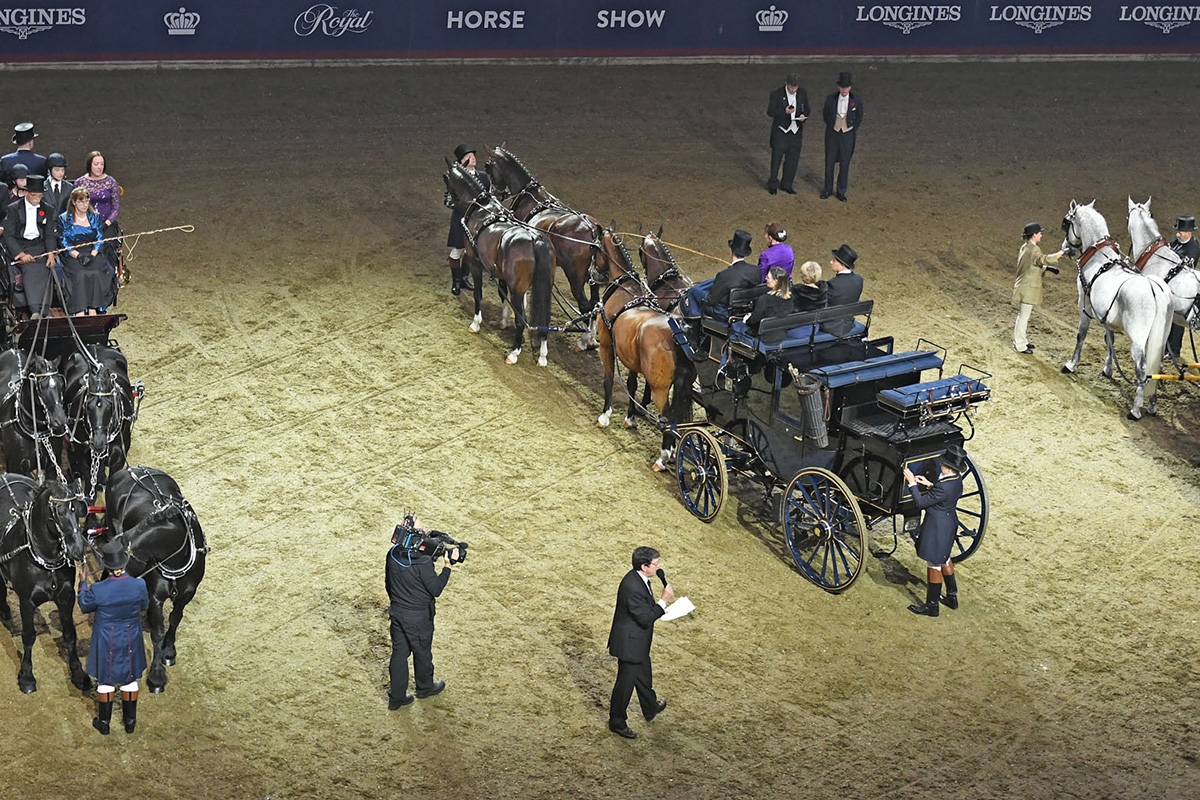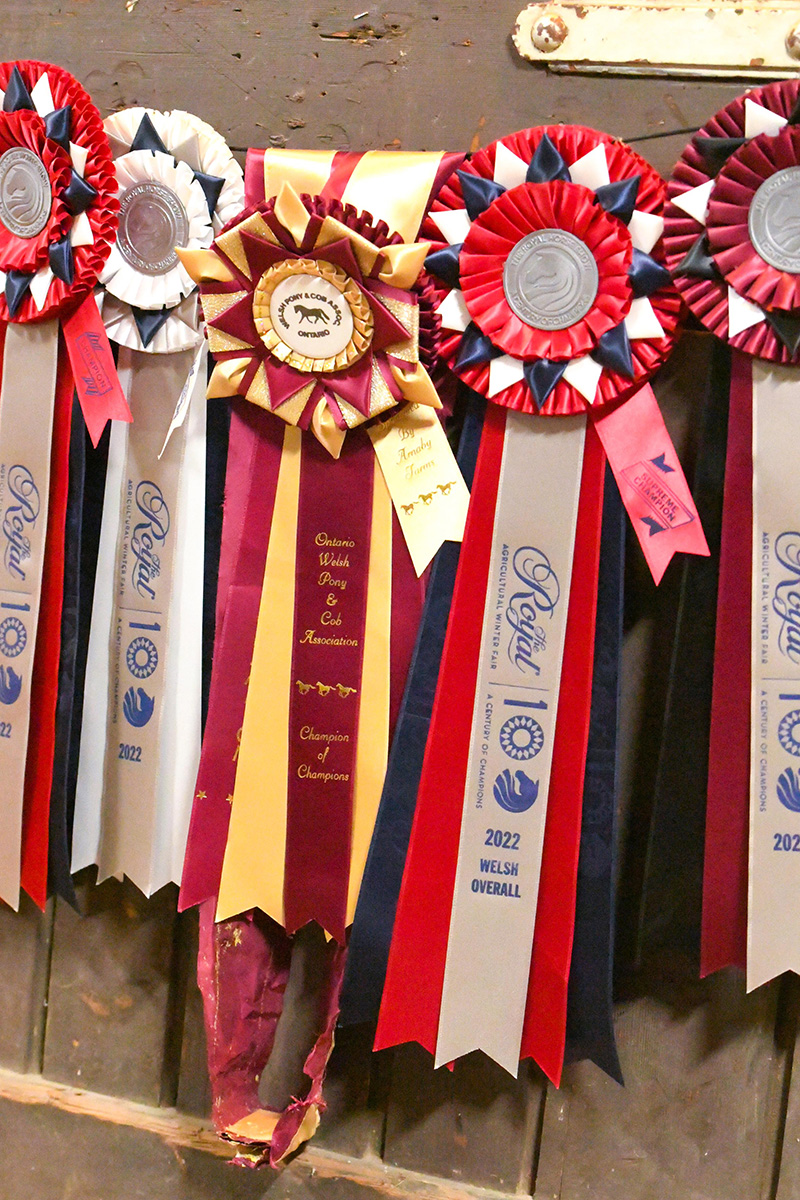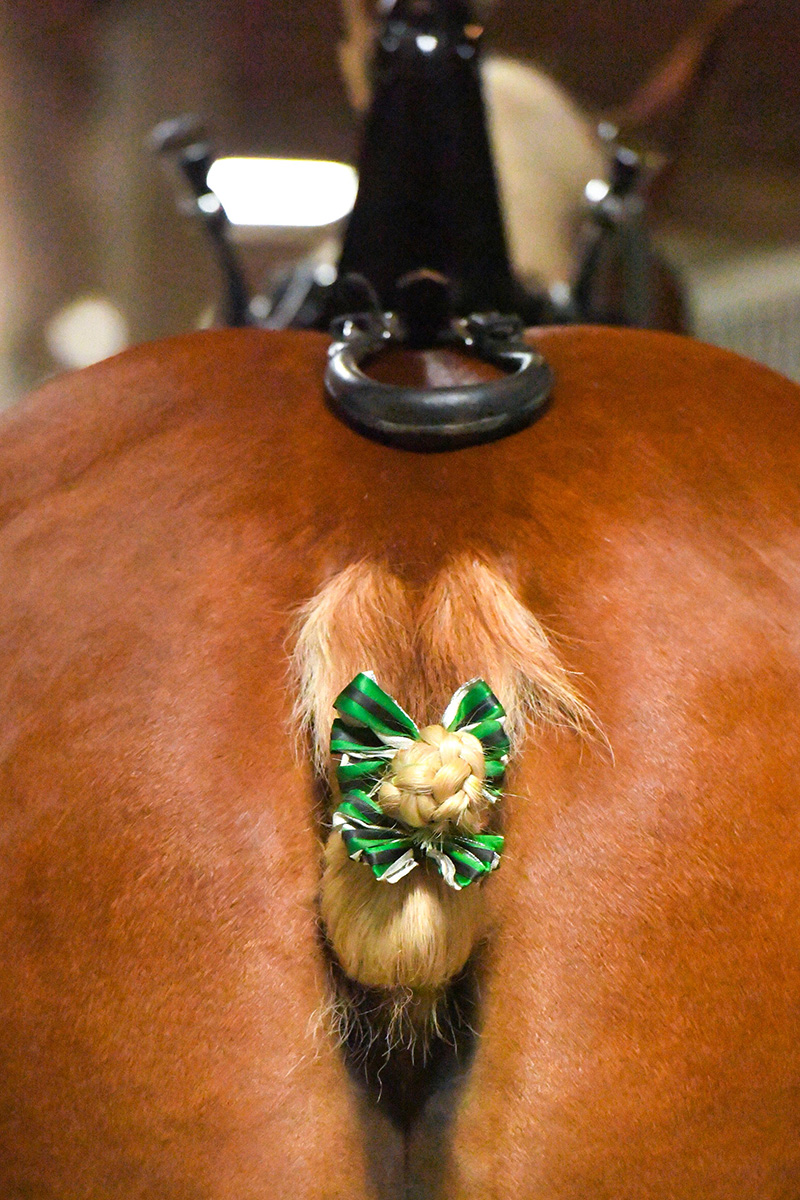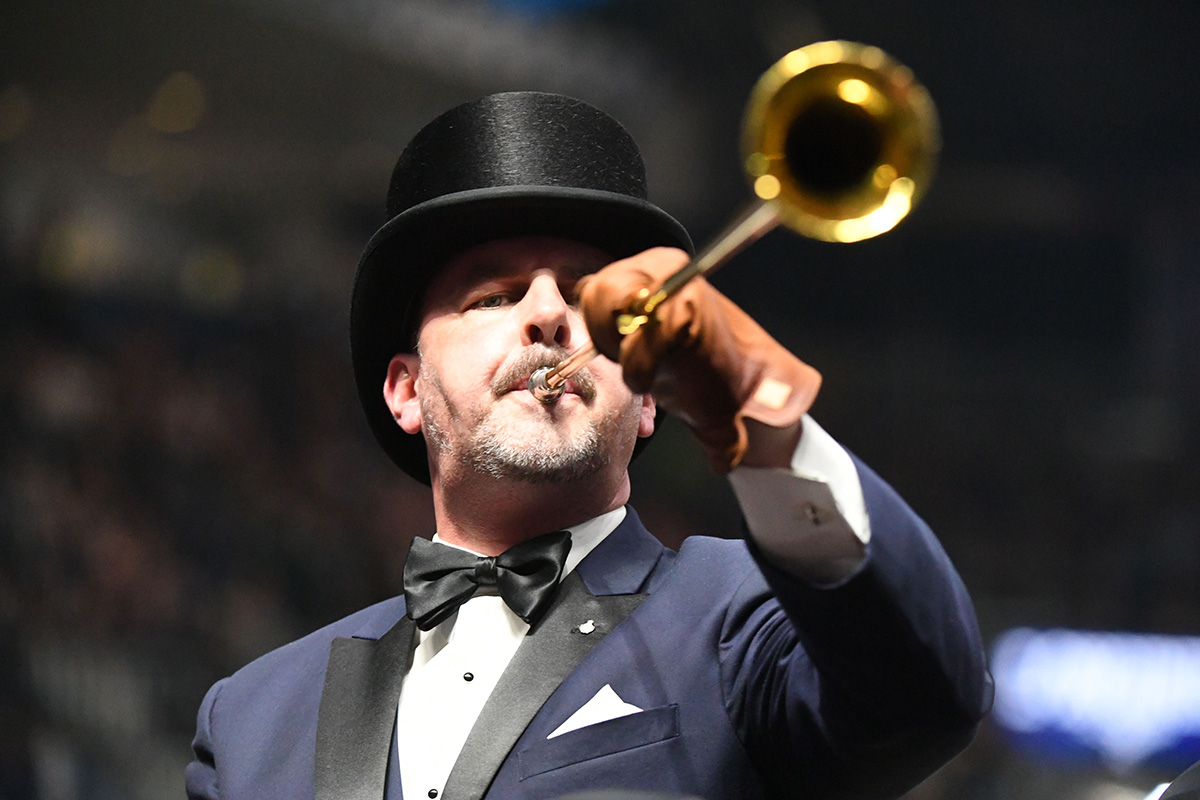 The headliner event of the Royal Horse Show was the $250,000 Longines FEI Jumping World Cup™ Toronto 2022 CSI5*-W class on Saturday evening, November 12th. Twenty-one horse and rider pairs were entered in the World Cup vying for the Hickstead Trophy, prize money, and a chance to qualify for next spring's FEI World Cup Finals to be held in Omaha, NE, in mid-April. Three competitors jumped clear around designer Michel Vaillancourt's challenging first course: two-time Canadian Olympian Tiffany Foster aboard Northern Light, an 11-year-old Swedish Warmblood mare; Ireland's Daniel Coyle riding Legacy, a 12-year-old Zangersheide mare, and Israel's Daniel Bluman on the 11-year-old Dutch Warmblood mare Gemma W.
An exciting jump-off followed with Coyle and Legacy finishing in the fastest time, Blumen and Gemma W in second and Foster and Northern Light in third. Coyle, whose horse is owned by Canadian Ariel Grange, talked about the course and his jump off with Legacy, "For sure it was not a simple course, and later on in the course was where the course designer was trying to test us the most. In the jump-off, Legacy can be very fast but I haven't done that many where I've been really asking her to go as fast as possible. I saw the distance early to the last fence and that gallop is something that I haven't done much with her, but she went all the way."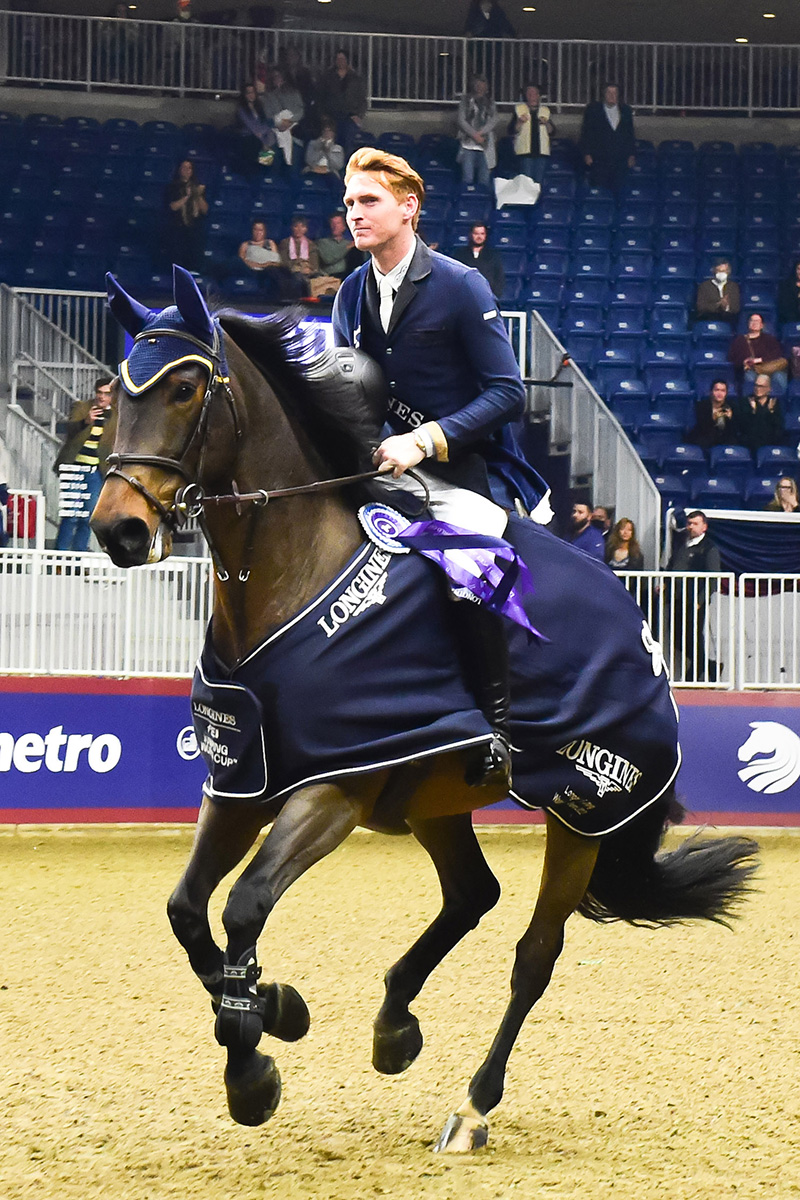 A unique combination of dog agility and show jumping called the K9-Equine Challenge is a Royal Horse Show class just for fun, although the winners also earn money. Each horse and rider combo is paired with a dog and handler with the lowest combined score being the winners. The show jumping course is first, then the canine and handler run the dog agility. The winning combination this year was McLain Ward riding Catoki combined with Jett, a five-year-old Blue Picardy Spaniel, and his handler. Their combined efforts stopped the clock at 44.80 seconds, over one second faster than the second placed team of Israel's Daniel Blumen riding Ubiluc and dog Friday, a six-year-old German Shorthaired Pointer (45.88).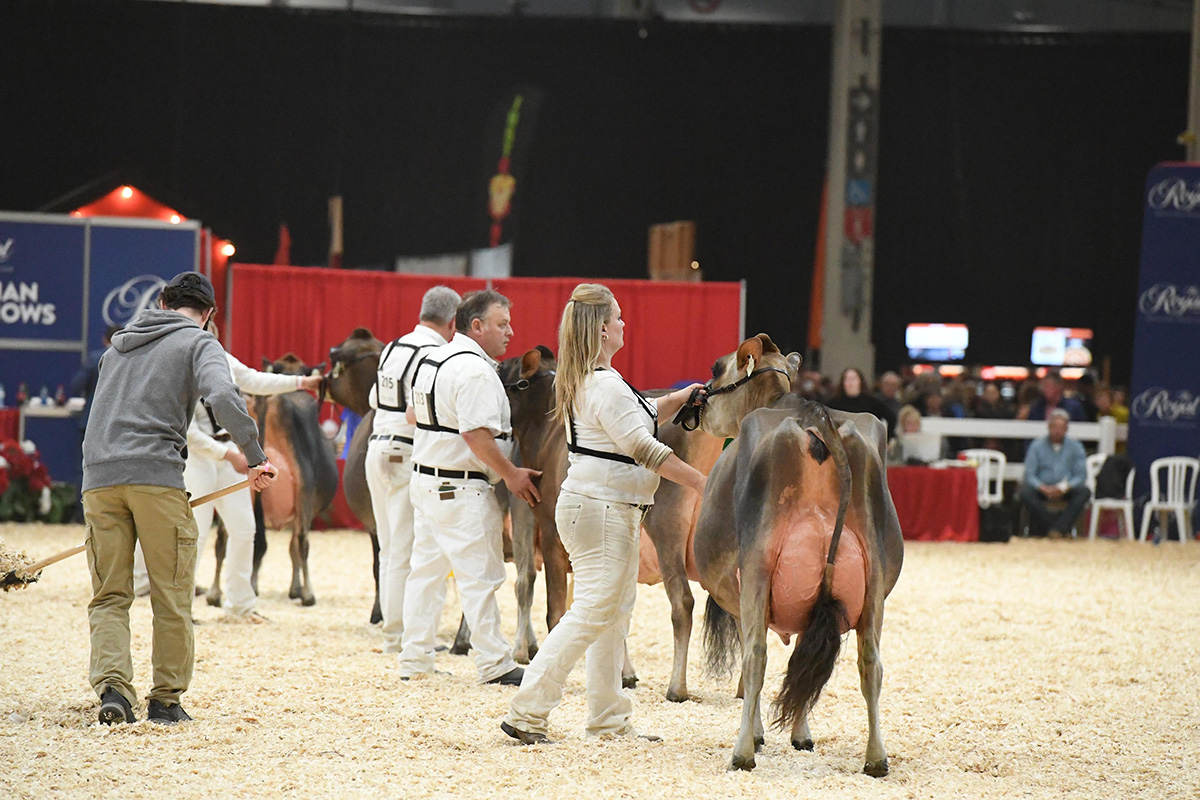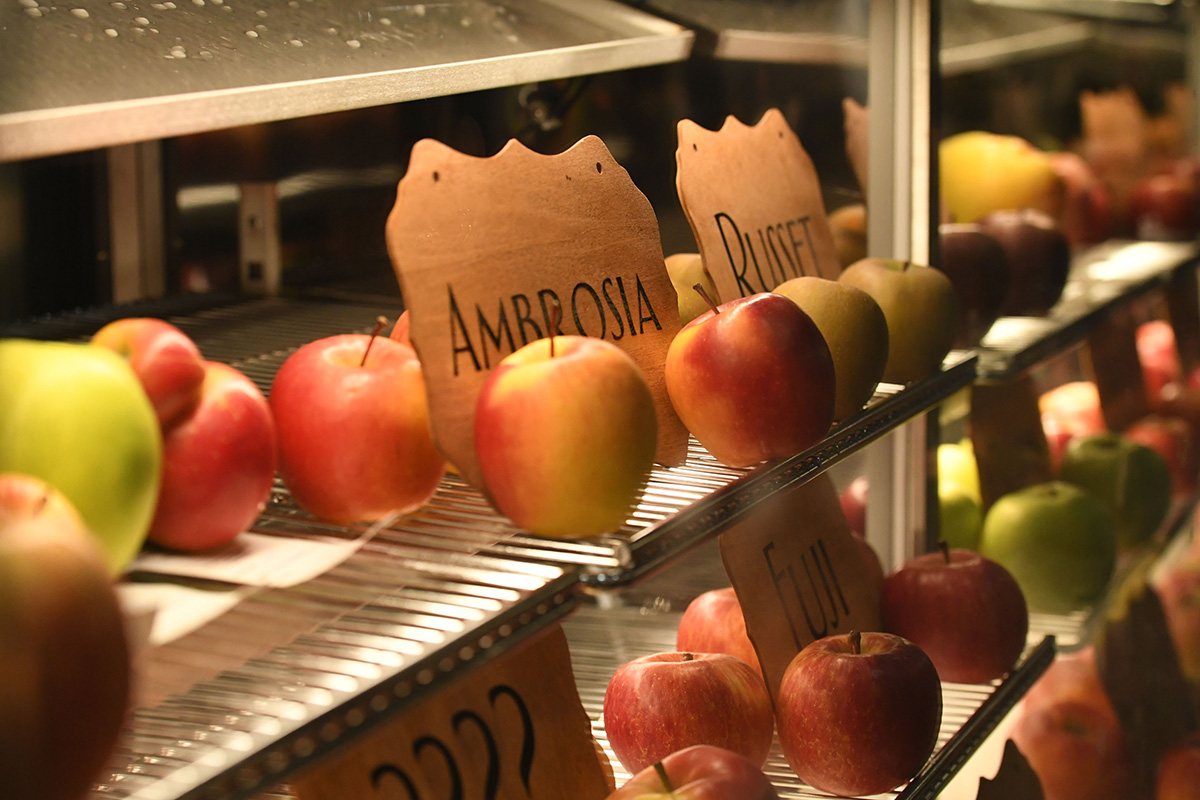 The highlight of the breed competition were the Governor's and Lieutenant Governor's Cup classes for three-year-old sport horses bred in Canada which were on the docket early on the second Saturday morning. The Governor's cup was an in-hand breed class and the Lt. Governor's Cup was a combination of under saddle, then stripped of tack to judge conformation. The winner of the Governor's Cup was Coutour, a Hanoverian mare by Cabardino owned by Tara Stanislaw and the Lt. Governor Cup champion was Vollure DL, a Canadian Sport Horse by Voltaire owned by Sarah West.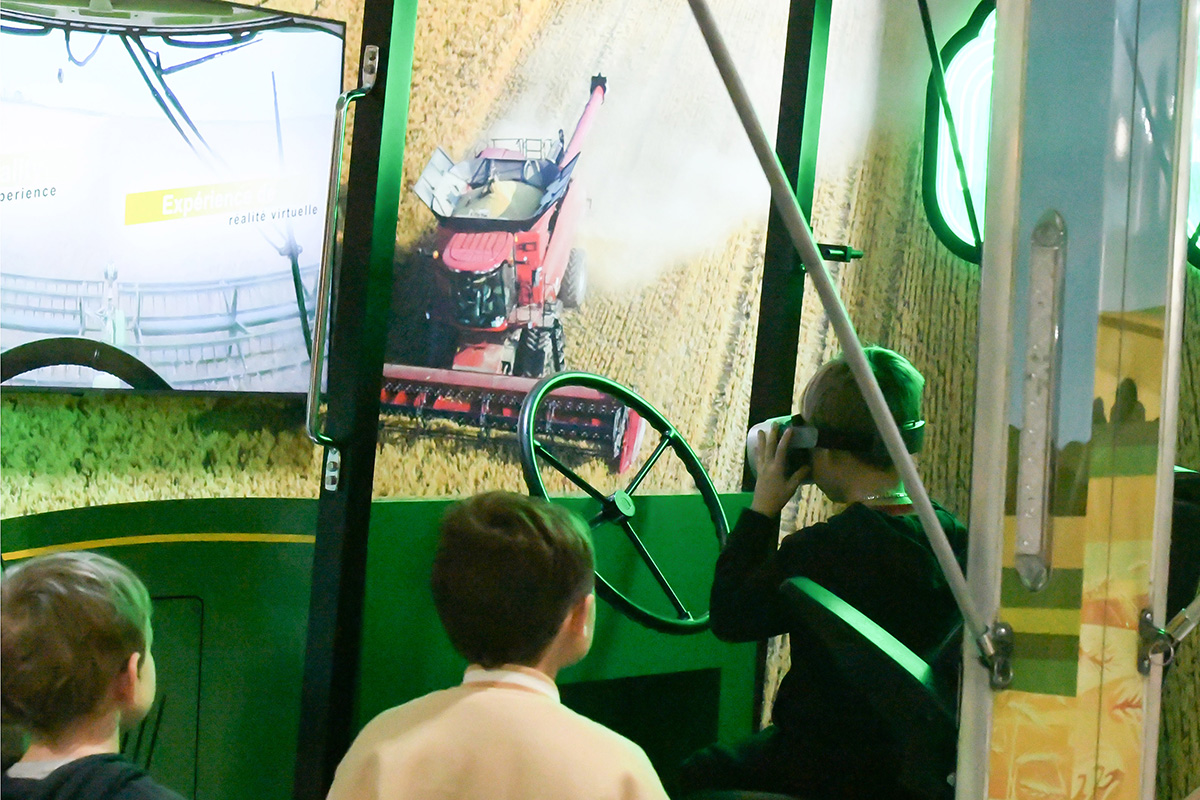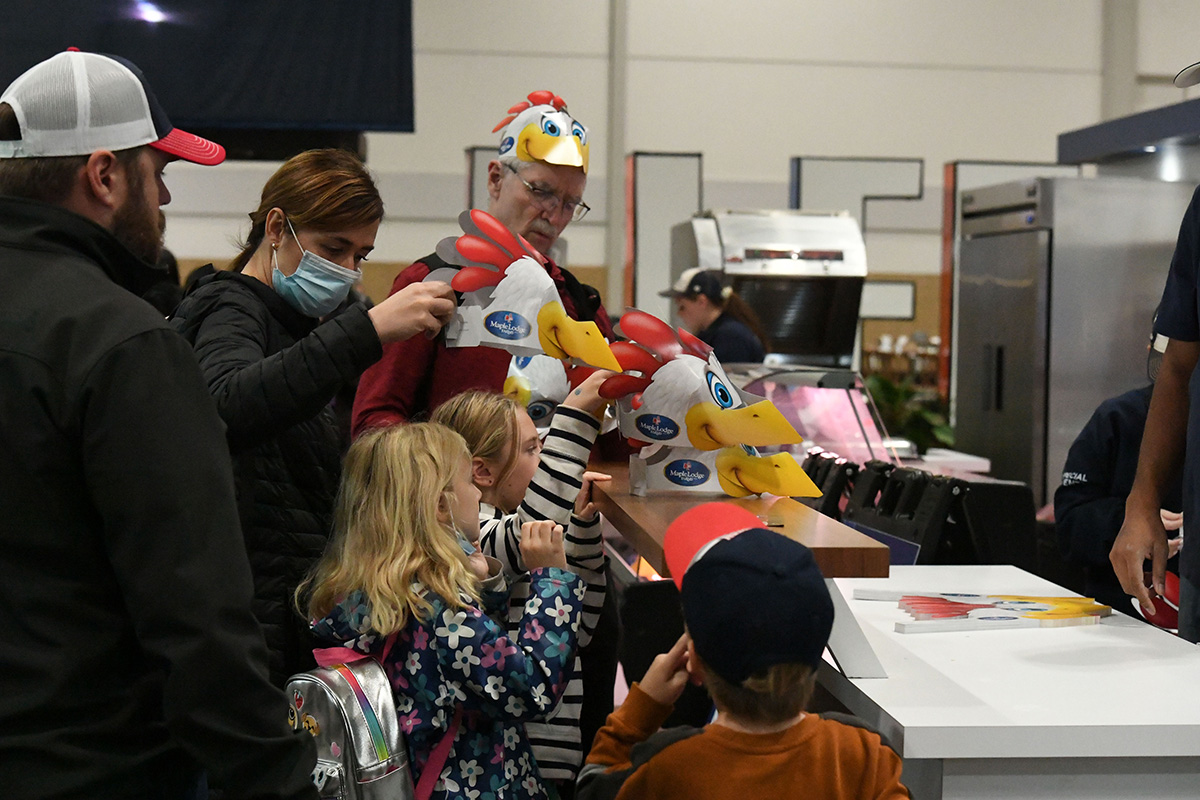 The Royal Rodeo capped the final day on November 13. Cowboys and cowgirls competed in saddle and bareback bronc riding, bull riding, pole bending and barrel racing. The Rodeo guest master of ceremonies was Heartland TV star Amber Marshall and rodeo trick riding was the featured entertainment.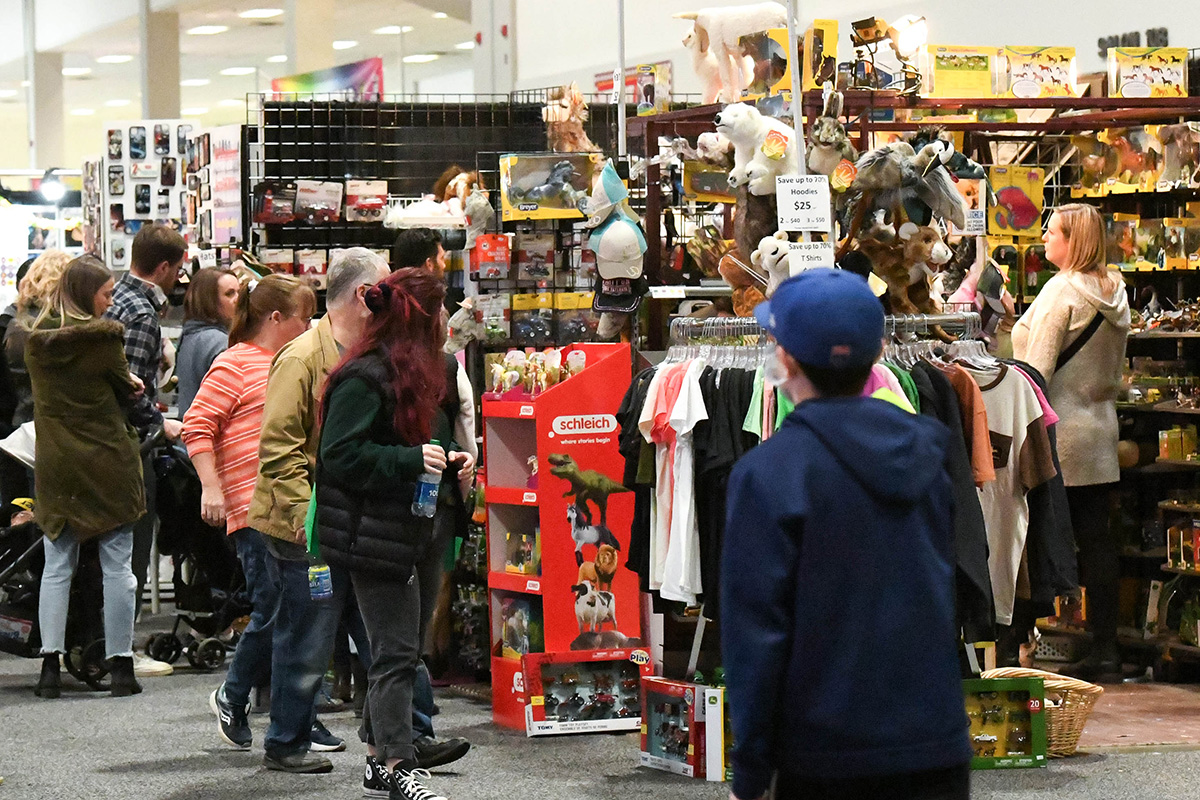 Next year's Royal Agricultural Winter Fair will be November 3-12, 2023. For tickets and more information go to www.royalfair.org. Find complete horse show results from the Royal at www.longinestiming.com/equestrian/2022/royal-agricultural-winter-fair-toronto-on.
$250,000 Longines FEI Jumping World Cup™ Toronto – Final Results – Saturday, November 12
Rider / Nation / Horse / Faults / Time
1. Daniel Coyle / IRL / Legacy / 0:0 / 37.02
2. Daniel Bluman / ISR / Gemma W / 0:4 / 39.21
3. Tiffany Foster / CAN / Northern Light / 0:9 / 44.23
4. Ali Ramsay / CAN / Bonita vh Keizershof Z / 1
5. Rowan Willis / AUS / Blue Movie / 4
6. Jos Verlooy / BEL / Igor / 4
7. Conor Swail / IRL / Count Me In / 4
8. Laura Kraut / USA / Calgary Tame / 4
9. Kent Farrington / USA / Landon / 4
10. Beat Mändli / SUI / Dijon Terdoorn Z / 4
11. Rodrigo Pessoa / BRA / Major Tom / 4
12. Margie Goldstein-Engle / USA / Dicas / 4
Equine Challenge Class at Royal Horse Show
Winter Fair Performances of Canadian Mounties
This article about the 2022 Royal Winter Agricultural Fair is a web exclusive for Horse Illustrated magazine. Click here to subscribe!