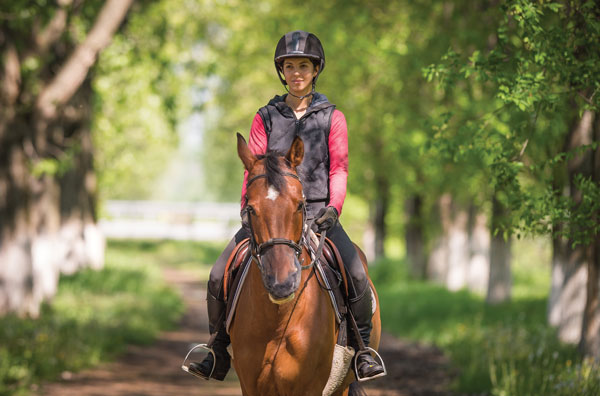 Whether by choice or by necessity, horseback riding solo can bring joy, adventure and a sense of accomplishment, but it also carries with it an element of danger. Planning ahead and preparing both horse and rider decreases the risk, but step one is to decide whether or not to go it alone.
"I've certainly done a lot of riding alone, and I have to say that it's not that safe compared to riding with somebody else," says Bayard Fox of Bitterroot Ranch in Dubois, Wyo., who has over 80 years of experience with horses.
Captain Lisa Rakes, a mounted police officer from Lexington, Ky., with two decades of service under her belt, offers her perspective.
"Horseback riding is an experience like no other," she says. "You could be having the time of your life one minute and then scared for your life the next. We have to remember that we are in partnership with a living animal with a mind of his own."
Proper Preparation
Before striking out horseback riding solo, careful mental and physical preparation of both horse and rider is essential to safety and to having an enjoyable and productive ride. Extensive arena training and riding out with others on more experienced horses are key to getting ready for independent riding.
An honest evaluation of whether or not a particular horse and rider are up to the task is critically important, according to Natalie Allio, an experienced horsewoman and guest ranch manager from Badger Creek Ranch in Cañon City, Colo.
"Don't overestimate your abilities or your horse's abilities," she cautions.
Rakes counsels riders to think through whether their horse is ready to ride out alone.
"It depends on your horse's confidence level and his comfort zone," she says. "You should always start out riding in an arena setting and develop a working relationship. Once your horse is calm, relaxed and able to work through all three gaits, you might think about warming him up in the arena and then moving outside the arena but staying within his comfort zone. You will need to be able to read your horse and listen to him when he tells you that you are approaching the threshold of his comfort zone. You can then move back to the arena to re-establish his confidence. Over time, you'll be able to increase your distance from the arena."
Allio advises riders to learn natural horsemanship desensitization techniques, starting from the ground and later working through the exercises under saddle. She's studied natural horsemanship clinicians and uses methods from Buck Brannaman, Mark Rashid, Pat Parelli and others.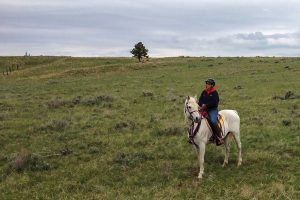 "We have a little obstacle course set up and work on getting [our horses] used to the idea of stepping over a log or stepping on a tarp," says Allio. "We get them used to something brushing their belly, around their legs, over their backs and through their ears. We want to build their confidence at home before we consider taking them out by themselves on a trial ride. We work really hard to build a relationship with our horses. If I do come off for some reason, I'm hoping my horse will stick around, because he's going to be essential to my survival."
Fox uses the teachings of Linda TellingtonJones to raise and train his family's Arabian horses and prepare them for work on the ranch. He also advises riders to get and stay as fit as possible.
Rakes agrees, saying that the riders must be physically ready to ride their horses and be confident enough that they can "ride what the horse gives them."
Fall Sensors
Technology exists today that can help safeguard riding activities. Beyond cell and satellite phones, there are various types of tracking units that can be purchased and attached to you or your horse. Some of these units either operate off of cellular towers or satellite signals, so select a device that has coverage in the intended riding area.
There are also many types of tech that detect falls, including Fitbits, Apple Watches, specially designed biking helmets, and wearable lanyards with built-in fall detectors and emergency contact buttons.
There are many types of cameras that can be linked to smart phones, tablets and computers, which work well if you plan to ride alone in the ring.
"Always think about what could happen and have a plan," says Rakes. "Remember to listen to your horse, as well. He may tell you that danger lurks ahead. Take the time to work through things ahead of time so your ride will not only be safe, but also fun."
Other Safety Considerations
Endurance rider Jan Stevens from Circle Bar Ranch in Ashland, Mont., says another thing to practice before horseback riding solo is riding at night. Even if riding after dark isn't planned, it might become necessary in an emergency. She suggests riding at night with other riders first. In addition, wear reflective gear at night. Fox, who has had to make a number of night rides to summon help, feels that using a flashlight while riding in the dark is often not the best idea.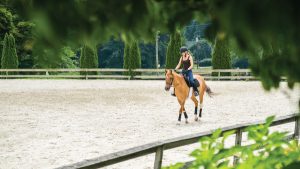 "I think it's a mistake, unless it's a situation where you and your horse don't know where you are going," he says. "Even then, I think that horses have immensely better nocturnal vision than people, and [this is hampered] when you use a flashlight."
You should also plan to learn basic wilderness first-aid and how to use a compass and map or global positioning system (GPS) to navigate unfamiliar areas. Familiarize yourself ahead of time with the area in which you plan to ride, and find out whether or not there is cell service there.
Check the weather just before you ride, and learn how to be safe in the event of lightning, hail, flash floods, high winds and quickly falling temperatures. Be on the lookout for wildlife that may spook your horse.
Rakes also advises thinking about how to protect yourself if someone tries to pull you off your horse.
Trail Safety
All four experts stressed that a person planning to trail ride alone should let someone at home know their plan before they head out.
"Give someone a detailed description of where you are going to ride, when you are leaving and when you anticipate you're going to return," says Stevens. "If possible, provide a map of your proposed riding location. Call them before you leave and when you get back. Take the time to create a plan of action if you don't return at the expected time, including who they should call for help and what information to give out."
When horseback riding solo, you should carry something to communicate with others, whether it's a cell phone, satellite phone in areas without cell service, or a long-range walkie-talkie. Make sure to tuck it into a pocket or holder strapped to your arm, leg or belt, not fastened to the saddle. That way, if you part company with your horse and the horse runs off, you still have the phone or radio.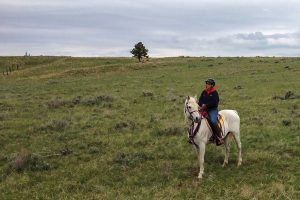 An ICE (In Case of Emergency) contact phone number should be programmed into your phone. Even though most people have a locked, passcode-protected smartphone nowadays, you can Google instructions on how to set up an ICE number that is accessible from a locked screen on both Androids and iPhones.
Additionally, it's smart to carry a medical card with information such as blood type, allergies (including to medicine) and emergency contacts. If you do get lost or separated from your horse, experts advise that it may be best to stay put and wait for help.
Attach a weatherproof card with contact information to your horse. You can put it in a saddle bag or braid it into the mane or tail. Microchipping your horse may also be useful.
Safest Tack & Gear
According to all four experts, a well-constructed, properly fitted riding helmet is at the top of the must-have equipment list for horseback riding solo. Stevens stresses that riders should wear a helmet every time they ride, with no exceptions. Fox, who admits that he didn't always wear one over the years, adds wisdom that comes from experience.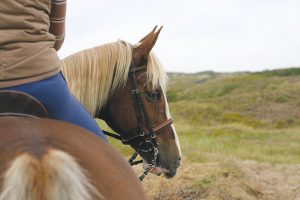 "I'm a huge believer in wearing a hard hat," he says. "I've seen so many terrible head accidents, and I just think that the Marlboro image with the big western hat isn't worth it."
Riders should also wear long pants, boots with a heel, and gloves. Tack should be in good working order and well-fitted to horse and rider.
Fox also stresses that you should check the girth or cinch after riding for five or 10 minutes, since it may need to be tightened further to keep the saddle from slipping. Stevens also points out that it's not a good idea to try new equipment for the first time while riding alone.
This article about horseback riding solo appeared in the May 2020 issue of Horse Illustrated magazine. Click here to subscribe!
Safety Items to Carry
The experts also recommend carrying as many of the following safety items as possible when trail riding alone, rather than packing them in saddle bags:
◆ Pocket knife with a variety of tools inside or a multi-tool
◆ An emergency blanket made of waterproof silver material that folds down to the size of a tissue packet
◆ A first-aid kit
◆ A triangular bandage
◆ A few bandanas
◆ Matches in a waterproof container or a lighter
◆ A rain slicker
◆ A piece of parachute cord about 3 feet long
◆ Bottled water or water purification tablets
◆ An area map and compass or GPS
◆ A protective hoof boot in case of a lost shoe