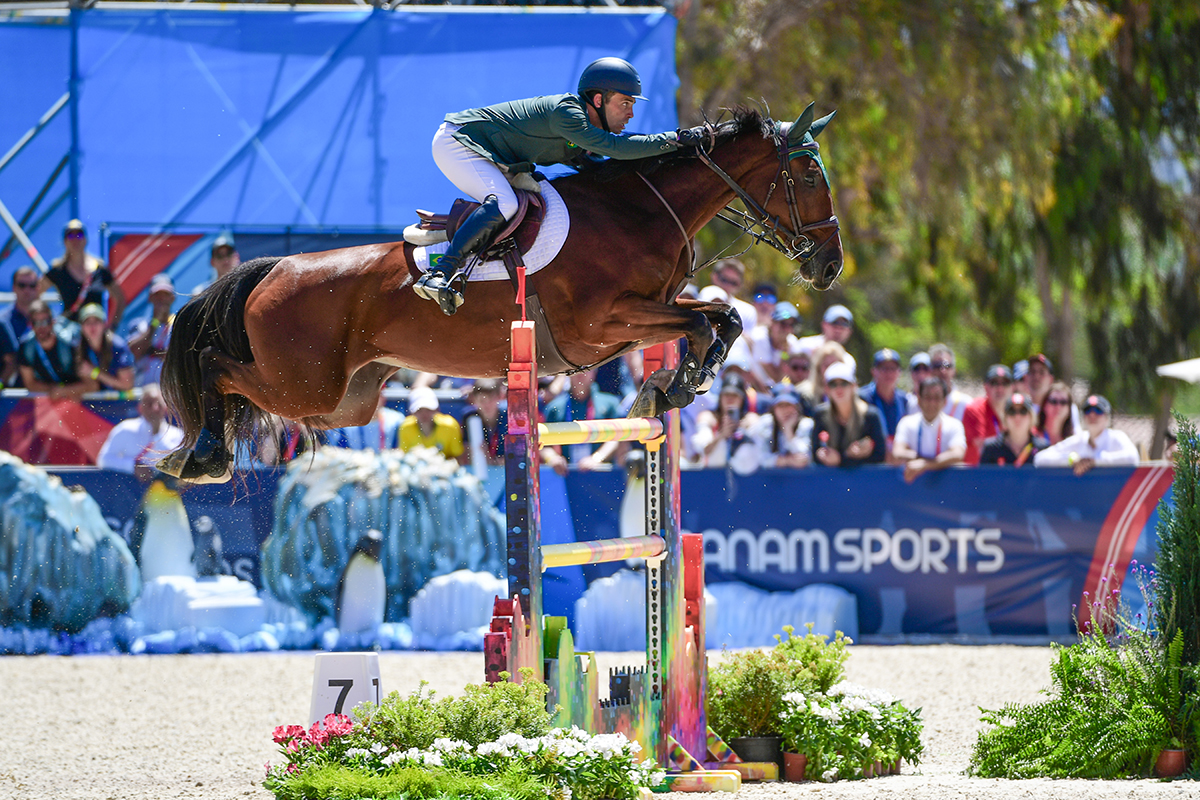 After the excitement of the team jumper finals on Wednesday at the Pan American Games where the USA pulled out all of the stops to win gold with Canada silver and Brazil bronze, thoughts turned to individual medals yesterday. The day was the hottest by far of the two weeks of Pan Am Games equestrian competition, with the temperature reaching the upper 80s Fahrenheit and bright sunshine all day.
The Pan American Games individual jumper finals comprised two rounds (A and B) both over 1.60-meter courses judged under Table A rules (not against the clock). Once again the jumps were beautifully decorated with themes from Chilean history and architecture, traditional hats worn by Chilean cowboys called "chupalla," Native American culture, Chilean wildlife (flamingos and penguins), a semi-precious stone called lapis lazuli mined in Chile, and more.
Twenty-eight horse and rider combinations representing 13 nations (Argentina, Brazil, Canada, Chile, Colombia, Mexico, Panama, Paraguay, Peru, Puerto Rico, United States, Uruguay, Venezuela), and one independent athlete, took their turn over course designer Marina Azevedo's (BRA) Round A track. The course was technically challenging and the fences were big. Penalty point scores carried over from previous days and they jumped in reverse order of placing thus far.
By virtue of having the top 14 scores from previous days, the U.S. (3), Brazilian (2), Mexican (2) and Canadian (3) riders, along with riders from Argentina (2), Colombia (1) and Venezuela (1), all jumped in the second half of the order in Round A. Only three riders jumped clear in Round A: Brazil's Stephan de Freitas Barcha on Chevaux Primavera Imperio Egipcio who had been third going into the day; Argentina's José Maria Larocca Jr. on Finn Lente who had been 17th going into Friday, and with much applause from the home crowd, Chile's Agustin Covarrubias on Nelson du Petit Vivier who was in 18th going into the Round A Finals.
All of the U.S. riders had rails down in the first round, one each for Laura Kraut on Dorado 212 and Kent Farrington on Landon, and two down for McLain Ward and Contagious. However, they had all carried top scores from previous days, so after Round A they remained in in the top five with Kraut in second (7.39), Farrington in fourth (9.64) and Ward in fifth (11.34). At the end of Round A, the leader was de Freitas Barcha (BRA) with 4.06 and rounding out the top five was Mexico's Eugenio Garza Perez on Contago in third (9.63).
Canadian rider Amy Millar on Truman was the top for her country after Round A, sitting in eighth on a score of 13.71. Teammates Tiffany Foster on Figor and Beth Underhill on Nikka Vd Bisschop were in 12th (16.4) and 13th (17.02), respectively.
Round B would sort it all out in the end to determine the individual medals. The riders faced another technical and big course from Azevedo with 10 numbered fences and 13 jumping efforts. Twenty riders returned for Round B from Argentina, Brazil, Canada, Chile, Colombia, Mexico, United States and Venezuela. This included all three U.S. riders and all three Canadian riders.
Fences 9 and 10 ended up causing the most grief coming down for most of the competitors, including fence 9 falling for Ward and Contagious to add only four faults to their final total of 15.34 to finish in bronze position. Kraut and Dorado 212 had two unlucky rails in Round B, which dropped them into fourth place just behind Ward and Contagious.
Ward talked about his round, his horse and the week of Pan American Games jumper competition after the awards, "It was really a brilliant week for the American team. Really the goal for us here was to win a gold medal and qualify for Paris and I think we did that with a lot of style on Wednesday. I'm very proud of my team and my horse. Contagious really fought for me today. We got a bit unlucky in a few places, but there are always things that I can do better, but he performed great and I'm just really thankful to all of the people that make it possible for me to have a horse as special as him."
Kent Farrington and Landon had a stellar Round B with the only double clear of any combination over the course to finish on a score of 9.64, which in the end earned them Pan Am silver behind gold medalists de Freitas Barcha on Chevaux Primavera Imperio Egipcio, a 12-year-old mare, who did take one rail down to finish on 8.06.
Canadian Amy Millar on Truman jumped what was initially marked as a clear round within the time, which would have put her in the bronze medal spot. However, after she finished the course, but before she crossed the timer, a rail fell from fence 4b. The Canadian Team did file a protest because it was uncertain whether the rail fell before or after she stopped the timer, but in the end the ground jury upheld the 4 fault score and she finished in 6th on 17.71. Fellow countrywomen Beth Underhill on Nikka Vd Bisschop and Tiffany Foster on Figor finished in 9th (21.02) and 14th (26.40), respectively.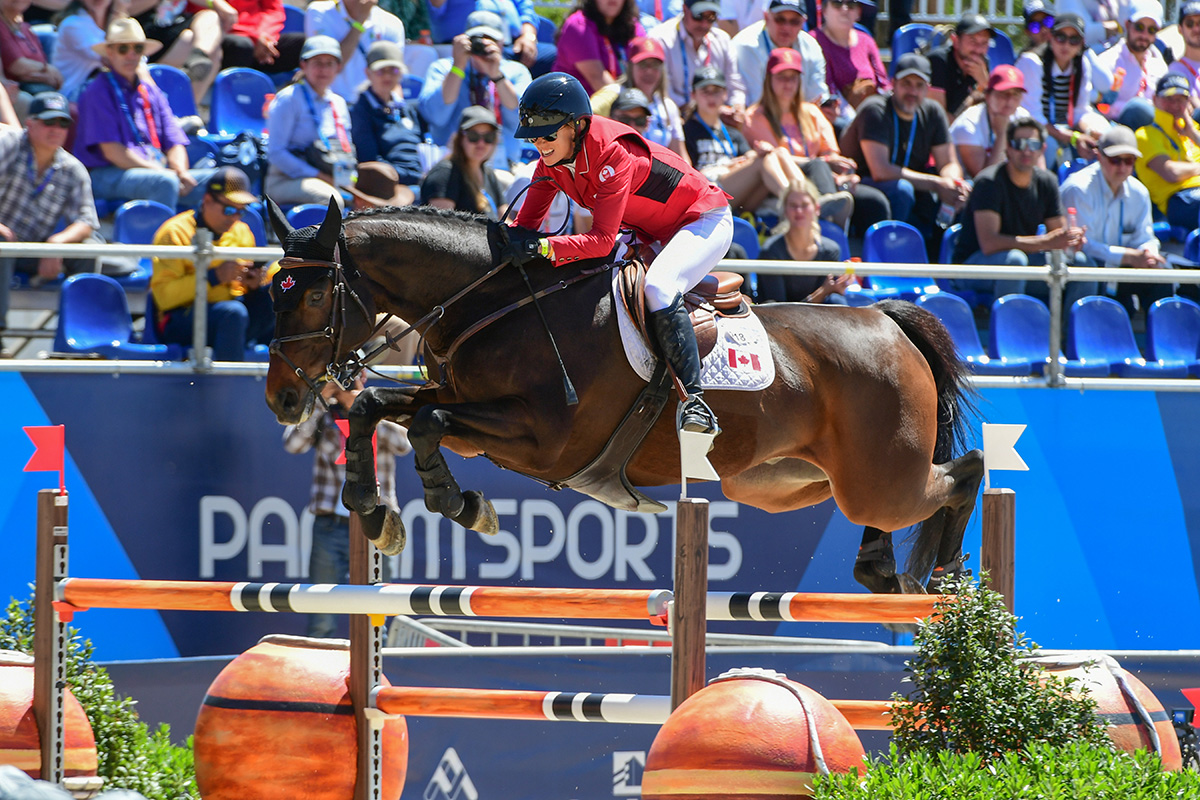 An emotional de Freitas Barcha talked about his win and his horse, "Since I started this journey 25 years ago in Rio de Janeiro, I worked every day for a day like this. I want to just say thank you to everybody that has helped me during this journey. I have a good team now, good people behind me, but this victory is for two people who are no longer here. It is for a teacher I had since I was 15, and also my friend who I lost at the beginning of the year. I know he was with me in every round supporting me this week and this victory is for Vava, my good friend who was like a brother to me. My mare―the way she jumps―she is amazing. I just have to work to keep her calm. I know her. I've been riding this mare since she was six."
Silver medalist Farrington said about his horse, "As a more inexperienced horse coming into this event, I think he continued to grow and improve throughout the week, and I'm just really thrilled with the result. These were big rounds today and some real jumping and I think that shows what the Pan Am Games has become in our sport. I've had him since the end of his 7-year-old year and he's now ten, so really coming into his own. He's won two five-star Grand Prixs already and just jumped better and better as the week went on. He's an incredible athlete and you can see that he will battle his way out and finished very strong."
U.S. Chef d'Equipe Robert Ridland summed up his riders' performances as the Pan Am equestrian competition closed here in Chile, "We really came here for Wednesday [the Team competition to qualify for the Paris 2024 Olympics]. They were just brilliant and got the job done there. Today, as the individuals always are, is just the icing on the cake. All three of our combinations today have been impressive. We had some building partnerships on this team, with Kent and Landon and Laura and Dorado, and I couldn't be happier with them, both of them jumped as well as they ever have all week."
This coverage of the jumper finals at the 2023 Pan American Games is a web exclusive for Horse Illustrated magazine. Click here to subscribe!