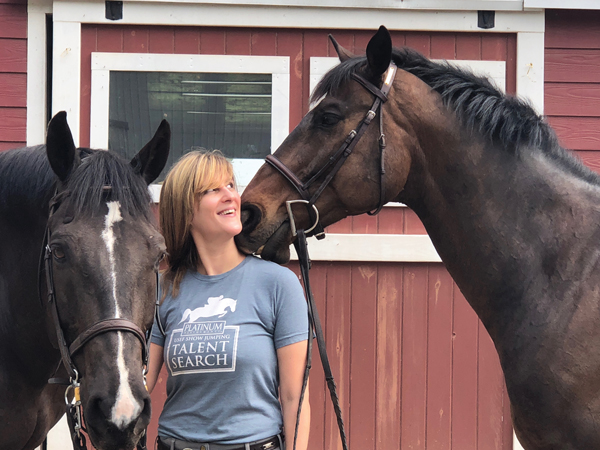 New York Times reporter and Pulitzer Prize finalist Sarah Maslin Nir delivers a powerfully written blend of memoir and journalistic craft in her new book, Horse Crazy: The Story of a World and a Woman in Love with an Animal, coming out August 4.
"It's an unusual horse book in that it's my coming of age story through the lens of the horses I've met throughout my life," says Nir about the book. "It's not just the pony I rode when I was 2. It's the Senegalese horses that I found when I was covering terrorism in West Africa. It's the rare Indian Marwari horses that I rode when I was reviewing spas in Rajasthan and then became obsessed with and tried to find one myself in America. And it's the horses owned by the Black cowboys I worked for in Harlem when I was a teenager, and how it all told me their story, and in doing so, told me my own."
A Masterfully Woven Memoir
Nir uses her investigative talents to mine the experiences of a horse-crazy childhood, from Breyer model horses to Misty of Chincoteague. She explores the connection between horse and human through far-flung and unexpected corners of the world, interwoven with her own personal narrative of a life with horses. She says Horse Crazy is a book for everyone.
"Who hasn't seen a horse and felt its tug on their heart? The horse world is exclusive in some ways, but the love of horses is deeply inclusive. And horses themselves are. So I think this book is for anyone who has ever looked into their big amber eyes."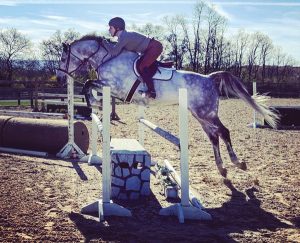 Those big amber eyes. Their piano key teeth, and the music of their bugling whinnies. These are just a few examples of Nir's eloquence in what the publisher describes as "a funny, fascinating and ultimately moving love letter to one of the world's most beautiful animals."
Nir has been obsessed with horses since she sat on her first one at age 2, and hasn't gotten off since.
For almost a decade, Nir kept her horse obsession quiet on the job, lest she not be taken seriously. A group of female reporter friends encouraged her to pursue the passion project.
"They said, you know, if you're passionate about something, passion is all that matters," says Nir. "That's what speaks to people. That's what we do for a living. Whatever we're covering, it's about passion. And that really got me thinking that this thing that takes up so much of my life, that I never talk about in New York City, is my passion, and I should share it, because passion always resonates."
As Nir's reporting took her all over the world, she would always seek out the horses afterward, fusing her passion for horses with her reporter's instinct to seek out the story.
"As I followed the story with my notebook through the barns of the world I became curious about so many things," she says. "I have a Dutch Warmblood, Trendsetter. And I became curious: how did Trendsetter get here? He's from Holland! So, I actually flew in the belly of a 747 with nine Dutch Warmbloods as a groom exporting them from Holland in the cargo hold to understand that.
"I just tried to understand horses in a really holistic and kaleidoscopic way, which is what we do innately when we're with them, right? You don't see a horse, you don't pet a horse—-you FEEL a horse. And I wanted to understand them in this really deep way that we all do in our barns."
Getting Personal
With her background in journalism, Nir is not used to writing about herself. "It was really a challenge for me to write something so personal, about growing up, about loneliness, about not fitting in, heartbreak, grief. The part that is easy for me is telling other people's stories…and other horses' stories. But it's the weft that weaves the horses' stories together in Horse Crazy—-the weft is me.
Through the process, a deeper understanding of horses led Nir to an important realization about herself, and what horses give us, that she shares in Horse Crazy.
"As a Jew, a daughter of immigrants, the daughter of a Holocaust survivor, growing up in New York City, I came to the sport as an outsider, and that really plagued me," she explains. "I realize I unpack in the book so much of my compulsion to be the best at it—and to be deeply part of it—was about passing and assimilating. And in the end, I realized that I didn't have to, that horses loved me just as I was. And that's the gift they give us: that they don't have any expectations for us. I wish I could say we gave it back to them in the same measure.
Nir also interviewed natural horsemanship trainer Monty Roberts for the book. She says Roberts told her that the language of the horse is to find a safe place to be. "That's the only question they want answered. And that's all horses ask of us," Nir explains. "[Horses] ended up being my safe place. And I realized I didn't have to change to be theirs."
Recovering from COVID-19
Nir reveals how the healing presence of horses is helping her now, after having had COVID-19 and going through a lengthy recovery and quarantine. "I rented an apartment on a Standardbred farm just so I could be near horses, because it made me feel better. Horses bring me peace," she says.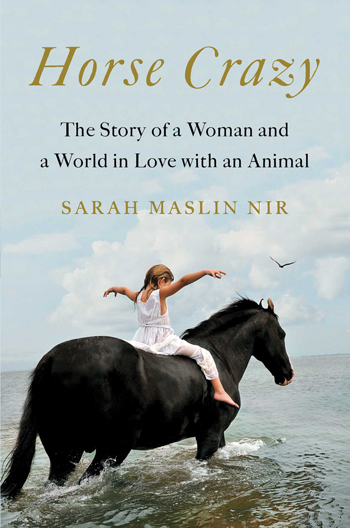 Her own horses reside on a nearby farm in Whitehouse, NJ. She has three. In addition to Trendsetter, she has a Hanoverian cross and a Mecklenberg, which is a German warmblood breed.
Referring to herself as a "hunter queen," she competes in amateur-owner hunters. "Though I do cross-rails right now because none of us have been riding—major pandemic reversion for the new green horse!" she laughs.
Nir believes horses can help us through these times. "You don't need to meditate when you're with a horse. A horse IS meditation," she says. "And so, I think they're deeply valuable at a time like this—-not just for the people privileged enough to own them and be with them. [Riding] is a rarified sport that can exclude people, but horses themselves don't, and I think that's important to remember."
Remembering the Black Cowboys
Nir says horses also offer a powerful message about inclusivity. "As we're seeing the protests for Black Lives Matter, you're seeing all these Black cowboys," she explains. "One in four cowboys in the American West were actually Black, and their story has been erased by the white writers of history. In my book, I have a whole chapter about searching for them, and the people who are writing their story back into history. So horses were never exclusive.
"Horses don't [care] about who you are," she adds. "They just want you to be calm and give them carrots. Horses are for everybody," she says. "They want to be for everybody."
She emphasizes that the gift of horses should be for everyone. In an online review of Horse Crazy, a reader who had never been able to own a horse described how she felt like she had been lent some of Nir's four-legged beauties through the book's duration.
"Even saying it gives me goosebumps," says Nir. "That's exactly what I hoped, that I could share what horses have shared with me."
The book can be purchased through various retailers (Amazon, Barnes and Noble, Bookshop, etc.) via the publisher Simon & Schuster. The release date is August 4, 2020.