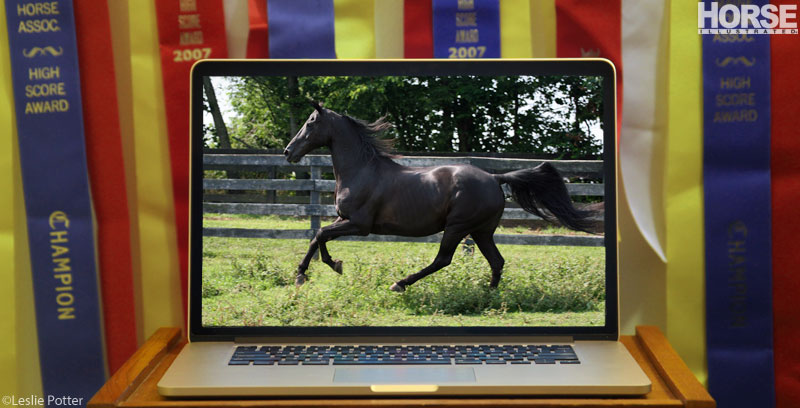 When you combine horses, horse merchandise, vet care, events, and horse-related services, the economic impact on the American economy totals over 100 billion dollars. With all that money floating around, it's easy to see why crooks and scammers are attracted to the equine industry.
Most of us do take precautions. As sellers, we don't let anything out of our hands until it's fully paid for. As buyers, we scrutinize registration papers, have a vet check for soundness, sedatives and painkillers, and go see products or services in person. But some swindlers have upped their game. Here are some devious scams you need to watch out for.
Shady Horse Sales
Let's say an online ad shows pictures and video of a horse roping, jumping, and being handled by a toddler. What a great horse! But remember, thanks to the internet, stealing great sales images is as easy as a few clicks of a mouse. Don't believe anything about a horse's abilities until you've seen them demonstrated in person. Sometimes, particularly bold crooks take the stolen-photo scam to a new level—they advertise and take deposits on horses they don't own! Check with registries to confirm the current owner's identity, and get a copy of the seller's driver's license before sending any cash.
Shady horse dealers hope your excitement will lead you to buy impulsively. Take your time. A closer look at a horse may reveal epoxy-filled hoof cracks, irritating ginger in the anus to create pretty tail carriage, and dried sweat that indicates the horse has been exercised to the point of exhaustion so as to appear calm. An old horse's teeth might have been "bishoped," aka filled in with silver nitrate to appear more youthful.
But the worst of a horse's faults may be invisible. PSSM, HERDA, MH, GBED and HYPP are fairly common genetic diseases that unethical breeders aren't up front about. A vet's five-panel blood test, which costs about $125, will reveal them.
Even a free horse isn't a safe bet. In a twist on an old scam, a stranger in "desperate circumstances" may email you, begging you to give their horse a good home ASAP. They even send a (stolen) picture. The horse is gorgeous, young, healthy and totally free.
The only catch is that you'll have to pay to ship the horse to your location. There is no horse, of course. Once you send money, you'll never hear from the "owner" again.
Online Tack Trading Tricks
Buying horses too quickly can certainly get you into trouble, but when it comes to online merchandise purchases, beware the slow-acting seller. Once you've made a purchase, your order should be shipped within two weeks unless it's a custom job. A seller who takes longer may be purposefully playing for time. They'll make excuses about health, financial, or family situations until it's too late: most e-commerce companies limit the time a buyer has to dispute a transaction. After this, you won't be able to get your money back. PayPal recently changed their time limit from 45 days to six months specifically to combat these scams.
It's not always a case of buyer beware: Businesses like eBay and PayPal have rules heavily biased against sellers. A buyer can easily purchase a tack set from you, use it for a week or two, then send it back to you dirty, damaged, or missing parts, and claim you sent it to them that way!
Another trick is to substitute a similar but much lesser quality tack set than the one you sent them. The thief will then file a dispute with the e-commerce company and usually wins the case automatically. You can take close-ups of tack before shipping, but thanks to digital photo manipulation, many companies won't accept photos as proof in dispute cases.
Another e-commerce based scam is the address switcheroo. A buyer will ask you to send their purchase to a residence other than the one they've listed as their designated shipping/billing address. They'll say it's a surprise for a family member, or they won't be home to accept the package, or some other excuse. After you send the item, they'll claim they never got it and demand a refund. Since you sent it to the "wrong" address you're going to be out your item and its purchase price.
These are only a few of many dirty tricks. Auction-ring plants, unqualified horse "professionals," hay sellers that doctor bales, faux rescues, fake charities, and many other crooks abound in the horse world. However, websites such as Horse Trader Tricks, Rate My Horse Pro, Yelp, Angie's List, and local Facebook groups can help.
If you have had a bad experience, do share it with others—your story may very well help someone else avoid disaster. (Be sure to write reviews in an appropriate, constructive manner to avoid risk of legal action.)
LAURA ROSE lives on a farm in Wisconsin where she blogs, paints, and sometimes rescues horses. 
---

This article originally appeared in the August 2015 issue of Horse Illustrated magazine. Click here to subscribe!