Under a darkly clouded sky that occasionally gave way to peeks of sun, 13,252 spectators streamed into the Kentucky Horse Park in Lexington, Ky., to watch the second day of dressage at the Land Rover Kentucky Three Day Event. Notably, this was the best Friday attendance since 2017, pre-pandemic.
CCI5*-L Division
In the CCI5*, the leaderboard saw a notable reshuffle of the first-place spot on the final day of dressage. To no one's surprise, 25-year-old Yasmin Ingham of Great Britain dropped a beautiful, accurate test aboard Banzai Du Loir to post a 22.1, good enough to keep the lead after the day was said and done.
Ingham took Kentucky a bit by surprise last year by finishing second to multiple Olympic gold medalist Michael Jung of Germany. After that, she defeated all takers to take individual gold at the World Eventing Championships in Pratoni, Italy, also aboard Banzai Du Loir.
"Coming here last year, I was a bit of a rookie, still finding my way in my first 5-star with Banzai," said Ingham. "This year there is more pressure and expectation."
Asked how she felt about tackling Derek DiGrazia's marathon cross-country course tomorrow, she is excited, but not taking anything for granted.
"I love the terrain here. Banzai's got such a huge stride and really covers the ground quite well. [Last year I] never upset his rhythm or felt like I was never interfering with the way that he was going … It will be nice to get the coffin under our belt at fence 6. There are four waters, and I love the Head of the Lake. There's so much cheering and clapping, it gives Banzai a little boost. I will probably watch my round back from Pratoni in the morning to give me confidence going into the cross-country."
Asked to describe her mount in three words, she gave a rave review.
"He is very kind and gentle, very funny—he gives everyone a good laugh at the stables—and handsome. He's gorgeous!"
The next best score to come in today was Will Coleman (USA) aboard Chin Tonic, now in 4th place on a 25.0 after a stunning test. Coleman first rode the 14-year-old Irish Sport Horse gelding when he was only 3, taking the ride on him full-time right after he was gelded as a 5-year-old.
"He's always been an extremely gifted mover. We get to see how he copes with highest level of our sport. This is a big step and we're excited to see how it goes."
Coleman's main concern for the cross-country test ahead is the 11 minute and 26 second length.
"Both horses [Chin Tonic and Off the Record] need to be attentive. Stamina is the biggest question for both horses—they're not Thoroughbreds."
CCI4*-S Division
Earlier Friday morning, Elisabeth Halliday-Sharp (USA) was almost able to best her own score from yesterday of 24.5, dropping a 25.5 aboard Cooley Be Cool, a 10-year-old Irish Sport Horse gelding.
"He's extremely arrogant and very brave, really professional. [But] I know to stay in his good books in the warmup because he's quite cheeky. He could be a team horse. I'm excited about his future!"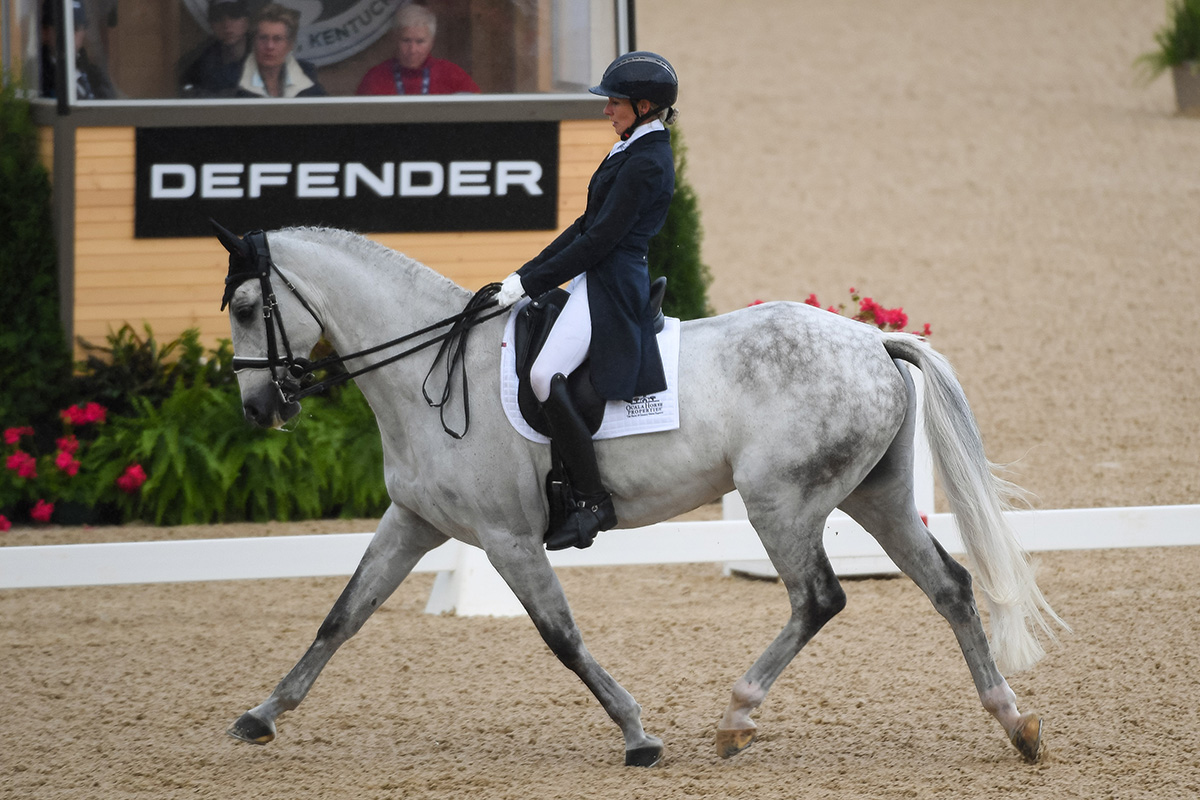 Follow all of our 2023 Land Rover Kentucky Three-Day Event coverage here.
CCI5*-L Top 10 After Day 2 of Dressage:
Yasmin Ingham and Banzai Du Loir (22.1)
Tom McEwen and JL Dublin (22.6)
Tamra Smith and Mai Baum (24.2)
William Coleman and Chin Tonic (25.0)
Elisabeth Halliday-Sharp and Miks Master C (26.9)
Boyd Martin and Tsetseleg (28.3)
Bruce (Buck) Davidson Jr. and Carlevo (28.4)
Elisabeth Halliday-Sharp and Deniro Z (29.0)
Sandra Auffarth and Viamant Du Matz (30.4)
Woods Baughman and C'est La Vie 135 (30.6)
CCI4*-S Top 10 After Day 2 of Dressage:
1. Elisabeth Halliday-Sharp and Cooley Nutcracker (24.5)
2. Elisabeth Halliday-Sharp and Cooley Be Cool (25.5)
3. Tamra Smith and Solaguayre California (27.6)
=4. Sara Kozumplik and Rock Phantom (28.4)
=4. Tamra Smith and Elliot V (28.4)
6. Colleen Loach and FE Golden Eye (29.2)
7. Karl Slezak and Hot Bobo (29.3)
8. Colleen Loach and Vermont (29.8)
9. Alexandra Knowles and Business Class (30.0)
=10. Jacob Fletcher and Fabian (30.5)
=10. Sydney Elliott and QC Diamantaire (30.5)
This recap of the second day of dressage at Land Rover Kentucky Three-Day Event is a web exclusive for Horse Illustrated magazine. Click here to subscribe!