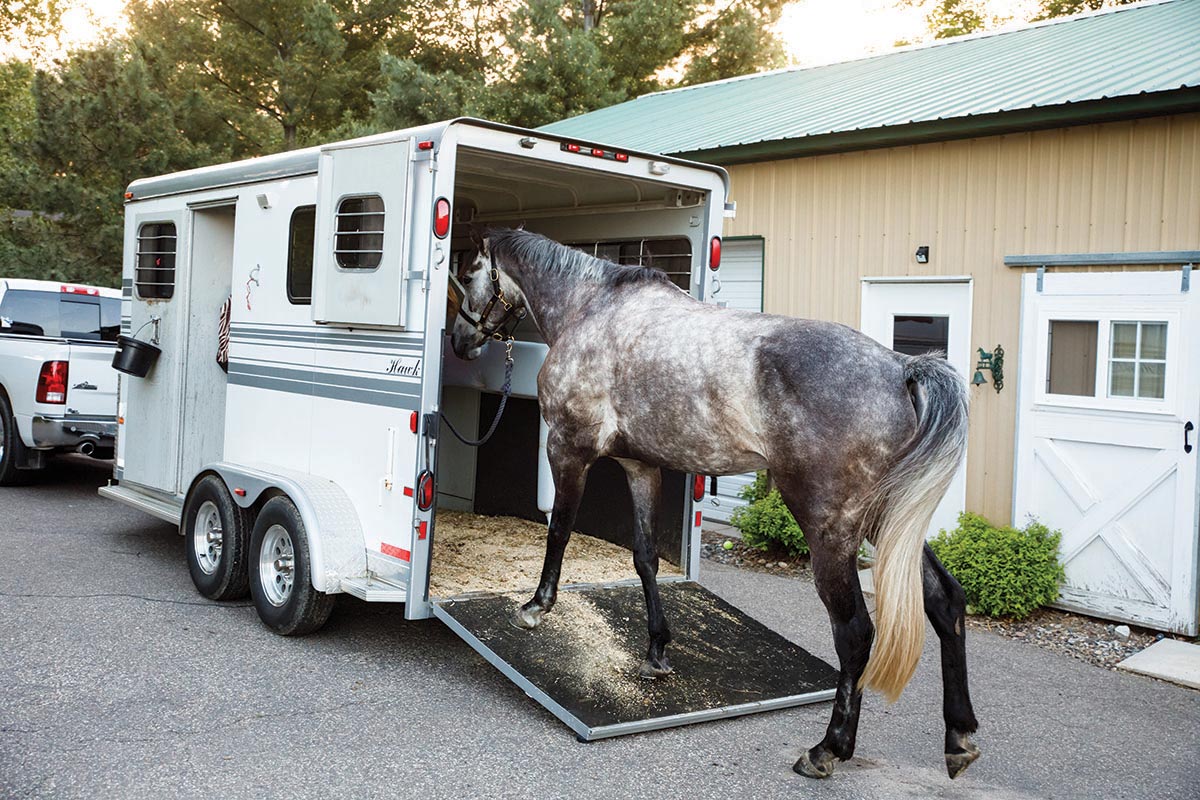 Many of us depend on trainers or friends to haul our horses to competitions, trailheads, or emergency veterinary appointments. That's a sufficient strategy for some, but there's a particular sort of freedom that comes from taking the leap and selecting a horse trailer of your own, especially if an emergency arises and a friend's horse trailer is not available.
With an overwhelming array of options on the market, you won't be starved for choice. Most trailer owners are glad to share their preferences, but it's essential to choose the rig that's right for you and your horse.
Download our trailer-buying guide
to help you navigate the market as you begin selecting a horse trailer.
Selecting Horse Trailer Basics
As you start your search, a couple of seemingly simple factors—both related to size—will direct the process of choosing a horse trailer
Interior Size: The first thing to consider when selecting a horse trailer is the size you need for your horse(s) to be safe and comfortable. A trailer that's too tight can not only lead to injury, but can be a scary space to enter for nervous horses.
The average horse trailer is built for the average-sized horse, with internal dimensions ranging from 7 to 8 feet in height and 6 to 8 feet in width. Most Quarter Horses would fit just fine in the smaller models, but if you have 16-plus hand Thoroughbreds, you might want something taller, and if you ride Warmbloods, the stalls should accommodate wider bodies, as well.
If you're towing Miniature Horses or draft horses, you may need a much more specialized horse trailer. According to the University of Maryland Extension, a good rule of thumb is that the trailer should be a minimum of 10 inches taller than your horse's resting head height and allow 3 inches or more on each side.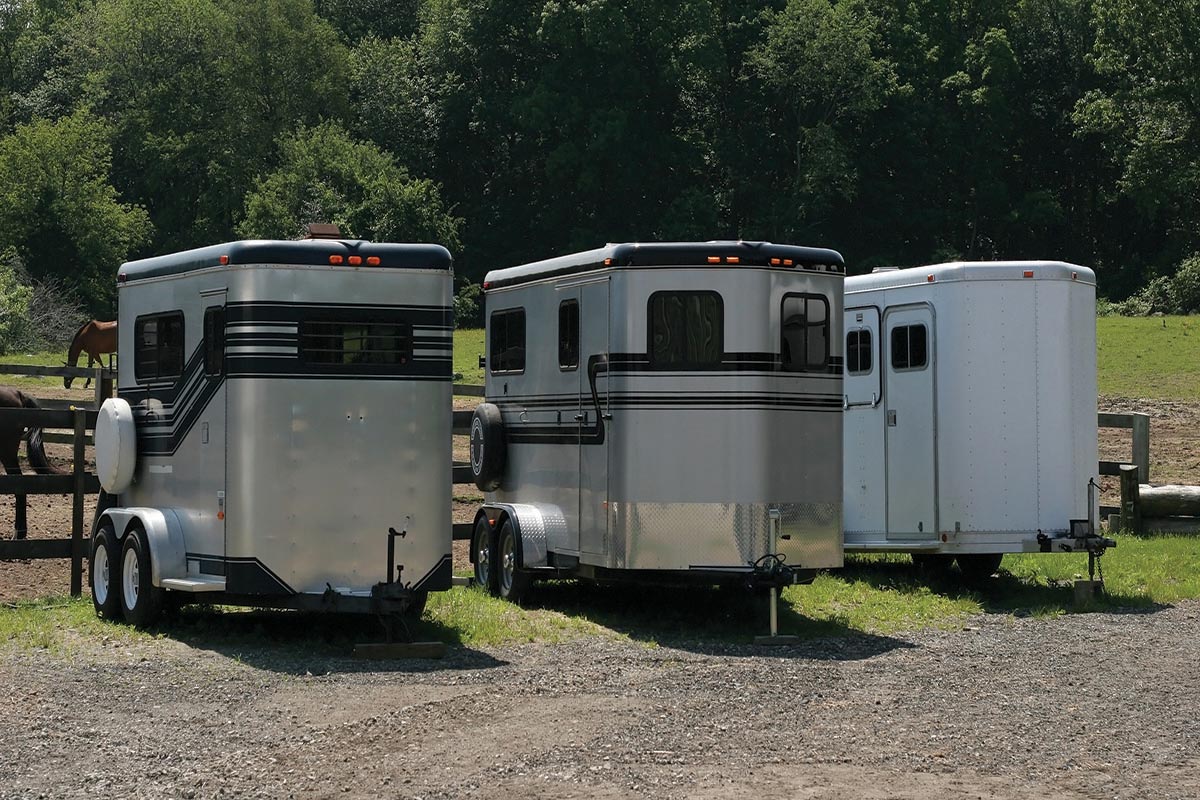 Number of Horses: Next, you'll want to ask yourself how many horses you plan to haul after selecting a horse trailer. Although single-horse trailers are popular in Europe, they are almost non-existent in the U.S. If, like most single-horse owners, you want the option of carpooling with friends or bringing extra hay for overnight trips, a standard two-horse size will do the trick and be easy to find.
If you own two or more horses, you may want a three-horse (or larger) with more tack space. Keep in mind that bigger trailers will often require a bigger (and more expensive) truck.
Selecting Horse Trailer Details
With size figured out, it's time to start wading through the specifics. Factors such as hitch type, body type, and load style are all variable, and often dependent on individual preferences for both horse and human.
Hitch: Most horse trailers connect to your vehicle via either a hitch on the vehicle frame (a bumper pull) or a hitch in the bed of a pickup truck (gooseneck). If you decided to choose a trailer that will haul three or more horses, you may not have a choice, as most larger trailers are all goosenecks. If you've opted for a two-horse trailer, you'll have more bumper pull options.
Bumper pulls tend to be smaller, more affordable, and can be hauled safely by smaller trucks or full-sized SUVs. They're also more versatile if you already carry a truck camper or plan to use the bed of your pickup even when hauling your horse. Goosenecks, on the other hand, are larger and heavier, but also more stable and, despite their size, often easier to drive.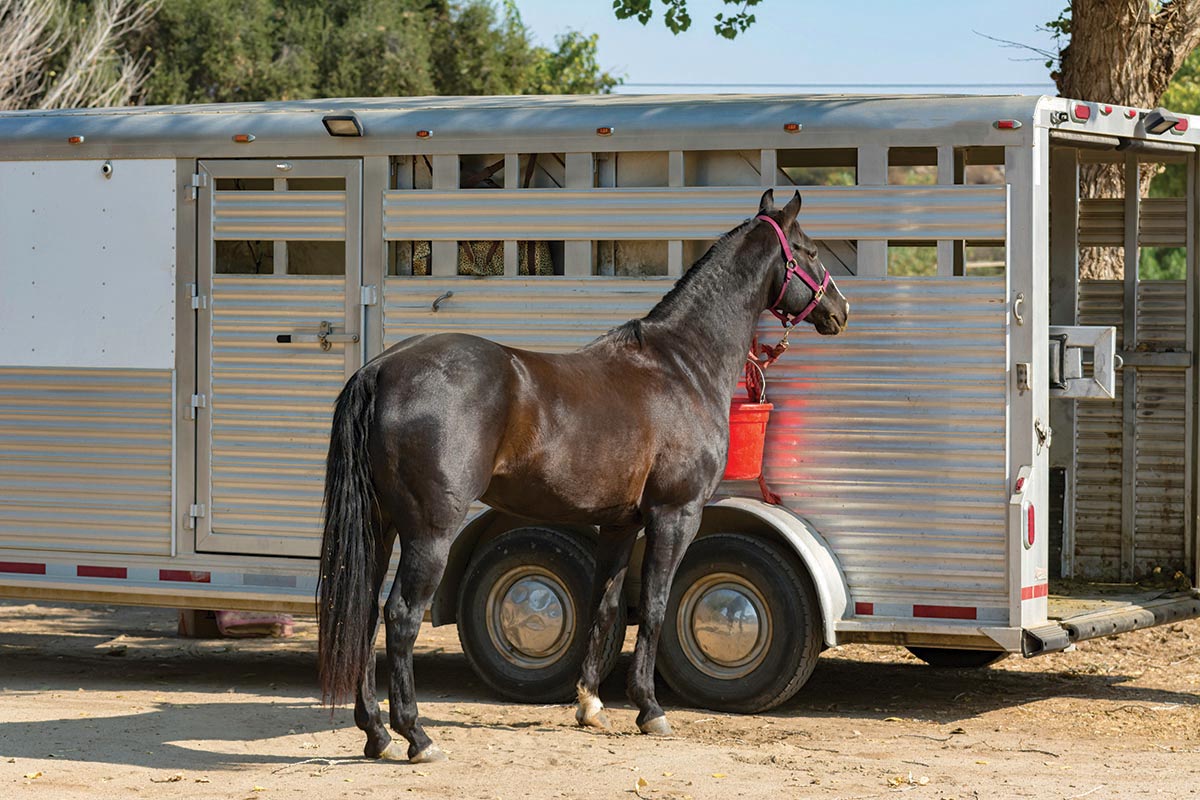 Stock vs. Enclosed Trailer: It's important to consider various styles when selecting a horse trailer. Preference for stock versus horse-specific trailers is often dictated by familiarity, but also by where and how you'll use the trailer. Livestock trailers tend to be basic, with open-slatted sides where windows would be on a horse trailer, and few bells and whistles. If you think you may need the flexibility of hauling a variety of animals, this will be the best option by default. But, if you only plan to haul horses, there's more to consider.
Both stock and horse trailers can have good airflow—check for roof venting and windows that open in the latter. But, because their sides are partially open and insulation tends to be limited to non-existent, it is more difficult to regulate overall temperature in stock trailers. Furthermore, the screenless open slats increase the risk of road debris hitting your horse.
Load Position: Slant load or straight load? Everybody seems to have an opinion when it comes to load position, but there is little safety data to point to one over the other. Rather, as with most trailer features, this will come down to your and your horse's needs.
Slant-loads make better use of the floor space, allowing you to haul more animals on a shorter wheelbase. This means the horse trailer can be easier to tow. They also tend to appear open, which is friendlier to anxious minds, and many horses are able to turn around and walk out, as opposed to backing out of a straight-load setup.
Since horses ride side-by-side in straight-load horse trailers, individual animals are easy to access and unload. They also let the horses balance on their front and rear legs during travel, which can be beneficial over long hauls.
Whichever load style you choose, dividers are useful for keeping multiple horses separate. If you only plan to haul one animal, you may want to remove dividers so they can ride in a box stall. Given a choice, most horses will turn around and ride facing backward, which is likely due to easier balancing in this position.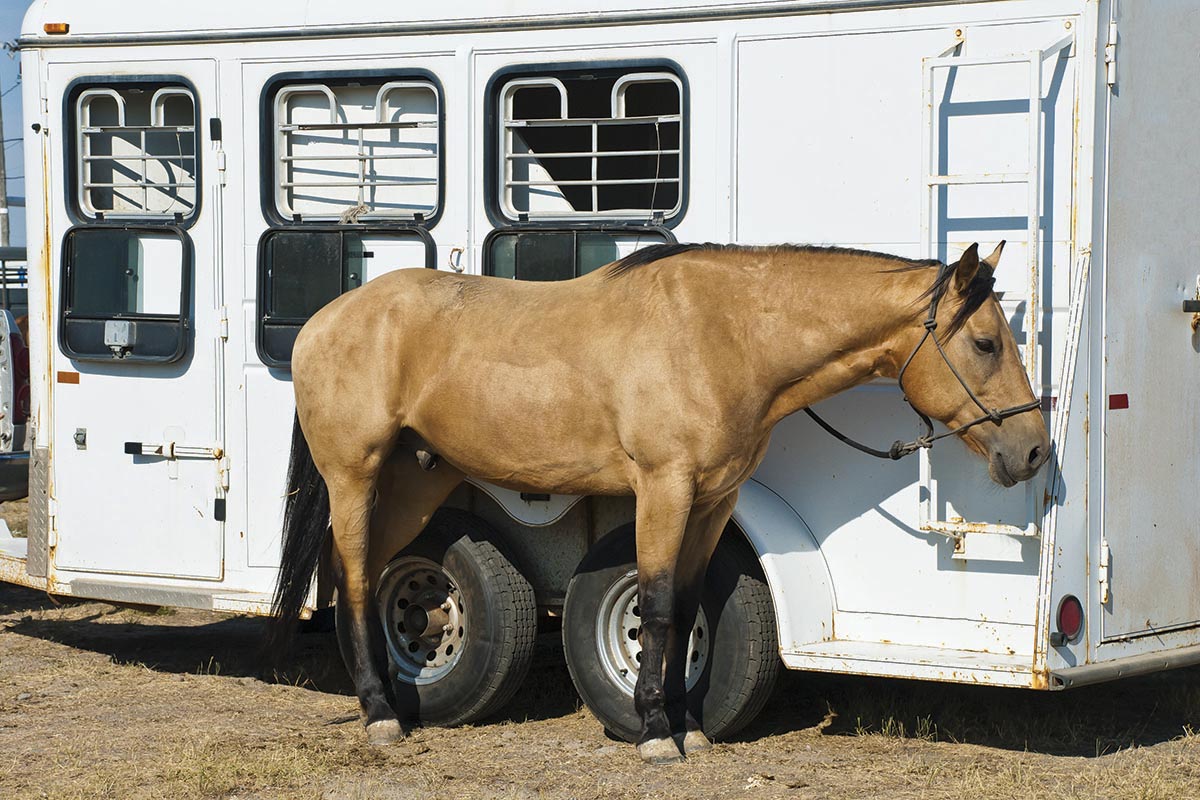 Steel vs. Aluminum: Most horse trailers are made of either steel or aluminum. Each material comes with its own advantages and disadvantages. Steel trailers, while strong, affordable, and easy to repair, are often heavy and more prone to rust. Aluminum trailers, on the other hand, are far lighter and can accommodate a heavier load. Although they don't usually rust, aluminum trailers can corrode.
Ramp or Step-Up: The decision to get a ramp or step-up trailer is once again a personal one when choosing a horse trailer. Ramps can reduce the likelihood that a horse skins a leg while loading or unloading—hence their popularity among performance horses—but not all animals are comfortable walking on them.
Some horses dislike stepping up into or out of the horse trailer, especially if they are unloading backward. If you have a strong preference, most horses can learn to be comfortable with both; but, if you're on the fence, let your horse's preference be your guide.
Bonuses
Once you've decided on the type of horse trailer you want, it's time to think about the range of features that can add comfort and convenience.
Tack Room: First, ask yourself whether you want a tack room and, if so, how you will use it. Will it be your primary storage area, even at home, or will you only use it on the road?
Tack rooms come in a variety of configurations and sizes; some even include a built-in water tank. If your chosen trailer has a rear tack room (fairly common in slant trailers), make sure it swings out to offer plenty of room for your horse to load and unload.
Lighting: In addition to legally required brake lights, tail lights, turn signals, and running lights, consider whether you need internal lighting for nighttime hauling and external lights, which are useful for tacking up or loading and unloading in the dark.
Sleeping Area: Whether you're looking to save money on hotel stays at competitions or want a setup-free alternative at campgrounds, a horse trailer with sleeping quarters can be a worthwhile investment. And they are available in a variety of versions, from simple spaces for a cot and sleeping bag to a camper with all the essentials plus luxuries for longer stays.
Used or New?
A pre-owned horse trailer can be a great purchase for first-timers who don't quite know what they're looking for. But, if you're buying used, it's essential to check that the brakes, lights, flooring, hitch, and frame are all in good condition.
Your best bet is to take it for a "vet check" with a professional trailer mechanic.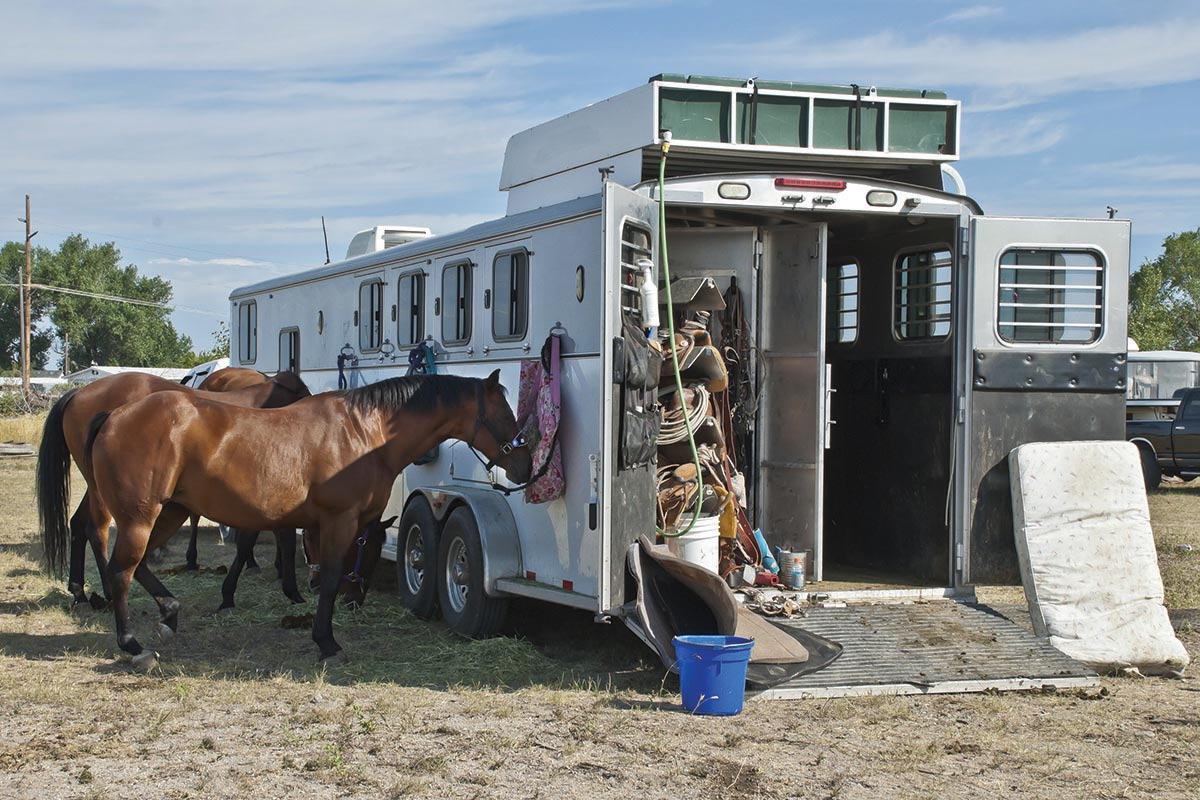 Horsepower
Even the best horse trailer is no good without a vehicle to haul it. If you already have a truck, use this as your starting point for trailer shopping, or make sure to verify that it has the towing capacity to safely pull your trailer, horses, and gear.
If you don't have a vehicle yet, keep in mind that bigger horse trailers will require a burlier vehicle. While some small trailers can be pulled by a full-sized SUV, most will require a truck.
This article about selecting a horse trailer appeared in the June 2021 issue of Horse Illustrated magazine. Click here to subscribe!