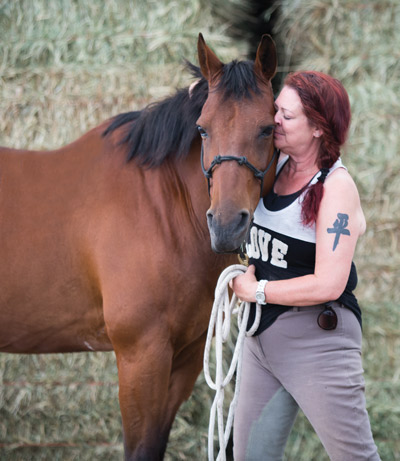 Cari Simmons faced her share of challenges during her 25-year career in the U.S. military, but none of them compared to becoming a female military veteran struggling with anxiety, post-traumatic stress disorder (PTSD) and depression. After grappling with these conditions for years, Simmons, who had some previous experience as a trail rider, turned to horses to help her cope.
"I was formally diagnosed in 1996, but suffered for longer than that," says Simmons, who retired from the Air Force as a Lieutenant Colonel. "I knew the power and healing of horses, so I looked for a program that used horses for therapy."
When she set out to find an equine assisted therapy program that was created for U.S. military veterans just like her, Simmons quickly discovered that her options were sparse—if not non-existent.
"I was originally searching for a program for veterans and was pretty peeved when they said they only took men," Simmons recalls. "Finally, they referred me to Serenity Ranch."
Equine assisted activities and therapy (EAAT) have long been used to help male military veterans cope with PTSD and related conditions. As a result, the vast majority of established EAAT programs focus on men and how the conditions manifest in them.
Starting Something New
Serenity Ranch was established after Micah Fink, co-founder of Heroes and Horses, an equine assisted program for male combat veterans, turned to his neighbor, Lisa Ledoux, for help accommodating the increasing number of female veterans who were applying for his program.
"The Heroes and Horses program is pretty intense—veterans go up into the hills to camp and perform back-country outdoor skills—and they don't have a program for women," says Ledoux, the chief operating officer for Serenity Ranch. "We decided to explore putting together a program specifically for women that used a more retreat-like approach."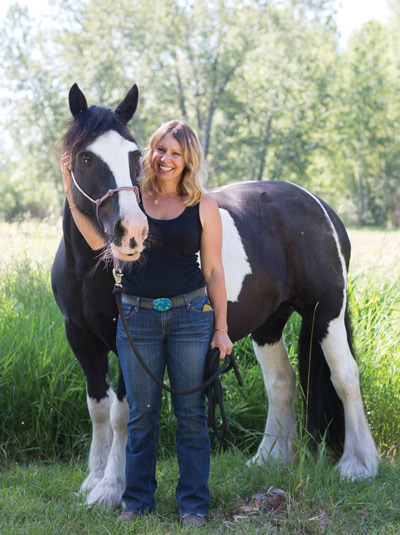 The Ranch program plan was hatched after Ledoux and her family inherited a 71-acre property near Bozeman, Mont., from her stepfather, himself a military veteran with a long history of working with horses. A total of 43 horses—some rescued and some bred on site—reside on the property and play a role in the ranch's programs.
By 2018, Serenity Ranch launched its pilot program designed specifically for female military veterans, as well as for women who serve as law enforcement officers, firefighters and other first responders.
According to Ledoux, the aim of the program is simple.
"Our aim is to help women cope with PTSD and other conditions by developing new ways to approach these problems," Ledoux says.
How It Works
To do that, Serenity Ranch Program accepts between six and eight women to spend seven days and six nights at the Ranch, and pairs them with horses based on their size, equine experience and personality.
"The women are responsible for the horses' care, feeding, grooming, riding, and just spending time with them," Ledoux explains.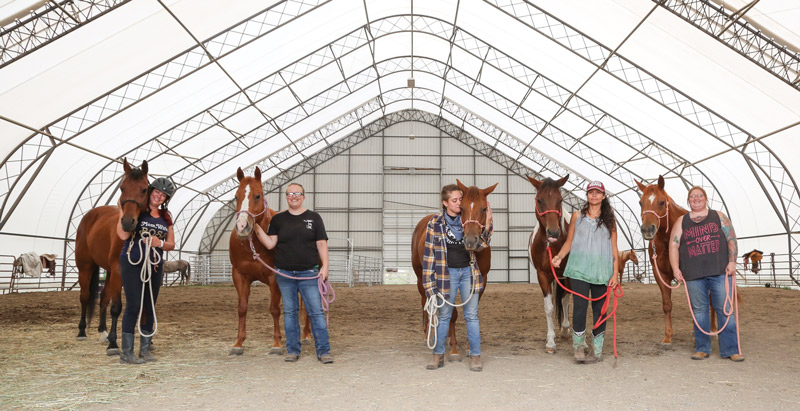 When they are not working with the horses, the women take part in mindfulness activities such as yoga, journaling and sharing the experiences that bought them to the program in the first place—including sexual trauma connected to their military service.
"It's like a shark tank," Simmons says of the military. "Most [in the military] are men, and women have to work harder and complain less than their male counterparts; also, there is a certain macho-ness that women must develop in the military or other professions that are still male-dominated. When women did speak up, you'd get the eye-roll—'Here we go again.'"
For Simmons, the ability to talk out her experiences with other women was key to making peace with the depression and anxiety connected to them.
"Our group of female vets, representing every branch of the service, ranging [in age] from 20s to 50, decided to bunk in all together on cots in the guest cabin," she recalls. "The sharing, caring, and late raw emotion that was exchanged when we crashed after the long days was really impactful."
The Courage to Move Forward
Long after her career as a combat veteran in the U.S. Army ended, Katherine Jordan grappled with the physical challenges of a significant back injury. Emotionally, she was haunted by depression and anxiety connected to service-related sexual trauma. Even so, the decision to get help was not an easy one to make.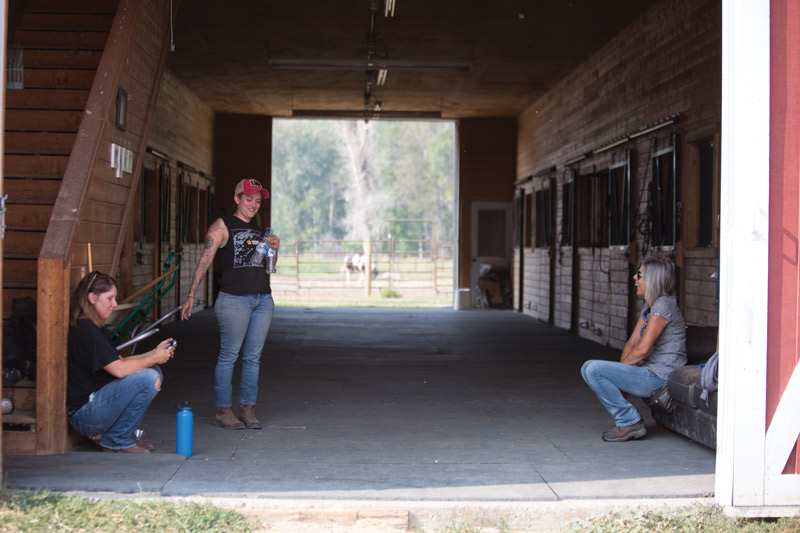 "I was also turned down by the Heroes and Horses program, but I was ready when they told me about Serenity Ranch," Jordan recalls. "At some point, you just say to yourself, 'Get help.'"
Once she did, opening up to other program participants was challenging in itself.
"I was so petrified, because I think there is still so much stigma around women and mental health," she says. "I was scared of speaking up because I was afraid of sharing my story—people don't believe you—[they] look at you and say, 'That couldn't have happened.'"
Once she opened up, others did, too.
"It's hard to be the first one, but I just decided that it was time for me to say something," says Jordan. "Just one person has to speak up, then other people open up, too."
But it takes more than talking to resolve—or even acknowledge—the residual issues that plague some of the female veterans who come to Serenity Ranch. Many struggle with a lack of confidence and physical changes to the way they look and perceive themselves and those around them.
"When these women were in the military, they were fit and confident," Ledoux points out. "When they come to us, they are often overweight and less confident; they want to be invisible. Some of these women don't even want to get out of bed."
Working with the horses changes all that, Ledoux says.
"For example, when we teach them to back a horse out of their space, the women often start looking down with a hunched-over posture and they wonder why the horse won't back up," Ledoux explains. "We teach them to stand up tall and to be confident when they approach the horse, and when they see the horse move, they become more confident too."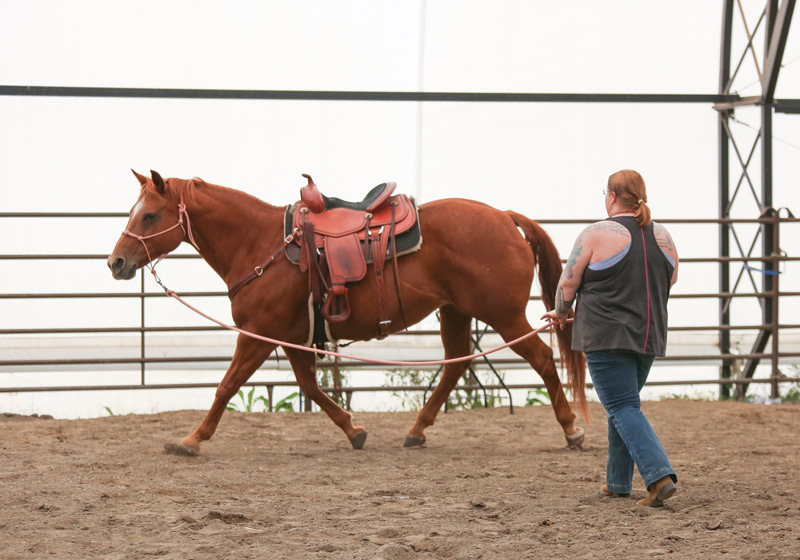 Benefits of the Program
There are other benefits, says Jordan, who was an experienced horsewoman when she arrived at Serenity Ranch.
"If you have experienced trauma, horses pick up on what's happening with you emotionally," Jordan points out. "Also, there's something about women working with a large animal that can be intimidating—you have to manage yourself and still have a positive relationship with the horse."
Like some other equine-assisted therapy programs, the COVID-19 pandemic has affected Serenity Ranch, causing the facility to suspend programming until further notice.
When it does resume, Ledoux hopes to expand it to serve other female survivors, as well.
"In the past, our clients have been referred by veterans' groups and social workers," Ledoux explains. "But grieving women, abused women, and women dealing with breast cancer can all benefit from this program, too."
In the meantime, Simmons and Jordan have moved on from Serenity Ranch and into careers: Jordan now works as an EAAT therapist for Easter Seals in Arizona. Simmons, who also pursued EAAT credentials, is now studying to be an equine masseuse and acupuncturist.
While both women credit the program with the ability to work through service-related issues over the short term, Simmons also believes that the Serenity Ranch experience is much longer-lasting.
"I found acceptance, empathy, lack of judgment, and camaraderie in ways I have never experienced from my brothers-in-arms," Simmons says. "I keep in touch with the women to this day. It's lifelong friendship."
This article about the Serenity Ranch equine therapy program appeared in the October 2020 issue of Horse Illustrated magazine. Click here to subscribe!