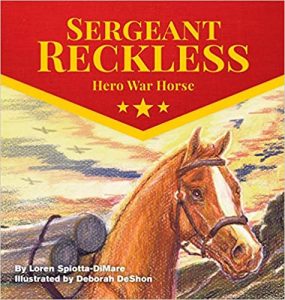 She was a decorated Marine, a combat veteran and a horse. Now, she's the star of a new children's picture book. Aperture Press recently announced the release of Sergeant Reckless: Hero War Horse, written by Loren Spiotta-DiMare of Tewksbury Township, N.J., and illustrated by Deborah DeShon of South Paris, Maine.
Sergeant Reckless
is the true story of a sorrel horse named Flame who served alongside the Marines during the Korean War, which is sometimes referred to as "the forgotten war." Trained to be a racehorse, Flame was destined to be a winner, but on the day of her first official race, the war began. Forced to leave Seoul, her owner packed up his family and his beloved horse fleeing to a safer location. It would be two years before they were able to return.
During their time away, American troops arrived to help the South Koreans. Lt. Eric Pederson, leader of the 5th Marine Division Recoilless Rifle Platoon, determined his men needed a pack horse to carry heavy ammunition up a steep mountain to the rifle station and to bring wounded Marines back down to safety. (The so-called recoilless rifle has a huge, back blast. The men in the unit referred to it as the "reckless rifle.")
Pederson discovered Flame at the Seoul racetrack. He instinctively knew she was the right horse for the important job that lay ahead. His men renamed her Reckless after their mighty weapon.
Reckless endured difficult training and combat and formed a deep attachment to her men during her tour of duty. However, she is best known for her bravery and commitment during the battle of Outpost Vegas, one of the most vicious battles of the war.
The unit could not spare a man to lead Reckless over miles of rugged terrain, but she persevered. She trudged up and down that mountain 51 times, covering 35 miles for more than two days by herself. Wounded twice, she kept going with courage and determination.
For her valiant efforts, Reckless was awarded two Purple Hearts, the Marine Corps Good Conduct Medal and a United Nations Service Medal. She retired with the rank of staff sergeant.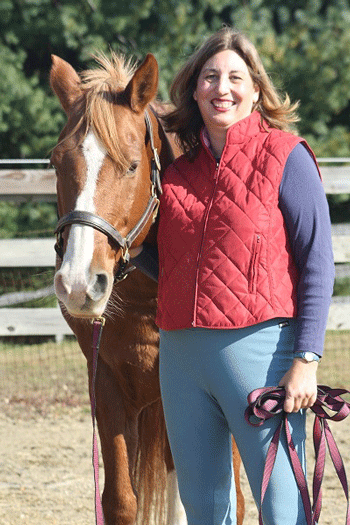 Inspiration for the Book
"This book is special to me on so many levels," says author and horse owner Spiotta-DiMare. "I've seen a horse spook at a soda can, so I can truly appreciate how brave Sergeant Reckless was on the battlefield. To say she was bombproof is an understatement.
"Because horses are herd animals, I believe Reckless viewed the Marines in the unit as her herd. Her devotion to them was genuine and heartwarming."
The author said her father, who will celebrate his 90th birthday in October, served as a captain, top secret control officer of the 3rd Marine Air Wing during the Korean War.
"Though he didn't know Reckless personally," she said, "he loves horses and gave riding lessons as a young man. When I was 7 years old, he introduced me to the sport, which inspired my lifelong passion for horses. Ironically, my beloved Quarter Horse, Elwood, looks just like Reckless."
Spiotta-DiMare dedicated the book to her dad, all members of the military who served during the Korean War, and to the memory of Sergeant Reckless.
"Because she wasn't just a horse, she was a Marine," Spiotta-DiMare said.
About the Illustrator
Deborah DeShon grew up with horses and a love for art. She particularly enjoyed drawing and painting her beloved equine companions. Eventually, Debbie developed a passion for endurance racing. She liked the training,100-mile rides, team effort and the exhilaration of crossing the finish line. The sport took her all over the world as a competitor and crew member.
Deb's love and knowledge of horses comes through in her beautiful pastel, watercolor and oil paintings. She is a member of the Western Maine Art Group. Sergeant Reckless: Hero War Horse is her second picture book for children. Deb and her husband, Jim, have two children and four grandchildren.
How to Purchase the Sergeant Reckless Book
Sergeant Reckless is available on Amazon, Barnes & Noble and Books-A-Million. For an autographed copy, contact author@LorensReadingRoom.com.
Further Reading