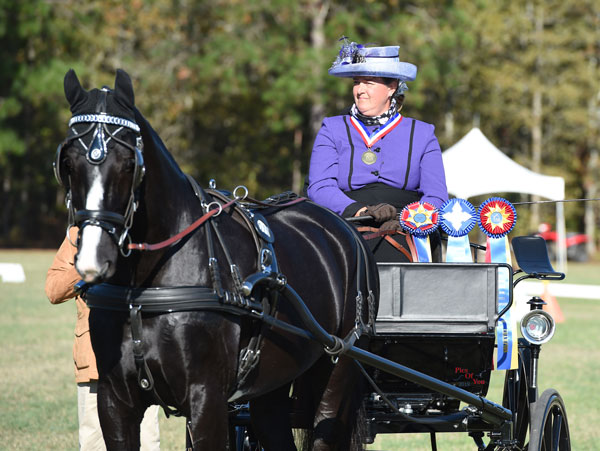 Jennifer Thompson, of Lodi, Wis., and her driving horse, Funnominial CG, added the title of "national champion" to their resume in the 2019 USEF Advanced Single Horse Combined Driving National Championship at the Katydid CDE. Thompson's strong dressage test helped the pair earn the tricolors to finish with a final cumulative score of 156.87 penalties.
With a banner year for the newly partnered Thompson and Funnominial CG, her nine-year-old Dutch Warmblood gelding, the duo left everything on the table for the win in this combined driving national championship. In dressage, Thompson and Funnominial CG sat in second place with 55.13 penalties heading into Saturday's marathon. The marathon saw a slight shake up in the leaderboard, with Thompson taking the lead after two days of competition with a cumulative score of 146.34 penalties heading into the third and final phase, cones.
"I felt that we had our best dressage test yet," said Thompson. "The horse seems to be coming along well, developing both physically and mentally in the marathon. He really gives it 110%."
Thompson's cones phase proved to be a bit challenging as she and Funnominial CG added 10.53 penalties to their overnight score to end with a final 156.87 penalties for the title.
Taylor Bradish, of Windsor, S.C., and Katydid Duchess, Katrina Becker's 10-year-old Welsh pony-cross mare, were hot on the heels of Thompson throughout the competition. With only 0.21 penalties between Bradish and Thompson, Bradish ended the weekend in reserve with a final score of 157.08 penalties. Donna Crookston, of Saltsburg, Penn., and Viktor, her 11-year-old Dutch Harness gelding, put in the only fault-free cones round to secure a third-place finish with a final score of 160.84 penalties.
Complete scores can be found online (via PDF).
Stay up to date with USA Driving on Facebook and US Equestrian on Instagram and Twitter. Use #USADriving.