Welcome to Tokyo Takeaways by StreamHorseTV! In the Tokyo Takeaways series, StreamHorseTV will be talking Tokyo Equestrian with the lovely and knowledgeable Catie Staszak, international show jumping commentator, multimedia sports journalist, and CEO of Catie Staszak Media. We will provide discussion, insight and commentary around all the action happening on the ground during the Tokyo Olympic equestrian competitions.
In this debut edition, we discuss format changes that increase pressure on the riders, the impact of no spectators, surprises in team selections and withdrawals, and the major differences between Days 1 and 2 of the Dressage qualifying round.
Our first conversation kicks off by discussing the riders and horses Team USA has selected for each equestrian Olympic discipline, updates on performance expectations, format changes, and substitution or withdrawals affecting the teams along the way. The year-long delay, coupled with the absence of spectators, surely has an impact on both the horses and riders, as Staszak points out.
The Impact of Format Changes Looms for a Strong U.S. Team
Team USA is strong in all equestrian Olympic formats for these games, with big names and veteran competitors gracing the selection lists. Staszak mentions that eventing may have been the most challenging for selectors to choose just three horse-and-rider combinations (format changes mandate that equestrian teams be composed of three members, whereas in the past there have been four with the worst performance score dropped in the final tally for medals). Staszak notes that Team USA show jumper Laura Kraut said recently in an interview that it puts more emphasis on pressure for each rider's score being counted. No longer is there a cushion where you know if you mess up, your score can be dropped.
Surprises Along The Way
There were twists and turns as the teams were determined over the last few months. Some surprises included the absence of a notable name on the show jumping team list: Beezie Madden. Staszak recounts that Madden's top horse for contention in 2020, Darry Lou, had a contracted sale agreement, which was put through after the games were delayed, leaving Madden with a tremendously talented, but younger horse named Garant. After early rounds of the final observation event in Rotterdam for the Olympics, Madden stated Garant would be withdrawn from contention as he wasn't quite ready for the demands of the Olympic competition. In Madden's case, the year-long delay proved a difference in her prospects for making this Olympic Team.
When Liz Halliday-Sharp and Deniro Z pulled out due to injury after being named onto the original team, Doug Payne and Vandiver were moved into her slot with Tamra Smith and Mai Baum as the traveling reserve, or alternate pair on-deck. Natalie Mayrath, StreamHorseTV's Director Of Content, mentioned that she thought Smith and Mai Baum would be selected for the original team. In Smith's case, having moved from the four-star level up into five-star with this horse just recently at the 2021 Land Rover Kentucky Three-Day Event, a 2020 games may not have seen them as contenders in this event.
Read the full story and watch the full episode of Tokyo Takeaways with Catie Staszak on StreamHorseTV for commentary on the surprise withdrawal for Team USA in Dressage, and why Charlotte Dujardin isn't bringing the horse everyone expected to Tokyo.
Join us again in the coming days for Episode #2 of Tokyo Takeaways with Catie Staszak for StreamhorseTV, where we will discuss who makes the Dressage podium, and look ahead toward eventing!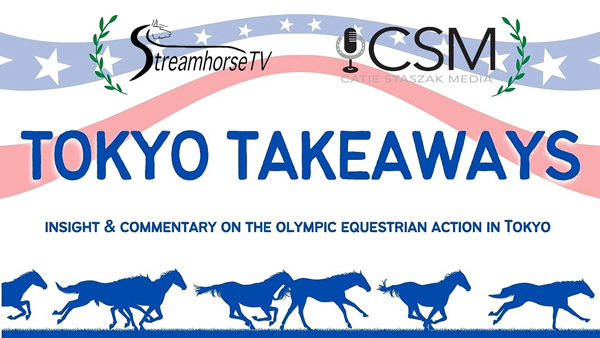 About StreamHorseTV
StreamHorseTV, where horse enthusiasts can join to expand their horizons, is the premier live-stream, replay, entertainment and education community for all international equestrian disciplines, sports and breeds. Follow StreamHorseTV on Facebook, Instagram, YouTube, and Twitter and subscribe for free at StreamHorse.TV.
About Catie Staszak Media
Catie Staszak is the CEO of Catie Staszak Media, Inc. and international show jumping commentator. Primarily working with the Longines FEI Jumping World Cup North American League, Staszak has announced at showjumping events across the globe. In 2018, she moderated at the FEI Sports Forum in Lausanne, Switzerland, and in 2019, she was named a Chief Liaison Officer for Olympic Broadcasting Services at the Tokyo Olympic Games.
Staszak founded Catie Staszak Media in 2018, a boutique media agency with a focus on storytelling-based marketing and PR. When she's not working, she's enjoying time with her "superhero" horse Zantos, whom she shows in the Amateur-Owner jumpers, and her dog/sidekick, Omaha.