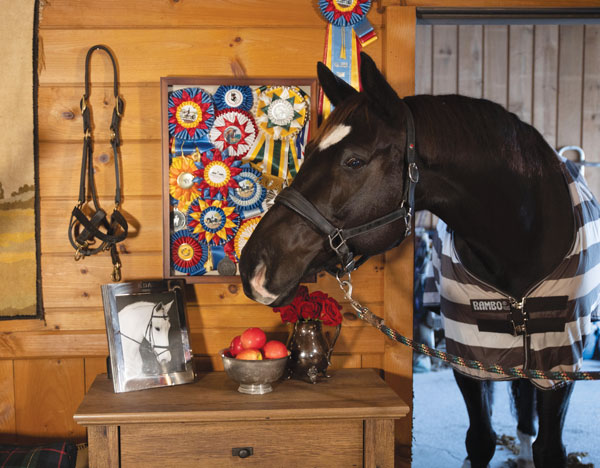 Organizing and cleaning your tack room may not be as much fun as riding, but it's an essential part of good horsemanship. In addition to discouraging pests and cutting down on clutter, keeping your tack room in tip-top shape means you always know where everything is in an emergency. If that's still not incentive enough, think about it this way: the less time you spend each day rummaging through your tack room looking for lost and misplaced items, the more time you can spend with your horse.
A well-appointed tack room is also the perfect place to let your inner equestrian fashionista shine. Interior designer and avid equestrian Lindsay Hunter of Hunter Design in Nashville, Tenn., loves nothing better than adding a touch of horsey style to lived-in spaces—including tack rooms.
"I design spaces that look like you could live in them, and the way I do that is that I look at function first," Hunter says. "Then I look at aesthetics second, because of course you want your tack room to look beautiful as well as be functional."
Whether you're redecorating an existing space or building out a new tack room, Hunter says you should start by identifying problem areas.
"Typically, the biggest problem I see is lack of storage or that the room just isn't laid out in the right way," Hunter explains. "For example, if you've got brushes in one room and saddle pads in another, you're always going back and forth, which doesn't work. Your things need to be separated, organized and categorized in a place that makes sense, like hanging girths next to saddles."
When eventer Cathryn Brekken of Stony River Farm in Ashland City, Tenn., designed a new tack room for her barn, she thought about the amount of tack she uses on a daily basis.
"When we finally finished building out the tack room, it was several years after we'd built the original barn, so we had a lot of ideas about the things we needed," says Brekken. "We wanted tack lockers, but we needed them to be organized and to maximize the amount of usable space. We put in two saddle racks, three bridle racks and wire baskets. We also added sturdy metal coat hooks and belt hooks for our girths and halters. The lockers look really sharp."
There's no need to break the bank to redecorate your tack room, but it's always a good idea to set a realistic budget that fits your needs.
"Think of redesigning your tack room as an investment in your lifestyle and your productivity at the barn," Hunter says.
After all, you use your tack room on a daily basis. Why not make it neat, efficient and an expression of your own sense of personal equestrian style?
Get Inspired for Your Tack Room Makeover
To motivate yourself to stay organized, create a space that inspires you. There's no law that says tack storage has to be unattractive or mismatched. If wooden sawhorses or plain saddle racks don't get your creative juices going, try something new.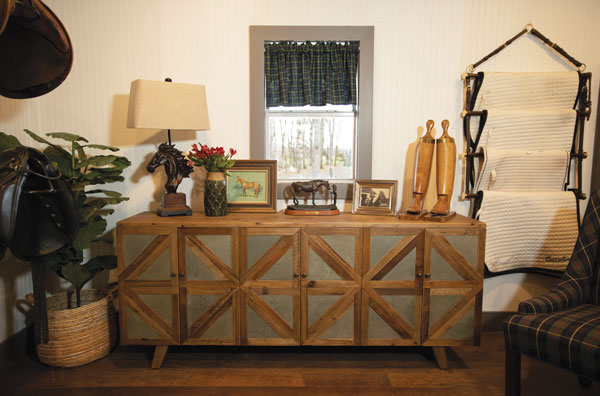 ◆ SOURCE CREATIVE STORAGE. In addition to bookshelves, tack trunks and pegboards, look for antique buffets, secretaries and storage ottomans. Pay less for scratched or dented furniture, then add your own paint or stain for extra personalization.
"I love incorporating pieces of furniture when-ever possible," Hunter says. "Buying an inexpensive piece at a yard sale or estate sale can make a tack room feel really homey. I especially like using dining room buffets because they're usually made up of both drawers and shelves."
◆ CULTIVATE COLOR. Use different colors or textures of canvas, plastic or faux leather bins to create attractive storage. Add colorful woven mats to dress up the floor and equestrian-themed art to beautify plain wooden walls.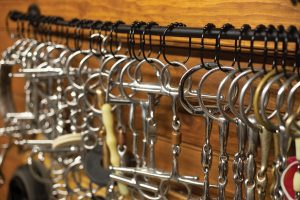 ◆ STYLE YOUR SHOW RIBBONS. Not sure where to stash that ever-growing collection of show ribbons? Create a work of art and preserve cherished memories by arranging ribbons and rosettes in a gorgeous shadowbox display for your tack room or barn aisle.
Inspiration Close to Home
In addition to color and beauty, there's plenty of function and efficiency to be found in repurposed household items. Tired of rummaging through a plastic bin whenever she wanted a particular bit, Brekken decided to come up with her own solution by converting a shower curtain rod into hanging bit storage.
"I looked for the sturdiest shower curtain rod I could find, and then used the metal shower curtain rings that had roller balls in the hooks so that they would slide more easily," Brekken says. "Now I can see my whole bit library at a glance."
Here are other ways to use popular household items:
◆ Corral your paperwork and keep records safe and tidy with a filing cabinet.
"If you have the space, I always recommend having a filing cabinet so you can keep all your information about your horses in one place," Hunter says.
◆ Holster your whips. As an eventer, Brekken needed a dedicated spot to store whips and crops. She decided to install a metal blowdryer hanger inside her tack locker.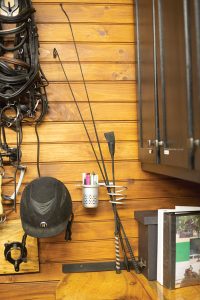 "The blowdryer hanger works great for storing our whips because it has a little holster, so you can put your whips in handle-down," she says. "The holster holds the top end of the whip, and we added a small shelf below it for the handle to rest on."
◆ Guard against sticky spills with plastic mats. If you're storing liquid supplements or medicines on a countertop, use a plastic pet mat to limit the spread of spills and protect your furniture.
Make Easy Swaps
◆ Sick of swabbing dirt out of the bottoms of enclosed containers? Swap bins for wire baskets. Let the dust and dirt fall through to the floor, then sweep it away.
◆ Tired of carrying around a heavy brush box? Brekken uses a rolling craft caddy as a mobile grooming kit to wheel from tack room to cross-ties and back again.
◆ Make seasonal swaps part of your cleaning schedule. In the spring, put winter blankets into storage and bring out the fly sheets and coolers. In the fall, take your summer saddle pads home to wash and store over the winter.
Staying Organized During Your Tack Room Makeover
To stem the clutter tide from returning, don't be tempted to incorporate a catch-all or junk drawer into your tack room. Instead, give everything a home, including the miscellany that tends to accumulate in every barn.
"Every single item needs to have a designated place to go, because if it has a place to go, you can pull that item out, use it, and then put it back," Hunter says. "It gets challenging to stay clean and organized when you don't know where things are supposed to go."
Finally, the secret to consistent organization is a cleaning schedule. Whether you choose a weekend once a quarter or wait for a rainy day, designating time for cleaning your tack room means you're less likely to fall back into your old messy ways.
And while you're at it, go ahead and set up a riding schedule for yourself, too—after all, this year's riding goals won't crush themselves!
Build a Better Kit
Store two first-aid kits in your barn at all times: one for you and one for your horse. Use sturdy duffel bags to keep your kits mobile and dust-free. Check your inventory on a regular basis and make a shopping list so you can re-stock the essentials. Here's a list of basics to keep in your horse's first-aid kit:
◆ Towels
◆ Cotton gauze
◆ Scissors
◆ Adhesive medical wrap and tape
◆ Leg wraps
◆ Duct tape
◆ Thermometer
◆ Vaseline
◆ Salves and ointments
◆ Hoof picks
◆ Hoof testers
◆ Veterinarian contact information
Maintain your saddle's suppleness and shine with a tack cleaning kit stocked with these essentials:
◆ Rags and sponges
◆ Leather oil or conditioner
◆ Saddle soap
◆ Metal polish
◆ Tooth brushes for detail work
◆ A collapsible bucket
This article about how to do a tack room makeover appeared in the April 2020 issue of Horse Illustrated magazine. Click here to subscribe!