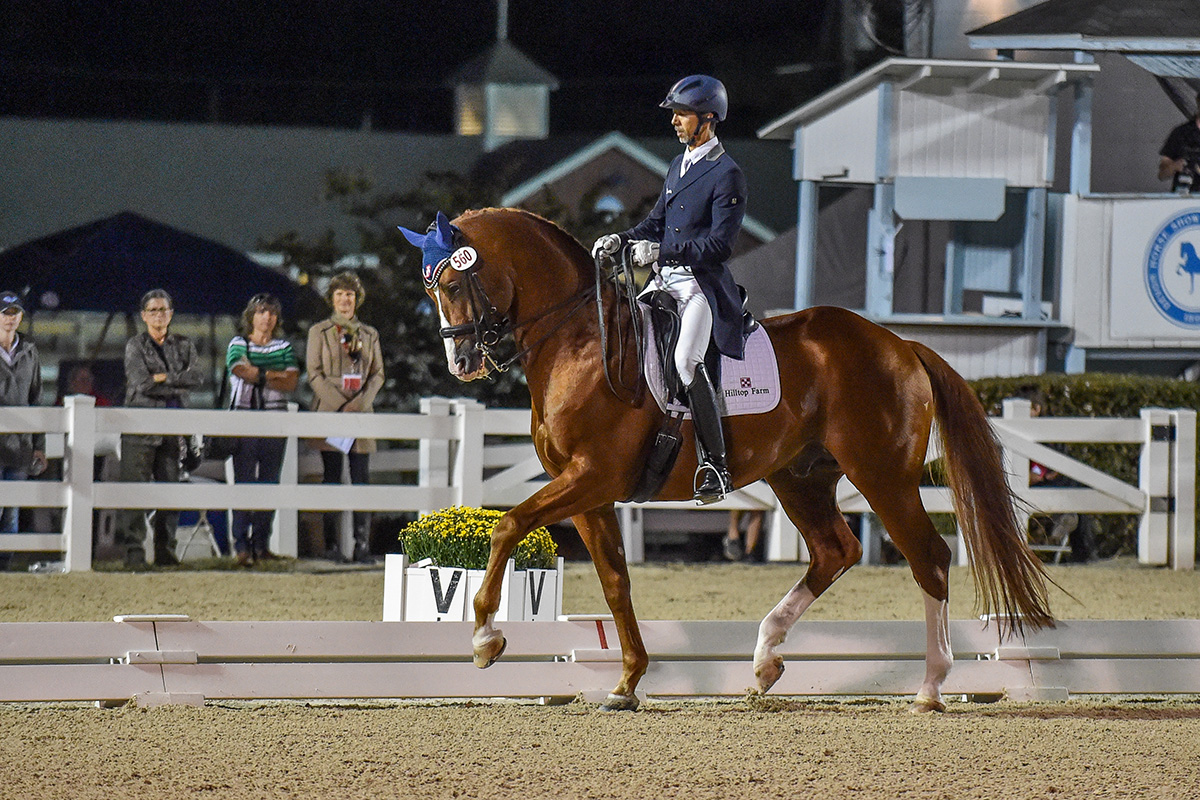 As equestrian sports continue to grow in popularity, there are more and more exciting competitions taking place around the world in every discipline. While it is impossible to attend all of these events in person, we now have a virtual front row seat thanks to livestreaming. Horse & Country (H&C), the leading international equestrian sports network, specializes in sharing premier horse show livestream coverage with a worldwide audience. Read on to see how the H&C team translates raw camera footage into an engaging production that puts you right in the action from the comfort of your couch.
For the past three years, the prestigious Dressage at Devon horse show has highlighted the H&C fall livestream schedule. Held at the historic Devon Horse Show grounds in Devon, Pa., Dressage at Devon features many of the nation's most impressive horse and rider combinations, as well as numerous breed classes. Throughout this year's six days of competition from September 26 through October 1, 2023, H&C captures every moment from both the Dixon Oval and the Wheeler Ring. Not only are thousands of viewers treated to exceptional live sport, but H&C's coverage is also available to view on demand. In addition, H&C will offer two special highlight programs from the event.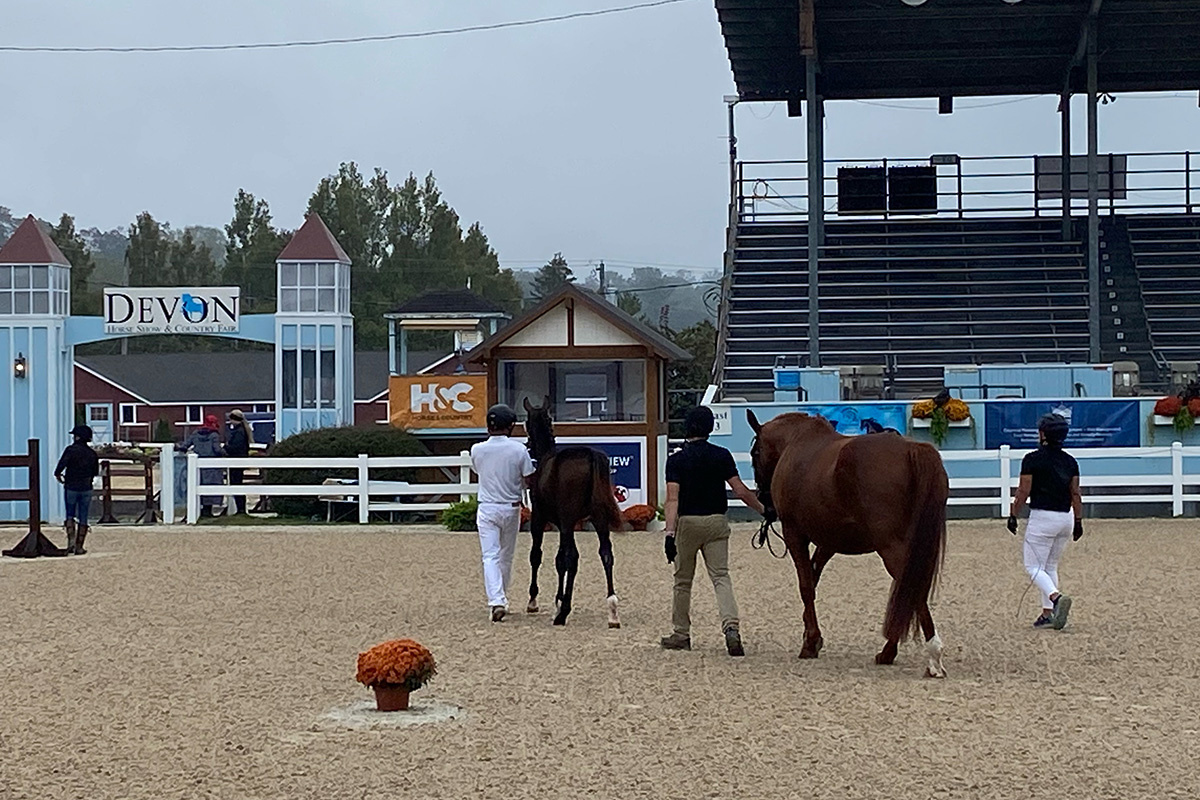 "The whole Dressage at Devon experience is incredible," says H&C Content Producer Helen Murray, who has led the H&C on-site production team since 2020. "It is such a unique and historic venue, so it is always a pleasure to produce and stream this iconic competition. From the Breed Division classes to the various Performance Division classes, there are so many top-class horses and riders. There is nothing like the Saturday night Grand Prix Freestyle with so much atmosphere and buzz. The crowd is incredible, and we really enjoy bringing that experience to our viewers."
Preparing for a Horse Show Livestream
When scoping out a venue for the first time, the H&C team works with show managers and organizers well in advance of the competition to figure out the best setup location for the production trailer, which serves as the team's base camp and the heart of the operation. The most important element for success is a dedicated internet connection to support the stream. The team also ensures that the production trailer will have the necessary access to power and a good vantage point to observe the competition.
After the preliminary site inspection, the production team doesn't return until a day or two before the competition gets underway. For Dressage at Devon, that means at least a full 10- to 12-hour day of setup activities. Once the production trailer has arrived, is powered up and has connected internet, the audio and video cables must be laid, cameras are placed, and microphones (or "mics") are set out. The day wraps up after everything is tested to make sure all systems are ready to go first thing the next morning.
"If you can think of it, we probably have it in the production trailer," Murray says of the necessary production equipment. "We bring everything from the switcher to the commentary booth setup, as well as the HDTV-quality cameras, audio and video cables, power cables, internet modem, extension cords, and gaffe tape."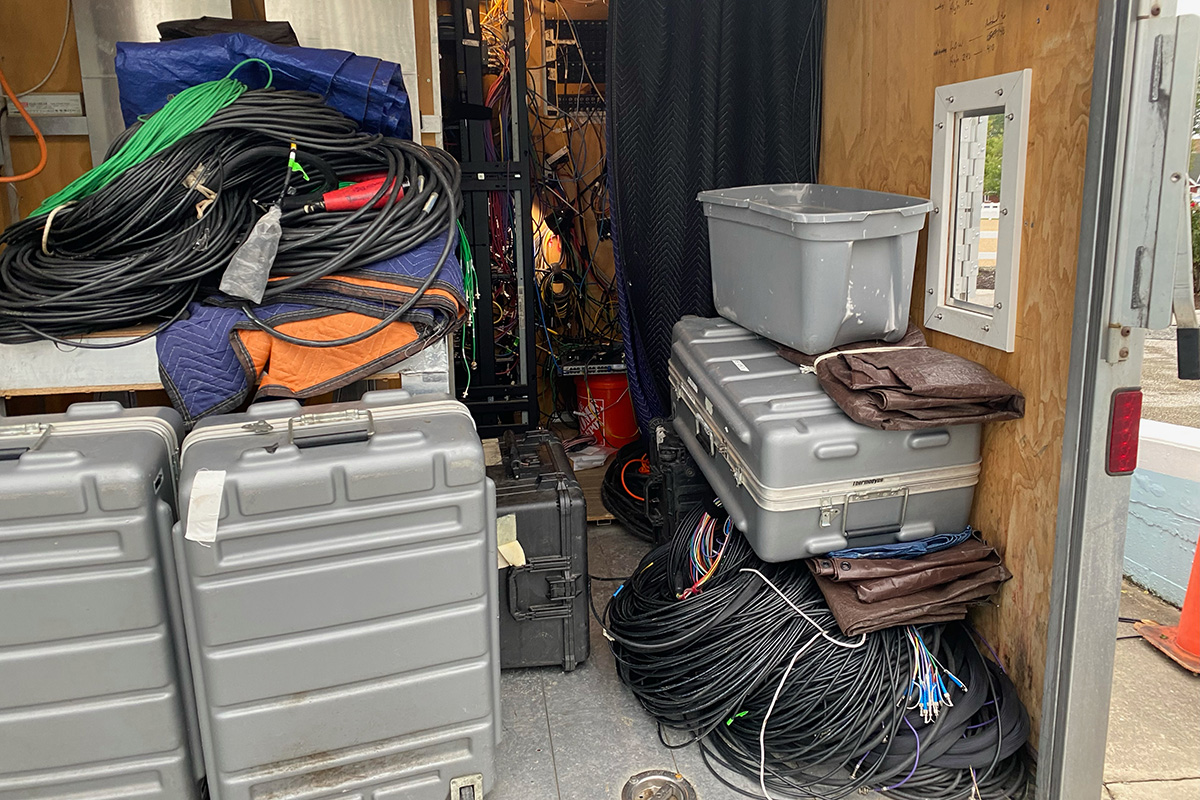 H&C's on-site production team consists of seven to nine people serving the roles of executive producer, producer/director, engineer, streaming engineer, audio engineer, video engineer, and at least four camera operators that also can be utilities and support the operation as needed. For Dressage at Devon, H&C uses three cameras: two for the Dixon Oval competition and a single camera for the Wheeler Ring. In order to keep things running smoothly, all camera operators wear headsets so they can communicate back and forth with the production unit in the trailer, who are also on headsets.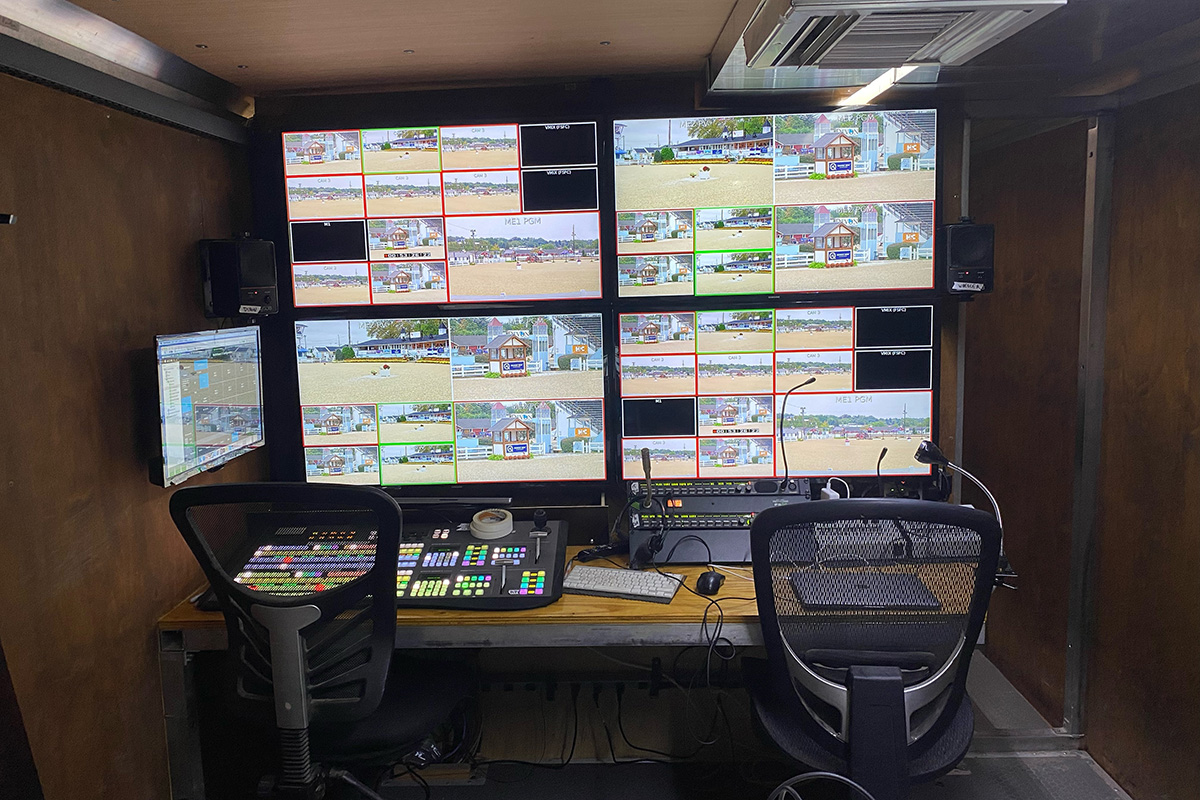 "Just like with riding, when working on production, you can have the best laid plans, but something can always change," Murray says. "It's important to be nimble and ready to make an adjustment very quickly."
Inevitable Challenges
Fortunately, the H&C team hasn't run into too many logistical challenges at Dressage at Devon, but there are aspects of the horse show that must be carefully considered in order to produce a successful livestream. Simply put, with two competition arenas, the team must be able to handle the technical complexities that come with two streams. The streams from each arena have a unique player so they can be seen individually. These streams and players are all managed by a streaming engineer stationed in the production trailer, which results in viewers being able to watch live coverage of either ring.
As with many outdoor equestrian competitions, weather contingencies must be part of the planning process. The typical Pennsylvania fall weather can range from beautiful clear skies to rain, so the H&C team must be ready for various conditions.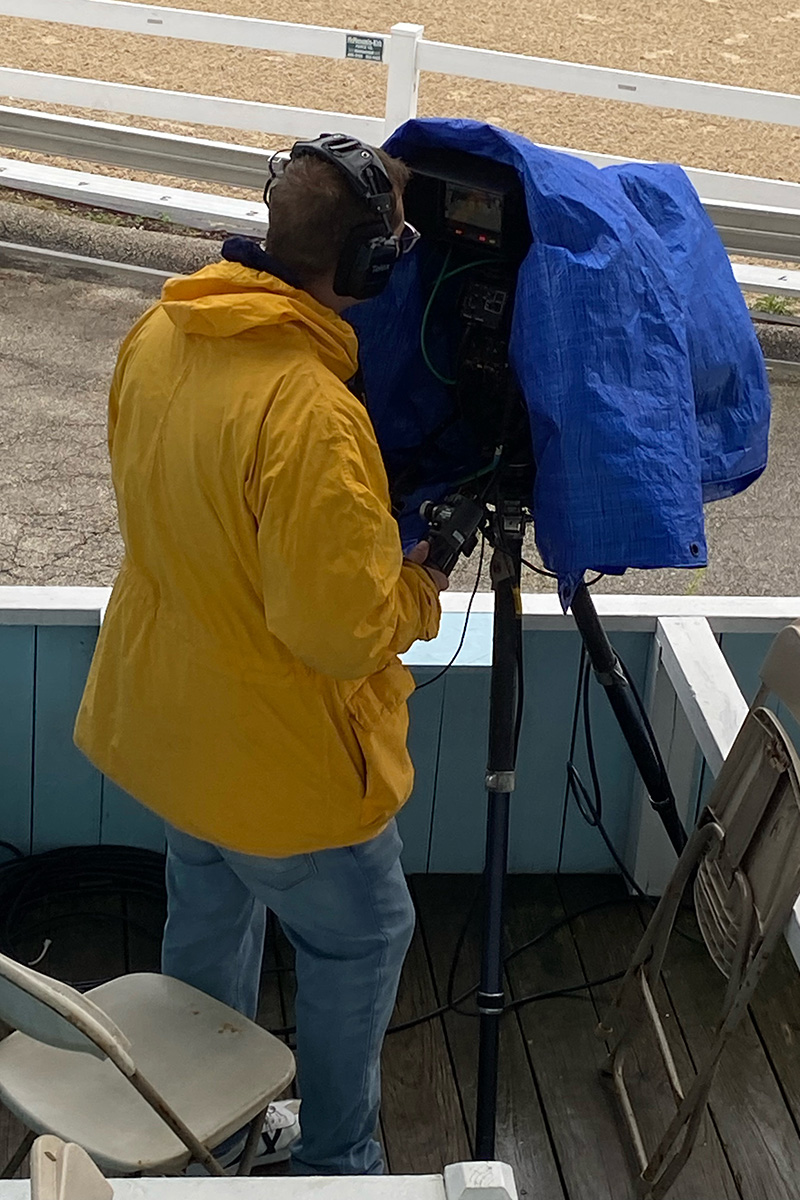 "As we all know, dealing with inclement weather is part of horse showing!" Murray says. "Our entire crew is always prepared with all-weather gear to handle whatever is thrown at them. Additionally, we have rain covers for all cameras and cabling, and all other equipment is weather-proof."
Dressage at Devon's evening classes are another unique part of the event. While there is no difference in the streaming process between daytime and evening coverage, the magic of being able to see everything clearly regardless of ambient lighting happens in the production process. A video engineer "paints" the cameras, meaning they manage the iris and color temperatures of each camera to account for strong sunlight, shadows, or arena lights so all the footage is sharp no matter what time of day.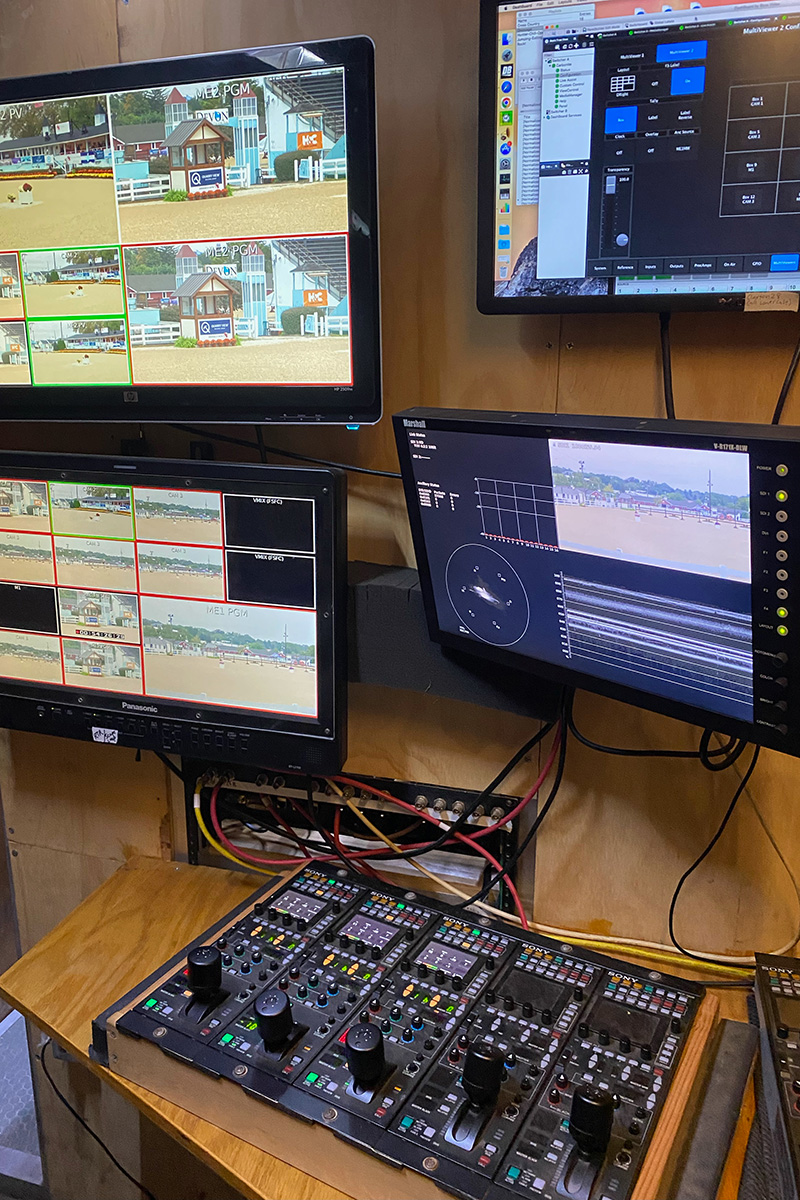 Finally, professional commentary provided by respected athletes and announcers is the cherry on top of the ideal horse show livestream. The commentary can actually be done either onsite or remotely. In both cases, the audio engineer mixes the commentary with the ambient mics so the audio is incorporated into the production simultaneously.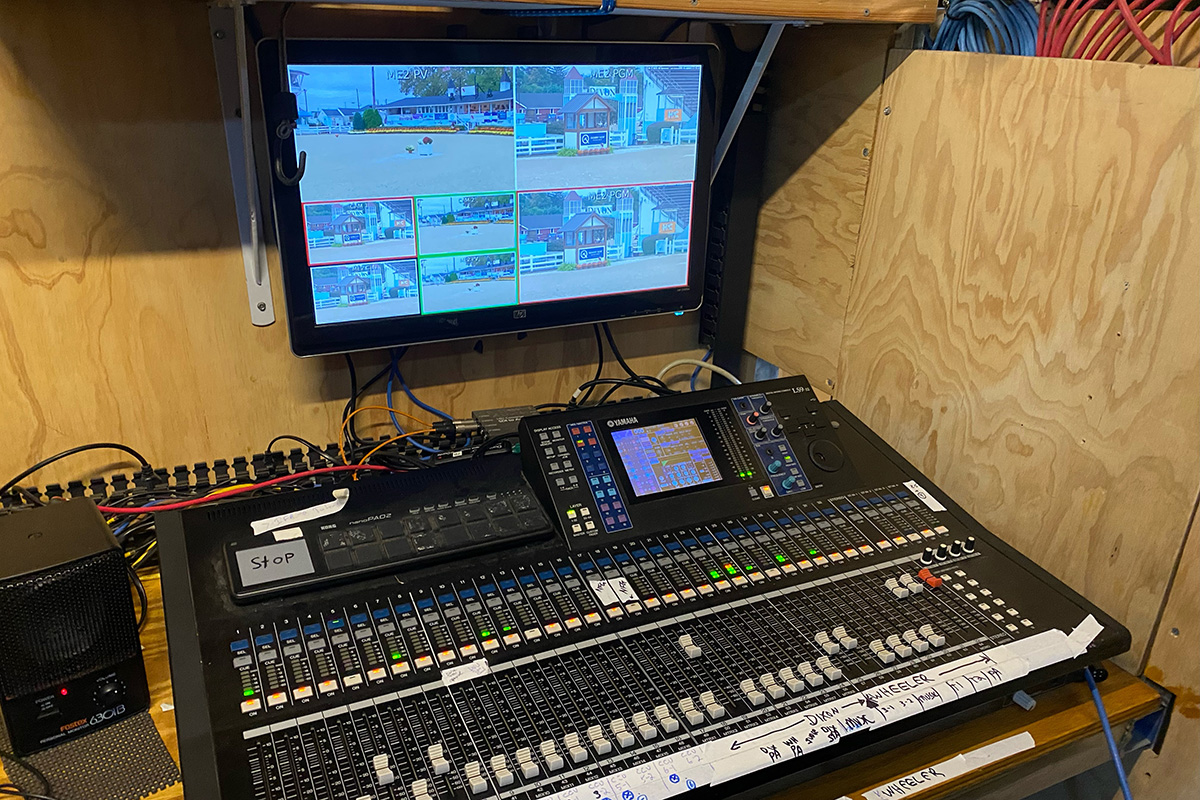 When all the pieces come together, the result is a livestream that brings the online audience ringside for the competition's most thrilling moments. While Dressage at Devon is certainly a must-see show, it is one of just many exciting equestrian sporting events available to watch on H&C. With a quality livestream, it's easy to forget the horse show action is miles away, perhaps even in a different time zone, but that is what H&C aims to achieve with every production, bringing the horses we all love closer to us.
"We have a great team and have become great friends over the years, which is always fun and rewarding," Murray says of the H&C crew. "It is great to watch world-class competition and, as a producer or director, tell the story of the competition to the whole world."
In addition to top-notch livestreamed competition, H&C also offers engaging programming such as Masterclasses with the pros, Barn Talks behind the scenes, and fun equestrian shows, and compelling documentaries. For more information about Horse & Country and to tune into future live events, visit horseandcountry.tv.
Horse & Country Offer for Horse Illustrated Readers
Enjoy 15% off an annual Horse & Country+ membership using code HORSEILLUSTRATED15
This article about Horse & Country's work behind the scenes of a horse show's livestream is a web exclusive for Horse Illustrated magazine. Click here to subscribe!