For many of us, our horse obsession started in childhood and continues to this day. But when a baby is on the way, many a horse-loving mom finds herself worried. Will I be able to balance all my current responsibilities, plus a baby and horse? How can I safely incorporate my little one into my horse life and take my baby to the barn? To find out, we talked to five experienced moms who have successfully juggled their horse life post-baby.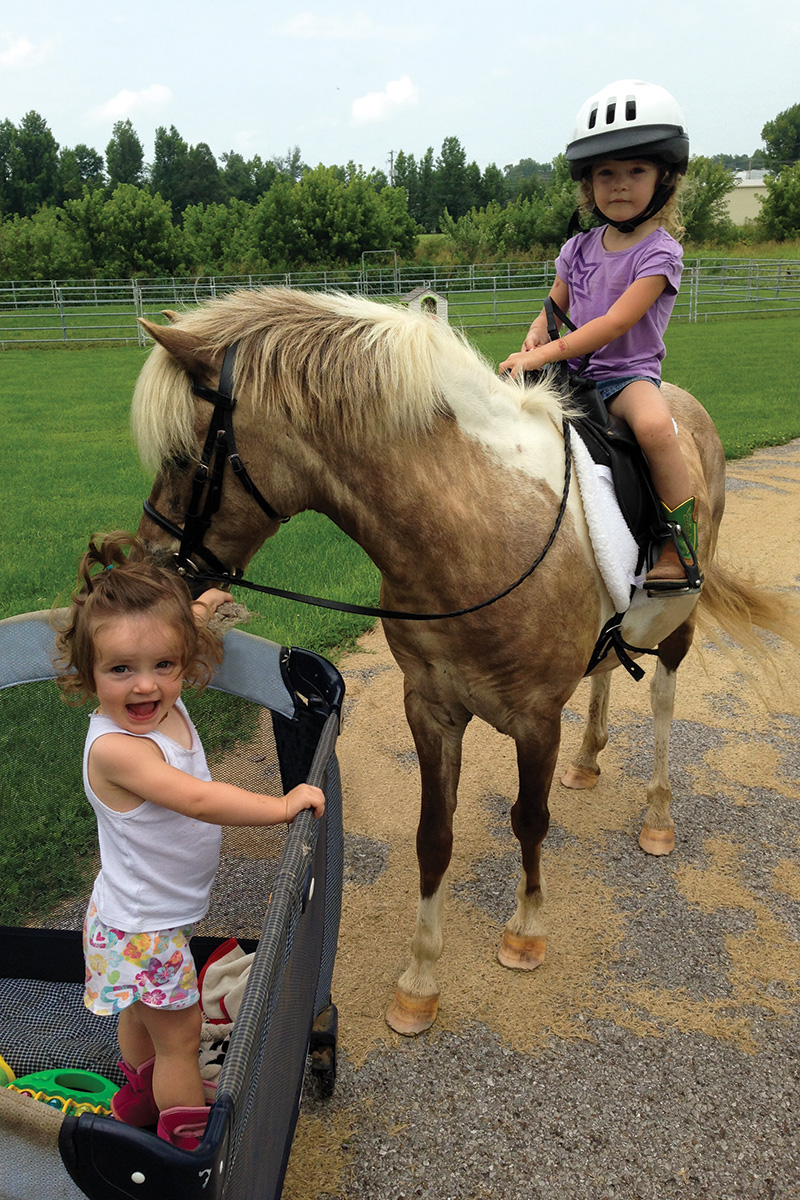 Brianna and Genesis
Brianna Noble, aka
The Urban Cowgirl
, lives on-site and runs a facility in Castro Valley, Calif., 10 minutes from Oakland. There, she helps serve the lower-income communities of the East Bay. She has 21 horses of all types on 40 acres.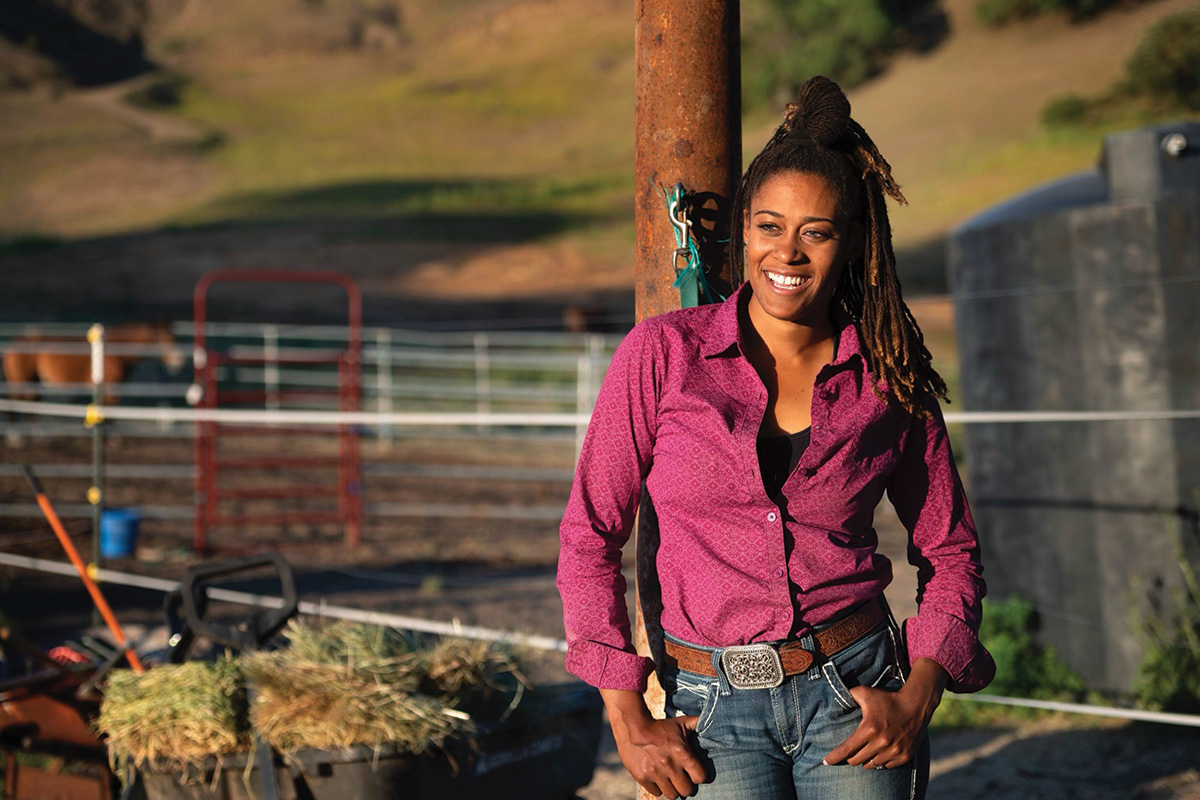 Noble makes her living starting horses. Four years ago, she and her husband welcomed Genesis Gutierrez, who instantly became a "barn baby."
Their first stop coming home from the hospital was the barn, where her beloved Thoroughbred gently greeted the new addition and has been Genesis' friend and protector ever since.
"I have a picture where I look like a hot mess," she jokes. "I was tired, I'd given birth the day before, my hair was crazy, I had forgotten to put my shirt strap back up from nursing, and my pants are open. But I have this tiny one-day-old human on my chest, and my mare had walked up to greet her and put her nose on her back. That was the start of my daughter's interaction with horses."
Noble immediately went back to doing ranch chores.
"That meant I was carrying my daughter most of the time," she says. "I'd have her strapped to my chest or back. She was happy like that."
Eventually, her husband created a baby swing in the barn aisle. Noble also began riding a very well-trained horse with Genesis and found nothing soothed a fussy baby better.
All of the moms we spoke to agreed that safety is highly situational. A professional with a solid horse will feel safer in many situations than someone less experienced. Safety should always be paramount, and each parent will have to carefully decide what that means for them
.
When Genesis was crawling age, Noble would drive her pickup into the center of the ring, making the truck bed into a soft playpen and riding circles around it. When Genesis learned to walk and take off her clothes, a streaking toddler was a common sight around the barn. By 2, Genesis was riding on her own. She loves to take long trail rides with her parents and gives way too many cookies to her pony.
"It's been an amazing thing to see her growing up on the ranch," Noble says.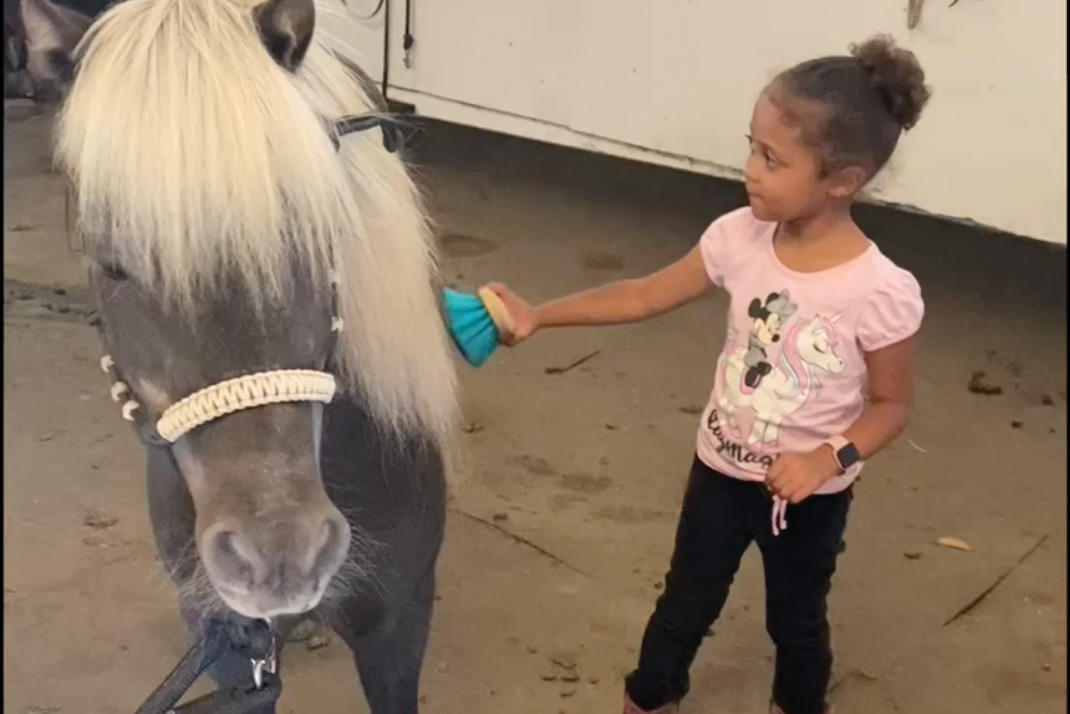 Brynne and Graham
Although Brynne Boian doesn't currently own her own horses, she trains off-the-track Thoroughbreds and gives lessons near Lexington, Ky. Her son Graham, age 3, comes to the barn with her.
"It started by just setting him up in the middle of the arena with a few toys, snacks and his tablet if it was going to be a particularly long day," Boian says.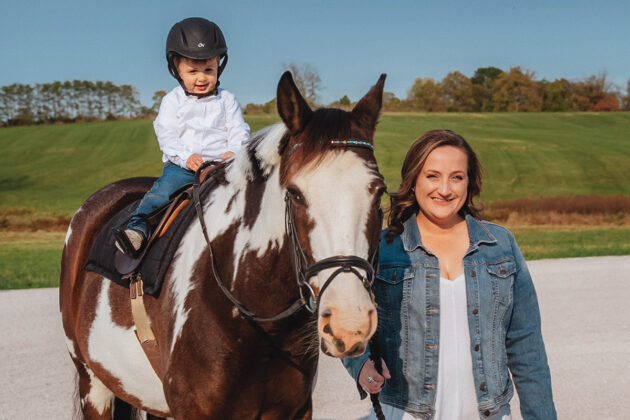 Then her fellow trainer started leading him around on the lesson pony; now Graham can't get enough. They hope to soon try a leadline class.
"Recently he's shown interest in the pitchfork and cleaning stalls—fingers crossed that sticks!" she says. "He loves bringing the step stool over to the pony to brush and love on him. It's really been fun to watch."
Graham sees the joy horses bring his mom and wants to be a part of it.
"Share your passions with your kids, but maybe leave them at home with Dad every once in a while so you can enjoy some 'you' time at the barn too," Boian advises.
Danielle and Lilly
Danielle Biermann and her husband keep their three horses at home in Waco, Texas. The pack includes a young Fjord she's training for 3-year-old daughter Lilly, an American Quarter Horse Biermann shows in all-around open competitions, and a rescued donkey that Lilly named Olaf.
When Lilly was first born, Biermann says it was stressful trying to figure out how to balance a new baby with her horse chores.
"I knew I had to keep fighting through and find a way to make it work," she says.
This meant investing in a baby carrier and wearing her while she fed horses. While Lilly slept in a stroller, Biermann would fly spray, groom and do the groundwork on the other side of the fence. An activity seat and snacks would prolong stroller time. Biermann would always talk to Lilly, explaining what she was doing.
At around 15 months, Lilly started to count out the horses' scoops of feed and fill the water tanks. She loves grooming and taking care of "her" horses.
"I got a little kid shovel, and she'll help me shovel the poop," Biermann says. "You'd be surprised how much a little kid can do if you give them the opportunity."
Lilly enjoys being led on her mom's horse or reading to the horses, who come over to listen.
"Don't give up your passion," Biermann advises. "Get creative, and let the kids get involved."
Raquel and Jolie
Raquel Dachner jumps and boards her off-track Thoroughbred near her family's home in Dana Point, Calif. Her mom's 30-year-old Thoroughbred lives there as well, and they also care for their trainer's older horse. Having the older trustworthy horses around has been key.
Daughter Jolie, now 2, started "riding" during pregnancy and has been accompanying her mom and grandma to the barn ever since.
"When she was a newborn, she would usually just be napping while my mom watched her and I rode," Dachner says. "My parents' older horse, Alpine, would hang his head out of his stall, and I would put the stroller in front of it while I was getting my horse ready. Jolie would pet his face.
"Since Jolie started walking and running around, she really likes helping with barn chores," Dachner continues. "She especially likes mixing the horses' food with all their supplements and vitamins. She uses a little broom and a small rake to help clean stalls. She has ridden the older horses a few times. Recently she also likes cleaning my saddle, which is nice. My mom watches her when I ride, and she takes Jolie with her when she walks the older horses and turns them out. Jolie also loves brushing and petting them."
Hope, Finley and Evie
Hope Taylor is a veteran barn mom, saying daughters Finley and Evie—now 9 and 7—were practically born in the barn. The family keeps their three personal horses—plus a small boarding and training business—at their home in Liberty Hill, Texas, outside of Austin.
Taylor does all types of riding, and their horses include a Shetland, American Quarter Horse and off-track Thoroughbred.
She carried Finley around the barn as an infant, while Evie preferred the pack 'n play.
"I remember plenty of times when both [girls] needed to be held, and you'd find me with one on my front and one on my back—a little like balancing two water buckets!" Taylor says. "As they got older, they loved 'helping' clean stalls with their own little shovels/pitchforks and buckets, riding tricycles down the aisle, playing with their bubble blower machine, and the occasional tack room movie when they had worn themselves out. Fast forward to today, and they're so incredibly helpful!"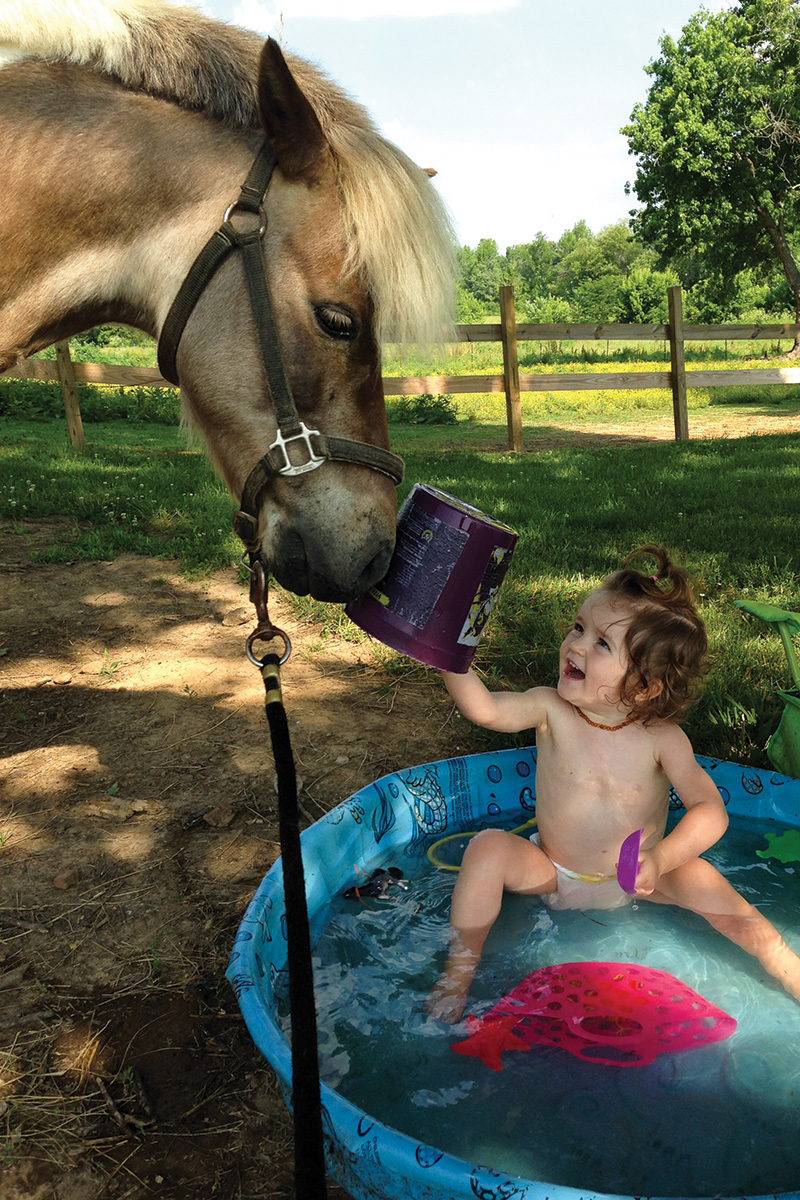 They both love to ride, though they have very different approaches, with Finley taking her time and Evie being a daredevil.
"All the plans you had may have to change in an instant with a diaper blowout, inconsolable teething—the list goes on forever," says Taylor. "Enjoy whatever time you have in the barn. Set yourself up for success! Be prepared with snacks, pack 'n plays, carriers, and a change of clothes."
This article about taking your baby to the barn appeared in the May 2022 issue of Horse Illustrated magazine. Click here to subscribe!