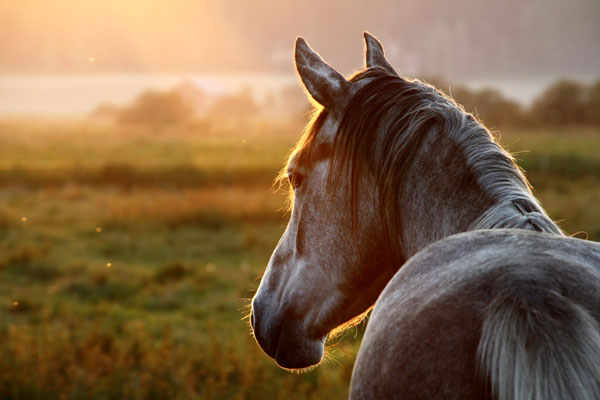 Every year I tend to do a daily post on social media showcasing what I am thankful for. I didn't do it this year. Not because I'm not as thankful this year as in the past … but mostly because I've just been so busy. But no matter how busy we get, I think it's important to stop and in some way—big or small—take the time to think about what we're thankful for, and to let others know how we are thankful for them. So this year, I figured it would be good to at least spend some time on a list related to my thankfulness for horses.
My List of Why I Am Thankful for Horses
First and foremost, I'm thankful for my new adventure as the Digital Content Editor for Horse Illustrated and Young Rider. Not only do I feel lucky to get to do a job that I love and that I've worked toward my entire career, but I get to work with some amazing people who are also passionate about what they do. We're a small-but-mighty staff who love horses and who love the products we work on each and every day.Sometimes it's the little things that you do in a workday that just "spark joy," as Marie Kondo would say. Like finding that one perfect photo for a cover, and the excitement we all get when we get to see it put into the cover design … just wait until the February issue. I'm extra excited about this upcoming cover as it's a wonderful photo that just shares the true beauty and power of the horse.
Other things that spark joy in my day include hearing from a reader whose son was featured in an online story and knowing that you made their day by featuring them online or in the page of the magazine.
Or it's a conversation about just the right wording for an article … yes, us writers get a kick out of conversations regarding words, and grammar rules are our friends. I hope you have just such a role in the horse industry that you are embracing and loving—whether it be riding student, professional rider, amateur competitor, trail connoisseur, equine writer or horse photographer.
All of the amazing people I get to meet in the horse industry. It's truly the people that make this industry special. I've met fellow horse lovers who are just like me. I've gotten to meet Olympic athletes, the world's best equine veterinarians, and leading trainers and breeders from around the world. I've met fascinating book authors whose books I have read (both fiction and non-fiction) and whose books I want to read (there's never enough time), amazing equine photographers, podcasters, and artists. And then there are my fellow editors and writers who help create a wide array of equine publications, from breed journals to mainstream and local publications.I've been lucky to develop a wide range of friendships over the years and love making new friends in this industry. There's never a time when we don't have something to talk about. From a horse's latest equine health issue and clicker training to what events we'll be attending and our favorite equine products.
And everyone always has the same enthusiasm as I do about their respective role in the horse industry, whether they "just" take riding lessons or are working hard for a spot in the Olympics. The horse industry is a diverse ecosystem … and it takes horse lovers of all kinds to make this industry what it is. And how I see it … it is one passionate industry! And I love that.
The events I get to attend revolving around horses. I've gotten to attend so many great events as a spectator and a journalist. My adventures at equine events started with my parents taking me to events they thought I would enjoy as a small child. Regardless of the role I'm in at the time, I always have that horse-crazy girl inside me who gets excited to see the top riders in the country or who feels thankful to be spending a day in the sunshine (or even the rain) taking in one of the many equestrian disciplines that these amazing animals excel in.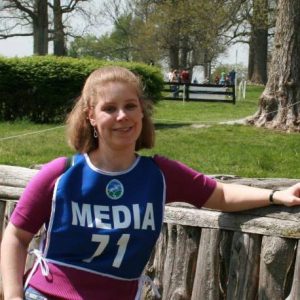 Whether the Kentucky Derby, Breeders' Cup, Rolex Kentucky Three-Day Event (now the Land Rover Kentucky Three-Day Event), USEF Pony Finals, the Kentucky Classic Combined Driving Event, the National Drive, the U.S. National Arabian and Half-Arabian Championship Horse Show, the Washington International Horse Show, the National Horse Show, or the World's Championship Horse Show, there are so many events—and so many I still want to attend!
In addition, I've gotten to attend some amazing conferences where I have learned so much about horse health, horse care, equestrian journalism, equine culture, horsemanship and safety. Some of these include the American Horse Publications Conference, the American Association of Equine Practitioners Convention, the Equus Film Festival (coming up), and a one-day seminar on equine rescue techniques.
I've even gotten to speak at a few, like the Certified Horsemanship Association's International Conference and the American Hippotherapy Association's Biennial Conference. I am a huge proponent of continuing education, and luckily the horse industry has an abundance of opportunities.
What have been some of your favorite events? Share in the comments below!
This shared joy we all have involving the animal called a horse. I still remember one of my first events at the Rolex Kentucky Three-Day Event as a journalist. I had attended the event for years before that as a spectator. I was in line waiting to grab a quick lunch before returning to the cross-country course, and while waiting I started talking to some people who were attending the event for the first time. Their excitement was contagious, and it was fun to hear what they loved most about their experience. After that, even years later, if I find myself waiting in line for food or browsing at vendor booths, I make time to talk to other attendees and hear their stories about the event. It's always fun to hear others' experiences and excitement for an event you've also grown to love.
All of the content out there about horses. I read a lot about horses! Every word that goes into both Horse Illustrated and Young Rider as I edit content from our writers. Press releases. Online articles. Scientific studies. Books. I also try to watch the top equestrian events featured on TV. Or I occasionally catch an episode of one of the horse-related shows on TV or record them on my DVR. I also listen to podcasts galore! Every morning you can find me listening to something.The abundance of content may seem overwhelming, but it's not to me. I love it! And as we produce a lot of content through this website, we also look to you, our readers, to tell us what you might want to read about, or what you think about an article, or to kickstart a discussion on the content below the article in the comments. We welcome your feedback as the consumers of our content. And I hope you enjoy the content as much as I do and are getting to put it to use in your equine pursuits.
Your Turn
There are multiple ways to stop the busyness and express your thankfulness, for horses or otherwise, before the year is out. Do a daily post on social media. Create a list of things you are thankful for. Write letters to all of the people who make your life so great. Go around the table at your Thanksgiving feast and share what you are most thankful for.
If you're more alone on Thanksgiving than you would like to be, try hosting a "friendsgiving" or volunteer at a local soup kitchen, shelter equine rescue or therapeutic riding center. They will be thankful for your help for sure. And finally, feel free to share what you are thankful for in the comments below—horsey or otherwise. I will love reading the content … and it's fun when we all share this mutual love of horses … and life.