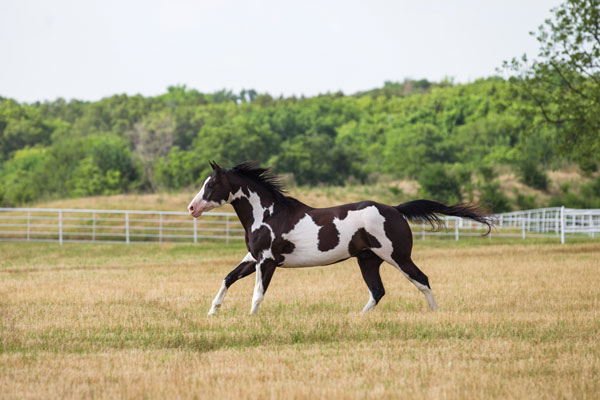 In a sea of solid bays and sorrels, the flashy white markings on an American Paint Horse stand out—there's no missing a Paint. But beyond their eye-catching looks, Paints bring a steady temperament and athleticism to a versatile array of jobs. From the western show pen and hunter/jumper classes to racing and ranching, Paints have shown their mettle in just about any task.
The Association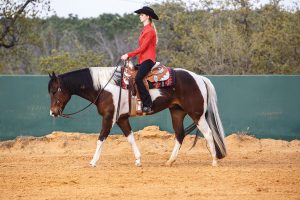 The American Paint Horse Association (APHA) got its start in 1962 as an organization designed to recognize stock horses with more white on their bodies than what was permissible for a registered American Quarter Horse. Today, the APHA is the second-largest breed association in the United States.
To be registered with the APHA, Paint Horses have to have two registered APHA parents or one Paint parent and one Quarter Horse or Thoroughbred parent. Additionally, a Paint must have white markings that meet the breed's standards.
Offspring of two Quarter Horses, two Thoroughbreds, or a Quarter Horse and a Thoroughbred with the required markings can also be registered Paints, but they need to have submitted parentage and coat pattern DNA information.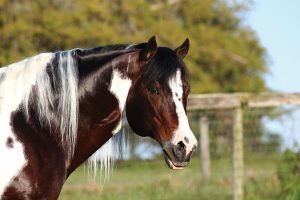 A horse that meets the parentage criteria but lacks enough white markings can be registered as a Solid Paint-Bred (formerly known as Breeding Stock), with access to many of the benefits of APHA registration, but carrying a different designation.
In contrast, the Pinto Horse Association accepts horses with bloodlines of many other breeds outside of Paints, Quarter Horses and Thoroughbreds. Pintos are mainly required to have white markings in a qualifying zone. Therefore most Paints can be registered as a Pinto, but not all Pintos can be registered as Paints.
All About the Chrome
The ideal Paint possesses a stock horse-type build: well-muscled proportions, but with powerful hindquarters, a trim throatlatch and a refined head.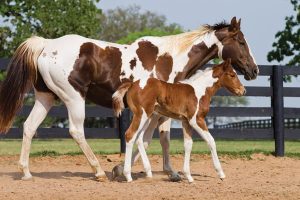 Paints are most known for their distinctive coat patterns, which generally fall into three categories. Tobianos usually have white legs below the knees and hocks, with the darker body color on its sides. Spots are often smoother, like ovals or circles. The horse's head usually has a blaze, star, strip or snip on a solid head. Often, the tail is two colors.
Overos are the most common pattern seen on a Paint. At least one of an overo's legs will be dark, and the white of the horse will not usually cross over the horse's back. White markings are usually irregular, splashy or spotted. Overos can have facial markings, such as a bald face, an apron face or bonnet face. Their tails are usually a single color.
Toveros carry pattern characteristics of both tobianos and overos. Paint Horses are athletic, excelling in sports where quick moves are required. They can also have cow sense, making them ideal for ranch work. But they're incredibly versatile. In addition to APHA-approved horse show classes and short-distance racing, Paints compete in a variety of disciplines in both English and western tack.
Beyond competition, Paints are steady and calm, ready to get to work no matter their job. But thanks to their one-of-a-kind markings, Paints do it all while standing out from the crowd.
Cutting Like a Cat
While solid-colored Quarter Horses have dominated the cutting pen, Paint Horses, like sorrel tobiano mare Cinderella Cat (aka "Keeper") have certainly made a splash. The mare's owner, Kenli Marvin of Barnsdall, Okla., owned a Paint Horse as a child, and that love never left her. When Marvin found Keeper's dam, Miss Instant Choice, at a sale in 2014 with the foal at her side, she knew it was meant to be.
"I love the uniqueness that comes with the Paint Horse, and I feel like they have a little extra 'try' to them," Marvin says. "Keeper definitely has the heart and the try, and she's just a gorgeous mare."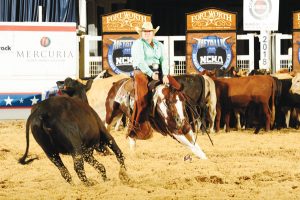 Keeper was fourth in the 2018 National Cutting Horse Association Summer Spectacular Open Finals with Marvin's dad, Tommy, and Marvin won the Derby Non-Pro Championship title on the same night. These achievements at one of cutting's biggest shows was a big deal for the Marvins, especially aboard a flashy Paint.
"[Keeper's Paint markings] definitely make you stand out, and everyone in the cutting horse world knows her by her barn name," says Marvin. "I have a tendency to be shy, and she's not at all. She loves the attention that comes with having those markings."
Marvin says owning a Paint is a unique experience.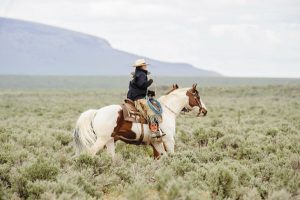 "Just like their markings, their personalities are all so different, so vivid, and so bright," she adds. "You have to have [a Paint] at least once to fully understand that and appreciate them, because they are definitely their own thing."
In addition to helping you stand out from the crowd, entering your Paint Horse in qualified nonbreed specific events can earn you bonus cash. APHA's Chrome Cash program gives extra money to National Cutting Horse Association, National Reined Cow Horse Association, American Cutting Horse Association and World Conformation Horse Association performance events.
This article about the American Paint Horse appeared in the March 2021 issue of Horse Illustrated magazine. Click here to subscribe!
Fast Facts
Height: 14 to 16 hands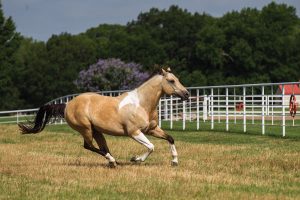 Color: Paints have contrasting areas of white and dark coat colors on their bodies. Coat patterns include variations of tobiano, overo and tovero, as well as solid colors. Body colors include black, gray, chestnut, sorrel, bay, brown, blue roan, bay roan, red roan, grullo, dun, red dun, buckskin, palomino, cremello, perlino, smoky cream, gold champagne, amber champagne and classic champagne.
Overall Appearance: A stock horse-type build: balanced, structurally correct and well-muscled. Ideally, Paint Horses have attractive heads, refined throat latches and trim necks, long and sloping shoulders, deep heart girths, short and strong backs, and long hips and croups, as well as straight and correct legs. They're known for having muscular forearms, chests, shoulders, stifles and gaskins.
Association: American Paint Horse Association www.apha.com