Read on to learn more about the horses in transition for an Equine Assisted Activities and Therapies (EAAT) program at Colorado State University.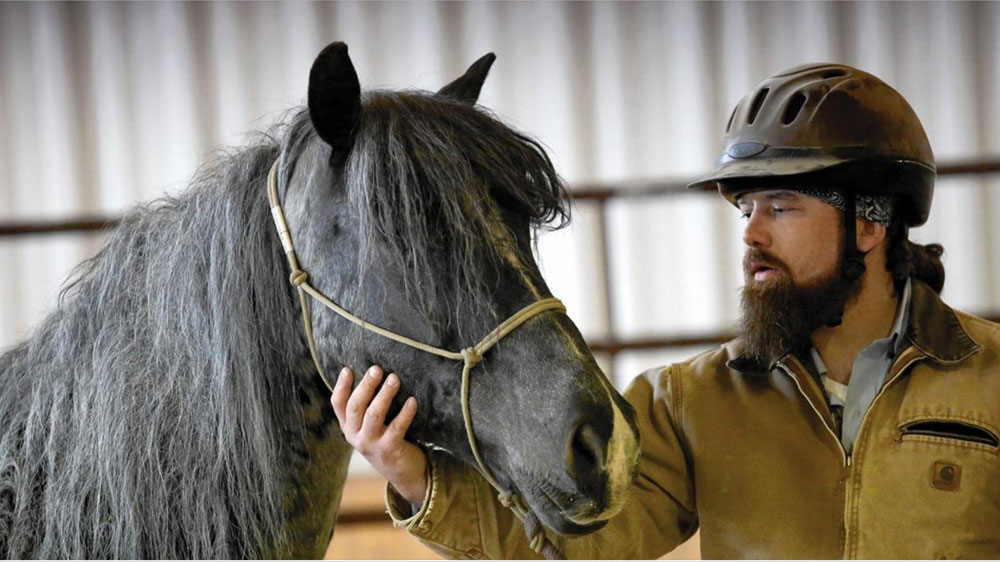 Bud Kamrud has been challenged by muscular dystrophy (MS) all of his adult life. But once a week he is free of the disease's limitations thanks to a therapy horse named Claude and the staff at the Colorado State University (CSU) Equine Assisted Activities and Therapies (EAAT) Program.
"My legs are pretty much useless and I spend most of my time in a wheelchair," says Kamrud. "Equine assisted therapy helps strengthen my core and stretches my legs in a way that I would not be able to do any other way."
Kamrud, who has been riding once a week for the better part of 20 years, is among the more than 50,000 men, women and children who, according to Professional Association of Therapeutic Horsemanship International (PATH), participate in equine-assisted therapy programs across the U.S. This therapy helps them cope with a range of physical and mental challenges, including MS, autism, post-traumatic stress disorder (PTSD) and Alzheimer's disease.
Horses in Transition: Finding the Right Horses
Horses used in those programs represent a variety of breeds, but nearly all are what are considered "horses in transition," donated by owners whose animals have moved on after having successful initial careers.
"We get our horses from a variety of sources, but generally they are retired from careers as hunter/jumpers and other [disciplines]," says Janet Mayberry Laughlin, interim executive director of Dream Catchers at the Cori Sikich Therapeutic Riding Center in Virginia. "We also have a couple of veterinarians who may have clients who can't ride anymore or their kids are going off to college, and they think the horse would be a good candidate for us. We also have a trainer who is always looking for horses that are appropriate for us."
Other horses move on to EAAT programs from the Dumb Friends League Harmony Equine Center in Franktown, Colo. The center takes in horses seized, removed or surrendered in law enforcement cases, and currently supplies all the animals for the Temple Grandin Equine Center at CSU, according to Harmony's Director Garret Leonard.
Once Harmony horses arrive at the Temple Grandin Center, they're paired with students pursuing degrees in equine science, according to Adam Daurio, Esq., the Center's director of administration and outreach. The students spend four or five months preparing the animals to participate in EAAT programs, including the one at CSU.
While most of the horses arrive at the Center already trained to halter, lead, load and ride, their student handlers assess how well the animals tolerate routine grooming and tying. At the same time, they desensitize the horses to a variety of sights and sounds they may encounter on the farm.
"We generally know within two sessions if the horse is appropriate for an EAAT program," Daurio says.
Those that do make the grade participate in a variety of EAAT programs, including therapeutic classes in which people learn to ride, generally at the walk and trot levels, says Sharon Butler, DVM, a certified therapeutic riding instructor at the CSU Equine Science Department.
EAAT: Learning to be a Therapy Horse
As part of these classes, horses are exposed to various toys and games, riding patterns, and trail riding around the CSU Equine Center. Meanwhile, therapy horses may also take part in hippotherapy sessions as part of another program where physical and occupational therapists encourage their clients to improve their physical and cognitive functions by riding.
"These sessions also involve games and toys to encourage the clients to reach and stretch," Butler explains. "These sessions may have the client sitting astride, facing backward or even lying across the horse's back to give more input as part of the therapy."
And while therapy horses may be of any breed or discipline, they all must have a unique skill set, says certified hippotherapist Brent Applegate, HPCS. Applegate is the owner of My Heroes, LLC, which has programs at CSU, the National Western Stock Show in Denver, and the Chastain Horse Park in Atlanta.
"They must like people and they have to be able to cope with everything that we put them through," Applegate explains. "For example, former show horses are accustomed to being around other horses and around people and noise, and former polo ponies are good at [EAAT] because they are used to noise and having riders hanging off to their sides."
Mustangs in Service
But not all therapy horses have had human-centered careers. Some, like the Bureau of Land Management (BLM) Mustangs used by the BraveHearts Equine Assisted Therapy Programs in Illinois, have traded the range for a more domestic life.
In 1978, wild horses residing on ranges in the western U.S. were federally protected and placed in the care of the BLM. That agency conducts gathers aimed at maintaining the sizes of wild herds and puts some of those gathered horses in its adoption program. BraveHearts has adopted its team of Mustangs from the BLM.
"BraveHearts uses [both Mustangs and domesticated] horses in transition for its therapeutic riding, as well as physical, occupational and speech therapies that use hippotherapy as a treatment strategy," says Meggan Hill-McQueeney, BraveHearts' president and chief operating officer (COO). "Our Operation Mustang also helps veterans cope with PTSD and combat-related physical disabilities."
Veterans gentle the formerly wild horses as well as doing ground activities, driving and riding. Army veteran Mitchell Reno believes the horses changed his life.
Reno served two tours of duty in Afghanistan when he landed in a veteran's hospital in Chicago with a broken back, a broken neck and addictions to alcohol and prescription drugs. After a fellow veteran encouraged him to visit BraveHeats' facility, Reno joined the program, doing everything from cleaning stalls to gentling Mustangs.
"I'd do anything to be around the horses," he recalls. "I'd be there from 6 a.m. to 6 p.m. shoveling out stalls, feeding, bringing horses in and out—whatever they needed."
Two years later, Reno credits the Mustangs with helping him find his way though PTSD-related depression and anxiety, as well as the long-term effects of his physical injuries.
"People are depressed because they're focused on the past, and they're anxious because they're focused on the future," says Reno. "The Mustangs are special because not only do they force you to be in the moment, but because they know fear—of helicopter roundups, of people handling them. They have a lot in common with us. I lost my wife and my children, and these horses gave me back everything I had lost."
Equine Assisted Therapy: A True Connection
Likewise, Bud Kamrud believes that the horses at CSU are enhancing his quality of life in a way no human therapist could. According to Kamrud, the EAAT program at CSU helps him not only get the physical exercise he needs, but encourages him to socialize with other EAAT clients and equine science students too.
He believes the connection with horses and humans is transformational.
"I suppose that a physical therapist might be able to give me exercises to do to help me, but I probably wouldn't keep up with them. As it is, there have been days when I've said, 'Maybe I don't want to go through all this to get on the horse," says Kamrud, who uses a special ramp and lift to mount the horse.
"But it makes me feel good that I can do this. Besides, Claude looks out for me. Really, I'm very fortunate."
This article about horses in transition through an EAAT program originally appeared in the July 2018 issue of Horse Illustrated magazine. Click here to subscribe!