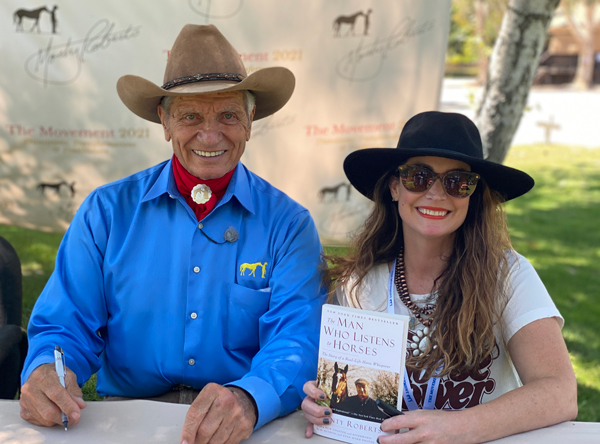 Let's face it, we've all been a little house bound this past year. Imagine my excitement when it was announced that Monty Roberts was hosting the 4th annual Movement in Solvang, Calif., to a reduced number of people for an amazing learning opportunity at Flag is Up Farms. Founded and organized by his daughter, Debbie Loucks, the symposium was limited to 50 VIP attendees for a unique, personal experience. The 2021 Movement's theme was "Transitions, Transformations, and Trailblazers."
I grew up in the hunter/jumper world where horses were groomed and tacked for me, and riding was the focus. Returning to riding horses as an adult meant I had to learn horsemanship skills from the ground up, something that increased my knowledge base and confidence in both my horse and my own skills. I'm a firm believer that we should never stop learning to become better partners for our animals.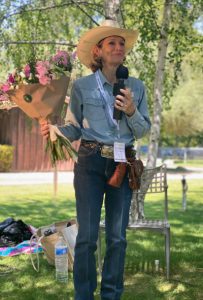 Known for his book The Man Who Listens to Horses: The Story of a Real-Life Horse Whisperer, the 86-year-old Monty has spent his lifetime creating non-violent concepts in horse training and studying the language of the equine, or "Equus," as he calls it. Regardless of his non-violent techniques, he has received pushback from traditional horse trainers, and is largely considered one of the founders of natural horsemanship as we know it today. Learning from him at his home was a once-in-a-lifetime opportunity for me.
The very day that The Movement 2021 was announced, I booked my ticket. My pony, Ferrous, has a fear of trailer loading, something Monty specializes in. And my other horse, Delight, became increasingly aggressive with a previous owner. I needed to learn how to best help them.
The event was held over three days, June 18-20, at Monty's home in central California, a bucolic farm home to American Mustangs, Thoroughbreds, and many more breeds, as well as local deer, who he hand-feeds each evening. The deer are flight animals, just like the horse, and have had a large impact on Monty's training methods with horses.
Each morning, attendees were warmly welcomed into the park to mingle at our leisure. The educational session began at 10 a.m. in the round pen. We met Thoroughbreds transitioning off the racetrack and being restarted for adoption. These horses had been handled often by their original owners, and yet ground training and Join-Up were new. Then it was off to the "gentling pen" to meet wild Mustangs who were untouched and unaccustomed to human interaction.
Each day we saw the same horses as they began the training program, and the results were clear. They became less anxious, calmer, and most began actively seeking human interaction.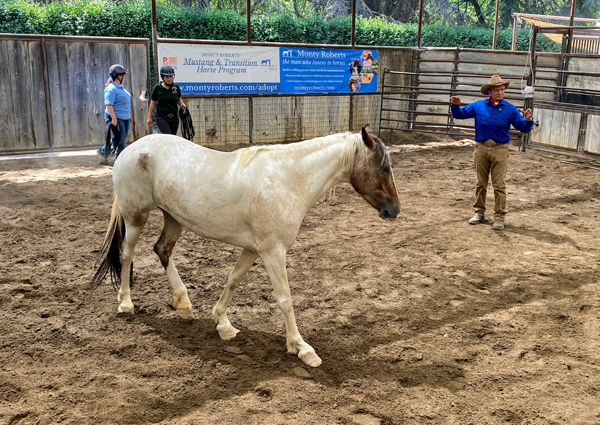 Camila, a 6-year-old mare from New Mexico, particularly hit home for me. She behaved aggressively, looking to kick and bite rather than hide or stay away from the trainers. Monty and his team made it clear they think she had been mistreated previously, making it more difficult to earn her trust. Yet, they committed to giving her the time she needed, so she will remain on the farm for at least 60 days.
Napoleon was the first Thoroughbred we met to do Join-Up with Monty on day one. He was a large bay and very anxious, but curious. By the third day, he could quietly navigate an obstacle course with a rider aboard.
Perhaps the most touching story is Starlight. This beautiful bay roan mare had been used for tripping, a "game" where ropers would have a horse gallop, rope the front legs, and trip them so they would fall harshly to the ground. Understandably, she was terrified of humans. The owner that adopted her was unable to approach her or groom her, so she had asked Monty for help. Despite her progress, she determined she was not the right fit for her and surrendered her. Thanks to a donation, she is now funded for six months of training at Flag Is Up Farms.
When we saw Starlight, she'd been there for two weeks. She was still hard to catch initially but wears a halter, will Join-Up with her trainer and seeks contact with him, associating him with safety. We watched as she was saddled for the first and second time, with her comfort level greatly improving, and she even experienced the obstacle course in hand for the first time. The goal is to "raise the fish" as head trainer Simon noted, which means asking for small challenges that build upon themselves to create confidence in the horse and increase communication with the handler, as well as desensitizing the horse. Then she can be adopted out to a forever home who will give her what she needs.
Among Monty's many demonstrations of his trademarked Join-Up, long lining, and lining up to the mounting block on command, we heard inspirational stories from the following trailblazers;
◆ Marty Irby, a Washington lobbyist and executive director of Animal Wellness Action, who lobbied for the passing of the Preventing Animal Cruelty and Torture Act (PACT Act) to reduce violence and cruelty against animals
◆ Ashley Avis, the director and filmmaker of Black Beauty on Disney+ and the founder of the Wild Beauty Foundation, is dedicated to raising awareness for the wild Mustangs and their plight.
◆ Jamie Jennings, co-host of the Horse Radio Network's Horses in the Morning and ASPCA's 2021 Trainer of the Year, is a certified Monty Roberts trainer.
Each person shared their personal story, which connected to the overarching theme of reducing the use of violence in the horse world.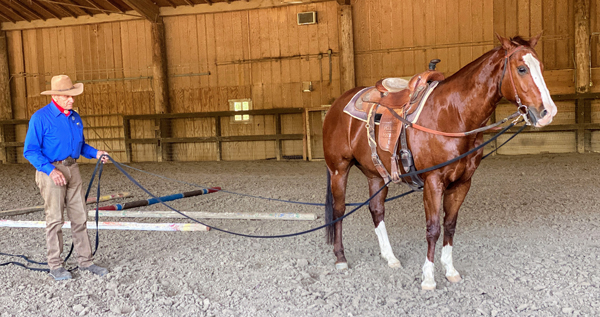 The transformations were inspiring, and the attendees were all excited to learn and practice on their own animals. Some attendees aren't horse owners, but they were there to learn the concepts for their own knowledge and to take the opportunity to pass on their knowledge to others. That was the true goal of this symposium.
While The Movement is held annually, Monty and his trainers travel internationally giving demonstrations and have expanded from Join-Up to horse adoptions and to the Lead-Up Program, which aims to reduce violence in humans through workshops with horses, and to the three-day Horse Sense and Healing program, which works with veterans, police, fire, first responders and their families. Learn more at www.montyroberts.com.