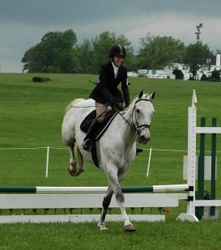 Photo by Patricia Griest
As a girl from Texas and a rider who hasn't shown her own mount in five or more years, it goes without saying that competing in a combined test in Kentucky this weekend was quite the experience.
I grew up showing on a local hunter/jumper C-circuit, and I showed western and hunt seat through the Intercollegiate Horse Show Association (IHSA) during college. I've never owned my own horse (but I love to pretend that I do).
So Saturday morning I headed out to my friend's farm to clean up my mount for the day: a flea-bitten gray, 17-hand sweetie of a Thoroughbred, Predawn Raid. (And no, Predawn Raid does not have a barn name. You can say PDR if you want, but his name is only three syllables. It's not that overwhelming.)
I learned many things within a few hours this weekend:
A white tail stained yellow and brown will take more than one dunk in Quicksilver to turn white again. However, time was of the essence. I had to show with a slightly dirty tail. Oh well.
Putting your horse's mane in braids will cause your hand to cramp, especially if you're pressed for time. Thankfully, Predawn Raid has a fairly thin mane.
There is a bit check before you enter the dressage ring. I managed to get that done approximately 15 seconds before I was to start my trot around the ring.
You should hear a whistle before you enter the dressage ring. As I trotted past the judge's box, a pang of fear struck me when the whistle blew. Was that supposed to happen? Have I just been buzzed out without even entering the ring? Thankfully, Predawn Raid and I just kept chugging along. Time to enter the ring.
A stock tie is not the same as the choker-type piece of fabric that goes over your ratcatcher show shirt. I dismissed the need for one. The judge didn't mind, but now I know what a stock tie is!
Our walk-trot test went wonderfully. We ended up with a score of 41.5. I had a lot of fun and even remembered to salute the judge. I was afraid I might think I was riding a horsemanship pattern in my cowboy hat and just nod to her. Keep in mind that I have had one dressage lesson in my entire life, and until recently, a salute meant you put your hand to your forehead and extend it out into the air as a gesture of respect.
Show jumping went very well, too. Predawn Raid is 10. He was successful on the track as a 3-year-old, and he's been a stellar trail mount until now. He'd never been to a show, but he jumped over those flowers without batting an eye. We got a sixth place ribbon and I was ecstatic.
According to my coworkers, many who were showing and others who were cheering for competitors, my enthusiasm was not well hidden. I have a huge, goofy grin on my face in every photo I've seen from the day. Who says showing should be stressful?
Back to The Near Side.