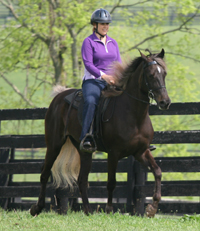 Photo by Leslie Potter
In putting together the July issue of HI that's hitting the mailboxes right now, I was able to get out of the office and do a little "field research." Our breed profile on smooth-riding gaited horses sounded so good, I had to get out and try one!
I rode a
Rocky Mountain Horse
for the first time, and it was pretty amazing. It's one thing to read about the gaits or
see them
, but experiencing it firsthand from the saddle was the real deal.
I was fortunate to have a very well trained and finished mount for my first experience riding a Rocky, thanks to the kind folks at Fairwinds. Stormy (short for Winter Storm Warning) was an excellent ambassador for her breed and won me over with her smooth stride and sweet nature. The thing I just couldn't get over was how easy it was! I'm used to working hard when I ride. My horse Teddy's nickname was "the thighmaster," and even after a dressage lesson on a more forward thinking horse, I can feel every muscle in my body. When I was riding Stormy, I had to remind myself NOT to work, just enjoy! It felt effortless and light. Trainer Michael Bowen gave me some pointers on keeping the gait balanced, and it was pretty easy to get the hang of.
If you are spending long hours on the trail, I can see why one of these smooth, naturally gaited breeds would be an ideal mount.
So now that I've ridden a Rocky, I will have to try the other breeds featured in the July issue: Peruvian, Paso Fino and Foxtrotter are next on the list! (I have taken a few trail rides on a Tennessee Walker, but it's been a while. Will have to do that again soon.)
Back to The Near Side.