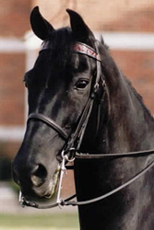 Snoopy at age 12. Photo by Avis Girdler.
When your best friend turns 21, it's an unofficial American tradition to take him out for a drink or two. However, today is Snoopy's 21st birthday, and I think we'll find some other way to celebrate. I remember reading somewhere that Kentucky Derby winner Smarty Jones got something like three pints of Guinness with his nightly grain, so maybe the suds are good for horses, but still, I think Snoopy will be perfectly happy with the bag of carrots I bought for him. If only everyone was so easy to shop for.
Morgans are known for their longevity, and Snoopy is looking pretty good for an old man, if I do say so myself. I first met him as a young 12-year-old when he was donated to my university's equestrian program during my sophomore year. I can actually remember the exact moment. I walked into the barn and a friend of mine said, "have you seen the new Morgan?" and pointed me to his stall. I went to investigate and was greeted by a very chubby gelding with a full-blown, jet black winter coat. It was love at first sight.
I showed him a few times with the school in saddle seat and driving with some success. As a relatively beginner-safe horse, he was usually reserved for newer students during riding classes, which meant I didn't get to ride him much. But during the summers after my sophomore and junior years I leased him from the school, giving him a well-deserved summer vacation on the coast of Maine.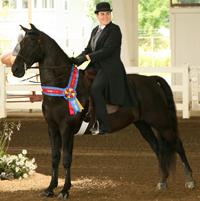 Snoopy at a show in 2008. Photo by Tim Knowlton.
I don't know that I ever thought about what would happen when I graduated, but the question seemed to be answered for me when I arrived back at school after winter break my senior year. Snoopy was nowhere to be found. It turned out he had been leased out to a lesson program two hours away. I cried buckets when I found out. To be fair, they did always warn us not to get too attached as horses are always coming and going from the program, but of course we couldn't help it, and it was always heartbreaking when a favorite horse left.
I thought I'd seen the last of him, but on graduation day my professor approached me and asked if I wanted to buy Snoopy. Apparently the barn he was leased to wasn't using him as much as they thought they would. I said yes without even thinking twice, even though I had no idea what I would do with a horse. But I couldn't stand to lose him again.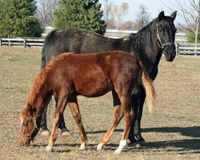 Uncle Snoopy babysitting at his new home in Kentucky. Photo by Leslie Potter.
I should mention here that buying a horse on your graduation day when your career path is uncertain is not a wise financial decision. However, I've never regretted it, and since that time he's been my constant companion. He's been my show horse, my trail mount, and even put in some time as a lesson horse when I was working as a riding instructor. These days his primary duty is to eat grass and look good doing it, but we've been doing some suburban trail riding and he'll even still indulge my occasional need to go to a horse show. He's also earning his keep as an equine supermodel. If you spend enough time on HorseChannel, you may run across his handsome mug once or twice.
Happy birthday to my wonderful horse. We have plenty of adventures still ahead of us.
Back to The Near Side.