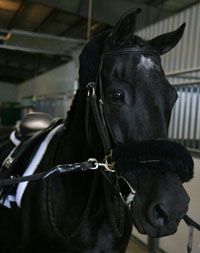 Snoopy takes a short break in between classes to contemplate the meaning of life.
A couple of weekends ago, Snoopy and I went to our first big show of the season. This was a landmark show for me, since it was the first all-Morgan show I'd ever competed in. The Morgan circuit in my native New England is highly competitive, which makes those shows great fun to watch, but they're a bit much for my aging pasture puff and me. Down here in Kentucky, it's a different story. It may be the horse capital of the world, but very few of the equine residents of the area are Morgans.
So when I found out about this show from the other Morgan owner at my boarding stable, it sounded like it would be fun. She'd heard it was pretty low key and amateur-friendly, which sounded perfect for us. I made the decision to show Snoopy in the hunter pleasure division instead of the saddle seat classes we've always done in the past. I figured a low key, amateur-friendly show would be a good place to test the waters of a new division, and he'd been working well as a hunter at home. I was more worried about my lack of braiding skills than anything.
Once we arrived at the show grounds and unloaded the horses, we took a look around the stabling area. Seeing all the big name show barns and watching the impressive horses in the warm-up ring, I started to feel like I'd shown up to a black tie affair wearing jeans and a t-shirt. It didn't look like a low key show!
Meanwhile, Snoopy was meeting his temporary equine neighbors. On one side was a cute little bay stallion that we found out later was just a three-year-old. He was very quiet and well-behaved. On the other side was a two-year-old stud colt that was, well, not as well-behaved. The stall walls were solid so the horses could only really interact by reaching their noses over the top. This little colt didn't have the patience for that, so he started rearing up to get a better look at Snoopy. Every so often I'd hear a loud banging noise as his hooves hit the wall, and then see his little face over the top. I imagine it would be similar to having a toddler kick the back of your seat on a long airplane ride, but the ever-patient Snoopy ultimately decided to ignore the youngster and went back to munching on his hay. Fortunately, the colt eventually got bored with that game and was fairly quiet for the rest of the weekend.
When we finally met our aisle neighbors, the owners of the bay stallion and an older chestnut gelding, we found out that they were from the Lexington area as well. Like us, they were do-it-yourself amateurs, which made me feel better about fitting in at the show. It's always exciting to meet other Morgan enthusiasts from the area since there seem to be so few of us.
When all was said and done, the show was definitely a learning experience. Though there were a lot of really nice horses competing that weekend, the atmosphere did turn out to be pretty laid-back and friendly. As for my actual rides, Snoopy reverted to his saddle seat ways as soon as we hit the show ring, so he may have been a bit too upheaded for the hunter division. Still, we both improved and relaxed over the course of the weekend, and I was pretty happy with how he was going by our last class. We even managed to win a blue ribbon! Okay, so we were the only entry in that particular class, but a blue ribbon is always a nice souvenir to bring home, right? Most importantly, Snoopy's braids didn't fall apart in the middle of the class, so I'm calling this show a victory.
Back to The Near Side.