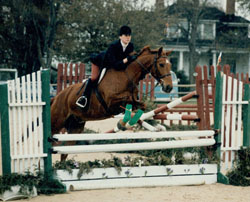 Young Rider Magazine is doing a feature about riding in college in the next issue, so assistant editor Allison Griest and I went on a hunt to find pictures of ourselves competing. I rode for four years (back in 13 BC) on the varsity riding team at the University of Mary Washington in Fredericksburg, Va., and as you can see from this picture, I loved my rust britches. They are classic!
Looking at the snap reminded me of my college days. I loved riding the scary assortment of lesson horses that were provided to us at Hazelwild Farm. My favorite was a naughty pony named Daily Double, but nicknamed "Daily Trouble." He dumped a lot of people, including me.
I remember being pleased about this particular equitation over fences class because I drew a really great horse to ride—Country Style—a chestnut mare that actually liked to jump, unlike many of the other college horses. In intercollegiate competition, you pulled a horse's name out of a hat and then hopped on. You weren't allowed to jump the horse before your class. If you happened to get a crappy horse, you were out of luck! Country Style did me proud and we won the class. It was the last show of my college riding career.
I kept those snazzy rust britches for a few years after college, and then passed them on to a young rider at my barn. I should have kept them though because Cindy Hale, Horse Channel's wonderful blogger (Life with Horses) keeps telling us they're going to come back in fashion. I'm not so sure.
I still have that old-fashioned hunt cap though. It's in my closet. I can't believe I used to jump in one, but back then that's all there was. I'd never wear it again. Nowadays I ride in an approved safety helmet with a chin strap and I feel naked without it. Those old helmets are best banished to the past.
But, as for the rust britches, I think there are probably people of a certain age who would love to see them make a comeback. Me, I'll stick to boring beige.
Back to The Near Side.