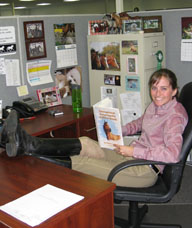 I had to leave work early to make it to the fair in time for Katharine's classes. Luckily my bosses don't frown on me donning my breeches and boots every once in a while.
This week I had the best Monday night I've had in a long time, and it wasn't because The Bachelorette airs on Monday nights. It was for a number of reasons:
1. I came to work early so I could leave early.
2. I gave my coworkers a much-needed Monday giggle by wearing my show outfit in the office and getting picked up in the parking lot by my friend, two kids and two ponies.
3. I went to the Woodford County Fair.
The Woodford County Fair is my kind of horse show: funnel cakes in the distance, roller coasters with flashing lights and tons of cute kids grooming their ponies.
My friend and I decided to take her 6-year-old son and her 10-year-old niece to the show with their ponies. She and her son planned to show in the leadline class, and her niece, Katharine, was going to show her cute Haflinger pony, Cracker Jack, in walk/trot over poles and walk/trot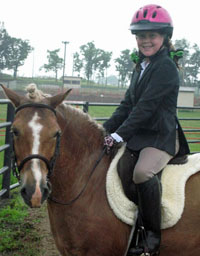 Cracker Jack and Katharine at the show.
equitation. I've been giving Katharine riding lessons since Santa brought her Cracker Jack last December.
Unfortunately, Mother Nature decided Monday evening would be a good time to catch up on some watering. Despite the weather, the show went on. We weren't about to let a silly shower keep us from our fun.
So my friend's son took home a blue ribbon in his leadline class. He rides an adorable 11.3-hand POA named Tippy. You can't even say Tippy's name without using your voice's upper register. He's that precious.
Katharine did fantastic! It was a first show for her and Cracker Jack, and the team came out with a second place and two third places ribbons. Cracker Jack wasn't a huge fan of the mud puddles in the arena, but she steered him right over the center of those trot poles while holding a great jumping position. I couldn't have been prouder.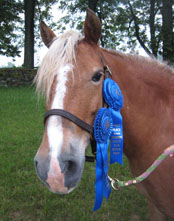 Cracker Jack sporting his blue ribbons. Photo by Amy McLean.
We decided it would be a good idea for me to show Cracker Jack in the cross-rail green horse divisions and open equitation. He was a rock star! We came out with two blues, two reds and three yellows. I was so psyched to give Katharine the blue ribbons that her pony won. The show had a great prize for first place, too: a leather keychain with a brass plate that says "Woodford County Fair 2009." Two blues meant one for little K and one for me.
Despite looking like I had just jumped into a pool, I drove home with a huge smile on my face. I grew up doing shows like the Woodford County Fair, and I had so much fun introducing Katharine to the world of showing.
Back to The Near Side.