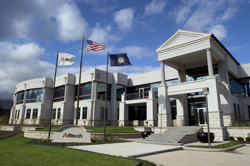 On Tuesday afternoon, the Horse Illustrated staff was invited on a tour of Alltech's headquarters in Nicholasville, Ky. As you probably already know, Alltech is the title sponsor of the 2010 FEI World Equestrian Games. Their main business is natural, yeast-based animal feed enhancers and the Kentucky Ale brewery/distillery.
As you pull up to the Alltech building, one thing is clear: They care about architecture! As it turns out, founder Dr. Pearse Lyons' wife helps to design all of the company's buildings. The lobby featured a futuristic spiral staircase and vaulted ceilings complete with my favorite little touch – two DNA double helices sculpted from metal at the base of the stairs!
Next we went through the corporate office complex and met with Tom Stephens, part of the Alltech's corporate counsel. He gave us a presentation on a high-tech Smart Board and explained the company's worldwide presence in the nutritional supplement industry and their participation in the 2010 WEG.
Stephens is currently working on the second annual Alltech Fortnight Festival, designed to involve all Kentuckians in the WEG countdown excitement. (The Festival showcases award-winning artists of all genres from around the world in cities throughout Kentucky; it will start back up on September 25th, 2009, with a fortnight of entertainment to signal the one-year countdown.) We were encouraged to pick up a Festival logo drumstick or guitar pick on our way out!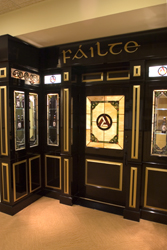 Upstairs was an impressive array of offices and conference rooms with appointments modeled after the countries where the Alltech does business. Each glass door had artwork faux-etched onto it depicting what takes place inside: binary code for MIS, and so on. Another fascinating door was modeled after a traditional Irish Pub entrance; inside was a pub for after-hours birthday celebrations and other employee functions.
After heading outside, we climbed an impressive stone staircase through some beautiful landscaping. The next stop on the tour was the extensive research laboratory, which employs over 50 people. Jugs of NDF solution and glass-box scales had me flashing back to my grad school days! We met with one of the scientists–a fellow horse enthusiast–who told us a fun story about an eerie run-in with an animal communicator at her horse's barn.
Finally, we hopped into the car and drove next door to the scenic animal-keeping farm facilities. We toured the aquaculture center with tanks of naturally fed fish; then it was off to the wood-paneled barn housing four adoptees from the neighboring Kentucky Equine Humane Center (used only for feeding studies to see what goes in versus what comes out!). Before we knew it, two hours had flown by and it was time to head back to the office.
Coming in the September issue of Horse Illustrated, we will be featuring a preview of the Alltech FEI World Equestrian Games in 2010. Be sure to check it out!
Back to The Near Side.