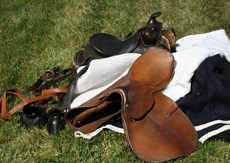 I recently came across the buy of the year, no, the decade, no, the millennium! The
Kentucky Equine Humane Center
, an equine rescue facility in Nicholasville, Ky., collected horse tack, blankets, buckets, et cetera for a yard sale to raise money to help take care of the horses. I went on day two, when everything was 50 percent off. Here's the rundown of what I got:
Western saddle
Jumping saddle
Stirrup leathers
Leather side-reins with rubber donuts
Two coolers (one regular and one quarter that fits over the saddle)
Three fitted fleece saddle pads
Dressage girth
Bell boots
Sweat scraper
Guess how much I paid for all of it. $35.50! I was a little bummed that the Wintec dressage saddle was purchased just before I got there, but everything else made up for it. The saddles were $10 each! They're still in great working order, too. I think I paid a dollar for the stirrup leathers and the side reins (which I believe were originally $20). Some of these items looked brand new. I'm still so excited about it. I need to find a place for the western saddle because there is no room at the barn where I half-lease Mirkos, and there is definitely no room in my apartment. Anyway, tell me about some of the best horsey buys you've found. I bet you can't beat mine!
To learn more about the Kentucky Equine Humane Center, go to www.kyehc.com
Back to The Near Side.