This weekend I road-tripped to Murfressboro, Tenn., with the Managing Editor of Hobby Farms, Lisa, to watch the American Ranch Horse Association World show. Besides a quick stop at Dinosaur World (hilarious!) and a detour to the coolest cave I've seen in a long time, Mammoth Cave, our weekend was full of horses.
Lisa and I were bummed to find out we'd miss the cattle events that took place during the week, but Saturday's classes were fun to watch, too. We saw the end of the 3-year-old Ranch Horse Challenge, ranch riding finals and several reining classes. Saturday morning also included a pancake breakfast. I don't have too much trouble getting up early to watch a horse show, but I have no trouble getting up early for pancakes.
Saturday night's awards banquet and dance was a ton of fun as well. Between all the good food, two stepping and line dancing, the night flew by.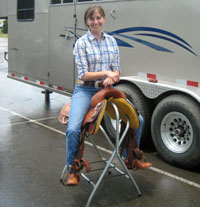 Me, my new saddle and a borrowed saddle stand in the parking lot at the show.
I had an agenda when I went to this show. I've gotten to shop countless trade fairs at the Horse Park, but they're all very English-oriented. My list of western must-haves included a new saddle pad, a bit and some split reins. I didn't get any of that. I did, however, get a saddle.
While I have a western saddle, I bought it on eBay. It's a decent saddle, but it's absolutely too big for me. My new saddle is a used Crates Lady Reiner. It has a basket weave around the edges. I took a lesson in it last night. The most exciting part is I paid about a third of what it would cost new! Now I have two western saddles and a headstall, but I still need a saddle pad, reins and a bit. Oh, and a horse. I still need one of those, too.
Back to The Near Side.