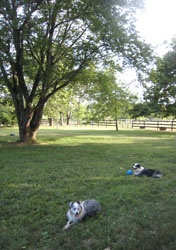 As a free agent in the horse world, there are lots of pros and cons. Within the past week I've gotten to experience both extremes.
This past weekend I farm sat for my good friend who lives on a Thoroughbred farm. We go riding together on her property all the time, so I know her animals pretty well. The Thoroughbreds on the farm were taken care of, but she has some family animals that needed a watchful eye over the weekend. She has four super friendly horses, three sweet dogs and a very independent cat. It was so much fun to stay out at her place. My pup, Patch, came along for the adventure.
My favorite memory of the entire weekend was visiting her horses late Saturday night/early Sunday morning. I woke up in the middle of the night for whatever reason, so I figured I'd let the dogs out and go for a walk. The moon actually lit up the farm really well, and who doesn't want to take an evening stroll when they're staying on a horse farm? I don't think her horses have had many visitors in the wee hours of the morning. They were startled and excited at the same time. Unfortunately I'd forgotten to grab carrots, but they still got some scratches and hugs.
When I woke up with the sun Sunday morning, I rolled out of bed, put my boots on, let the dogs out and headed back over to the horses to turn them out into a different field. After lunch I ran some errands and came back to the farm around 3. I grabbed a book and headed toward the hammock. Who was I kidding? The book stayed in the grass and I took a nap. When the temperature dropped Sunday evening, I took one of her ponies out for a ride in the back pasture and all the dogs tagged along. The day was awesome.
Of course, I couldn't keep my head in the clouds all weekend. Sunday night a friend told me a cute mare I sometimes rode before work had finally found a new home. One of the pitfalls of being horseless is you don't have control of the neat horses you get to ride. The mare is such a sweetie, and I really enjoyed trail riding her before work with my coworker and her Morgan. I went out Monday morning to give her a hug goodbye. Patch came along for that barn visit as well. That's when I realized how exhausted he was from his weekend at the farm. Normally he dashes around the barn like a wild man, but he was pretty docile that morning.
As much as I'd love to have my own horse up in Kentucky with me, weekends like this one remind me that there's more to experience than just horse ownership. Every horse teaches you something, and besides getting to stay in a house that was built in the 1800s on a Thoroughbred farm, I got to go on a beautiful trail ride with a pack of awesome dogs. My dog even got enough exercise to last him a week!
Back to The Near Side.