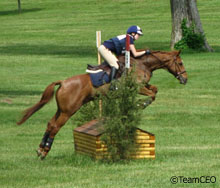 Photo: TeamCEO
With the show season in full swing, I find myself fixated constantly on riding. I compete in eventing, which becomes more addictive the more you do it. The adrenaline-fueled rush of cross-country; the technical precision of stadium jumping; and the endless finesse of dressage. With every day there are new goals to iron out or tune and tweak.
If you're a horse-lover, you probably have experienced 24/7 "equine on the mind" at some point or another. These are the types of questions I find swirling around in my head:
What will I do during my next ride? Well that depends. What do we need to work on the most right now to get around safely at the next show with a good score?
Should I get a hair cut? Who cares! The only thing that matters about hair is that it's long enough to put in a ponytail and not stick out the sides of your helmet.
What's the weather supposed to be like tonight? The rain radar will affect what time I ride after work and how the footing in the fields and in the ring will be, and which will be the best spot for schooling.
Did I gain 5 pounds? As long as I can zip my breeches, it makes no difference.
I should probably spend more time reading. What new horse books are out?
Looks like there's some extra time to dawdle at the barn tonight. What to do? I'll clean all my tack and put training braids in his mane so it lies to one side nicely.
Oooh, a free weekend coming up with no shows for us … what other shows are going on that I could go out to watch? Maybe a friend will be riding and will want some assistance or a video.
I should really start saving more money. FOR A TRUCK AND TRAILER, obviously! Who cares about building up a nest egg?
Luckily, Zephyr and I can put our hard-earned skills to the test in a schooling show this weekend. I can't wait! In preparation, we had a cross-country lesson last night. Well, that was interesting. My normally tractable 12-year-old Thoroughbred suddenly forgot every. Single. Thing. He had ever learned, and decided to race off with me after only our second jump of the night. I managed to pull up since we were headed uphill.
Foolishly, I thought it safe to trot over the next jump—which was downhill. He popped right over and immediately put his head between his knees, bucking and bolting straight down the hill. Um, oops! I pulled on the reins and he put his nose right up in the air and ran through the reins. After a few more bucks, I lost both stirrups and now my spurs were bumping him in the side with each stride. AHH! Clinging to the reins for dear life, I finally got back to the group after the most harrowing 100 or so yards of my life (at least with this horse). Our instructions were to canter a circle until he officially wore down a little.
After that he was much more attentive, but part of me wished it weren't such a hot and humid day! You could have wrung me out after the first 5 minutes of that lesson (those body-protector vests are HOT!), but naturally my horse was dancing along without a care in the world.
Usually after an episode like that (and there hasn't been one in the last year or so), he will finish off the week just as placid and broke as an old farm cow. Here's hoping we don't have any flashbacks come show day!
Back to The Near Side.